Showdown: Midwestern Heroes The Bottle Rockets vs. The Present
Posted On October 11, 2018
---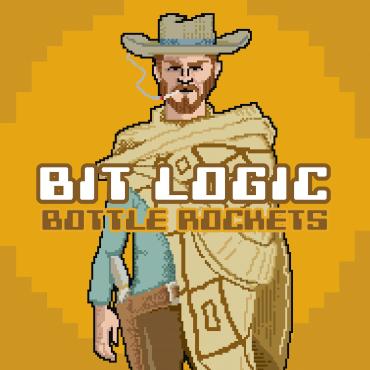 The cover art to The Bottle Rockets' Bit Logic LP features an 8-bit outlaw. He's a mid-1980s, hyper-pixelated Wild West rebel, the stuff of vintage Reagan-era Nintendo Entertainment System consoles.
He's the perfect figure for the Missouri outfit's latest outing: Twelve tracks that, together, play to nostalgia while stewing over and taking on the tech-obsessed, often-discontent present day.
"In my technicolor childhood, we burned incandescent dreams," frontman Brian Henneman sings over a thumping rhythm section on the lead number, "illuminating all these future things that didn't turn out like we thought they would / Now we're doing things we never dreamed we could."
Henneman goes on to make a compelling case that we're no better off today with smartphones and perpetual information flow than we were in decades past. "You best be looking out the windshield, not the mirror, to figure out the way to go from here," he opines, ominously.
The Bottle Rockets' latest for Chicago's Bloodshot Records – the band's first since 2015's South Broadway Athletic Club – is piercingly topical.
"We were not planning any kinda 'theme' to this album, but one kinda showed up," Henneman offers in the press materials. "If it's about anything at all, it's an album about existing in this modern world. Trying to dodge depression and anger. These songs are views from the moments when you're mostly succeeding at it."
Digs at society's touchscreen addiction are just the start of it. While 2018's economic boom times have benefitted many, The Bottle Rockets give voice to a hero we don't see represented in arts and culture nearly enough: the struggling musician. It's a natural perspective, as these Midwestern veterans have always been an underground act. Their biggest foray into the music establishment world was a No. 27 notch on the Billboard Mainstream Rock Songs chart in 1995 for "Radar Gun," off the critically acclaimed but little-known alt-country winner The Brooklyn Side.
Melding rock and country– The Bottle Rockets' bread and butter –now is commonplace nearly a quarter century later. But many artists have not experienced much of a payout from shifting trends, as we well know.
"My car is broke, my furnace broke, my A/C broke, my telephone broke," he sings on "Bad Time to Be An Outlaw." "And all them things, they cost big bucks / My music's good, but my income sucks."
This wallet-reality lament is infused with matter-of-fact humor and even some good-natured skewering of Music City royalty. Henneman plays Thomas Rhett and Carrie Underwood as perfect foils –"That Nashville pop is not my deal even though the cash flow's real," he admits – while saluting Waylon Jennings, who, 16 years after his passing, seems untouchable from criticism. At its core, the cut is a humorous and not-entirely-unhappy reflection about residing on the music industry's margins.
More rock than twang, Bit Logic includes scuzzy, fuzzy feedback ("Lo-Fi"), funky riffs ("Stovall's Grove"), and even a soaring lead guitar moment that settles out somewhere between power pop and the Tom Petty tracks that will never leave classic rock radio ("Human Perfection").
Even with all the current-affairs anxiety, Bit Logic consistently sounds comfortable and satisfying. And there's a strong undercurrent of hope and optimism coursing through.
As Henneman sings on the late-album track "Doomsday Letter," "whatever I can do to keep my chin up is a damn good thing."
---