Sean McConnell Views Life's Poignant Questions Through 'Secondhand Smoke'
Posted On February 7, 2019
---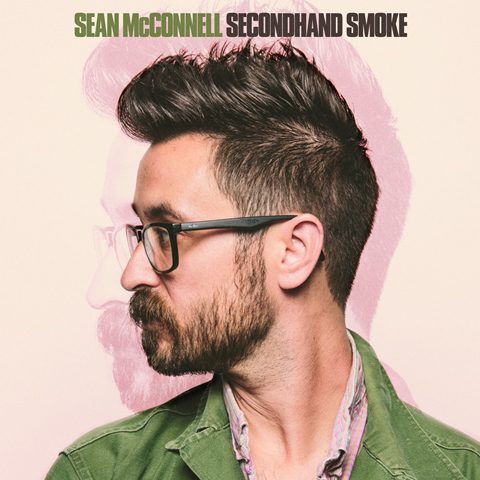 There's a purity that pours through in Sean McConnell's latest album, Secondhand Smoke, as he calls upon 13 sincere and inspiring songs to explore his definition of the meaning of life and connect it to the world around him.
One of the facets that makes Secondhand Smoke so intriguing is how McConnell balances elegant instrumentation with thought-provoking messages that ponder existential questions. He opens the album with the vivid title track, one where he tells the story of a man reconnecting with his estranged father, making you feel as though you're there with him, laughing until he cries upon hearing a joke, or hearing the crinkle of the cellophane as he pulls a pack of cigarettes out of his pocket. It's this distinct imagery McConnell uses to weave his lyrical tapestries throughout the album.
He takes a deep look into the balance of virtuous and immoral on "Shaky Bridges," a gentle folk number where he notes how we've all committed deceitful acts and expresses compassion toward every honest person who's also flawed. "You could buy the world for the price of your soul," a striking thought McConnell puts forth with simply a guitar, harmonica, and his awe-inspiring voice, as The McCrary Singers provide beautiful background harmonies. "I Could Have Been the Angel" finds McConnell interpreting how chance plays a role in determining moral character. He handles this subject delicately without passing judgment, expressing how we're all born with truthful souls that sometimes succumb to our inner demons. "I was a baby, just like you, I had a soul shiny and new…you know I could have been the angel, you could have been the devil," he conveys over a peaceful melody. McConnell continues to approach the idea of living with an internal struggle on the gritty "Rest My Head," which tells the story of a man who's lived a life of constant wrongdoings, so much so that he can't find peace, before he confronts his own pain that comes with pursuing one's passion on "Greetings From Niagara Falls." "It's crazy what a dream can do, it can break your heart, but save it too," he croons.
McConnell dives into an intriguing discussion about the world and his place in it on "Here We Go," a soaring ballad where he proclaims "I'm seein' omens in the sky, I'm hearing ghosts tellin' me to read the signs, and maybe life's a dream and I'm asleep," a notion he proposes again on the angelic "I Don't Want to Know." Here, he looks at the afterlife from a grander perspective, longing to remain close to the person he loves while continuing the thought that life is merely a figment of our imagination as he wistfully sings "I'm not afraid of dying, I'm afraid of separation, that I won't know how to find you, in our reincarnation."
With a voice that's quiet, yet powerful, McConnell creates a well-rounded album that tackles complex subject matter with intellect and empathy. Between his striking voice and ability to captivate one's vision with his lyrics, McConnell creates an imaginative world while taking a deeper look at the one we live in.
---