MiZ Serves Up A Heartfelt Recording
Posted On January 24, 2018
---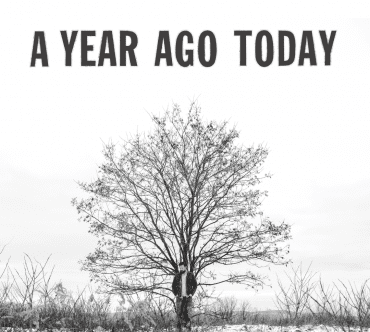 This new release from MiZ is a beautifully structured collection of individual stories, each of which manages to tie into the songs surrounding it. That's not as easy as it sounds. If an entire album is a continuous story, the placement of each song becomes vital. Some singer-songwriters seem able to do it without effort, over and over, album after album; Joni Mitchell and Richard Thompson come to mind. But knowing which song is your "once upon a time" moment and which is your "the end" moment is the easy part. It's ordering what comes in the middle that's really difficult.
A Year Ago Today opens with a country kicker, straight out of Nashville or Austin. "Being Good At Being Blue" sets the pace for everything that follows. It's got a subtle, wailing pedal steel by Jay Ganz, and a wry lyric that lets the rest of the story follow easily and naturally.
MiZ runs a gamut here. He's not afraid of running between country, bluegrass (a lovely few moments of just relaxing in the instrumental "The Porcupine"), an early Springsteen-scented rocker remembering his very hot ex ("North Jersey Queen"), and the gorgeous anthem of loss, movement and survival, "Heroes". That one's a stunner, straight from the heart. The song was apparently finished the night Gregg Allman died, and it evokes echoes: influence, pain and hope.
The album's "the end" moment comes with a compulsively hummable tune called "Stay Today Forever". This one might be my favourite. There are times when the story doesn't end with "happily ever after", and this one doesn't. It ends with a yearning request to make that happy ending possible: to freeze time right where it is. Anone who's been there is going to feel this one.
A Year Ago Today is a lovely touch of how a singer-songwriter tells his story, from once upon a time to however it ends. Solid vocals, supported by a beautifully produced group of supporting instruments, makes this one a story I want to hear again and again.
---