Loretta Lynn and Friends Bring New Life to Her Classic Songs on 'Still Woman Enough'
---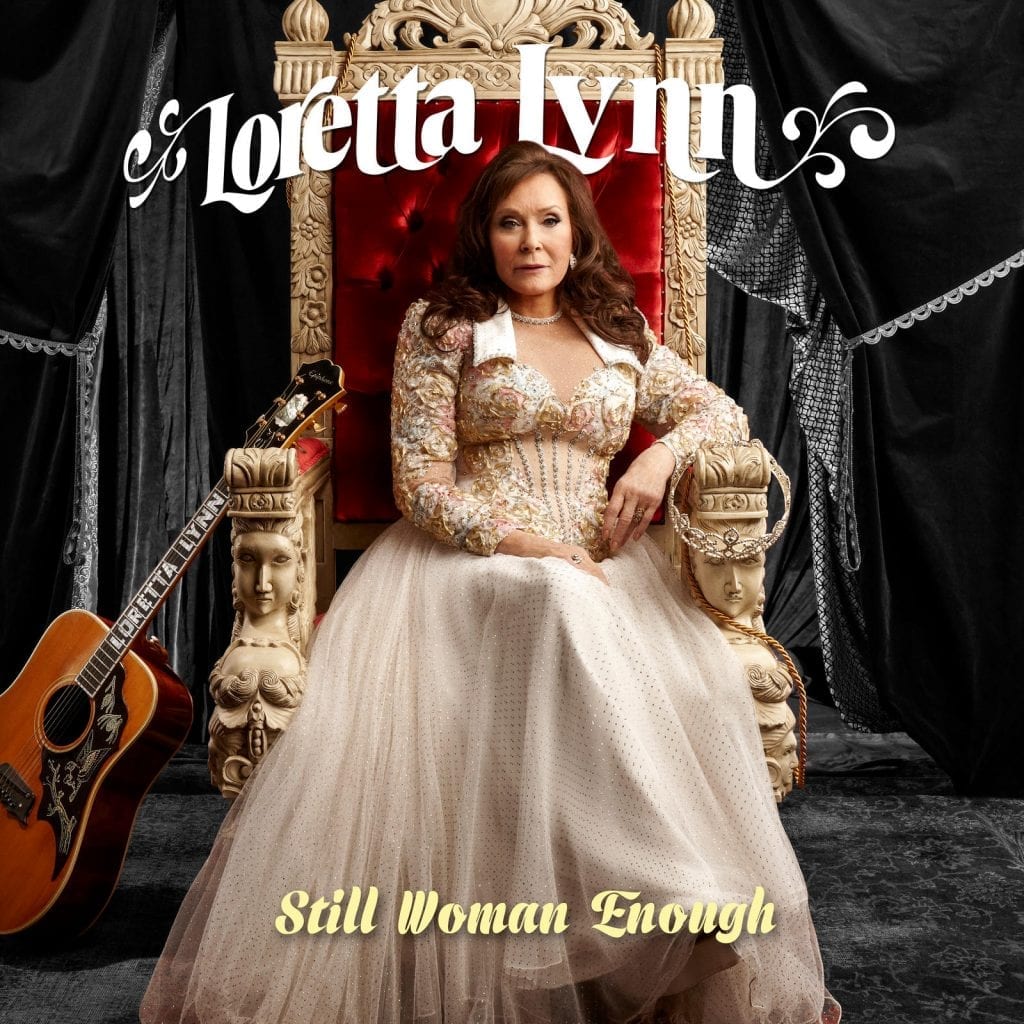 All we really need to know about this album is that Loretta Lynn performs electrifying new versions of many of her classic songs, and her strong voice still soars and rings with emotional clarity. If that weren't enough — and it is — she's supported by a band composed of some of Nashville's finest studio musicians: Shawn Camp on guitar and mandolin, Dennis Crouch and Mike Bub on bass, Randy Scruggs on guitar, Paul Franklin on steel, Tony Harrell on piano, Jamie Hartford on electric guitar and banjo, and Larry Perkins on banjo, among others. She also brings in vocal collaborators for some of her most iconic songs, including Margo Price on "One's on the Way," and Tanya Tucker on "You Ain't Woman Enough," and for one new song, "Still Woman Enough," featuring Reba McEntire and Carrie Underwood.
At the center of the album stands Lynn's spare, lilting version of Stephen Foster's "My Old Kentucky Home." Lynn's arrangement sounds like a version she and her family might have sung one night on their front porch in Butcher Holler; the song slides into a touching recitation of "Coal Miner's Daughter," made more haunting by Matt Combs strumming lines of "My Old Kentucky Home" behind Lynn's words.
The album kicks off with the bluesy title track, with McEntire and Underwood each taking a verse. The swampy country funk slides along John Carter Cash's and Jamie Hartford's propulsive guitar licks and Robby Turner's spiraling dobro runs. Lynn, McEntire, and Underwood loudly declare they're taking no crap from anyone — never have, never will.
Lynn's crystalline vocals resonate with exquisite purity on a number of gospel songs, including "I Saw the Light," "I Don't Feel at Home Anymore," and the great Mosie Lister's "Where No One Stands Alone." Her version of "Keep on the Sunny Side" conveys the travails of our earthly life even as her bright, emotionally vibrant vocals shine with a brilliance that convinces us that all will be well by following her along the sunny side of life.
Price trades lines with Lynn on "One's on the Way," a jaunty ballad that's lost none of its ironic force after all these years. The album closes with the honky-tonk classic "You Ain't Woman Enough," with Tucker playing the role of the woman whom Lynn says "ain't woman enough to take my man"; Tucker tells Lynn he's her man now and Lynn ain't woman enough to take him (back). It's a perfect riposte within the song whose original version speaks from only one perspective. The song ends with Tucker slyly uttering, "Ah, you thought you was gonna get him, now didn't 'cha?"
Still Woman Enough, Lynn's 50th studio album (excluding her albums of duets with Conway Twitty), celebrates Lynn and her deep contributions to country music, but, most of all, it gives us a chance to hear Lynn's beautiful, pure voice sounding stronger than ever.
---