Half-Century-Old Beach Boys Gems Unearthed
---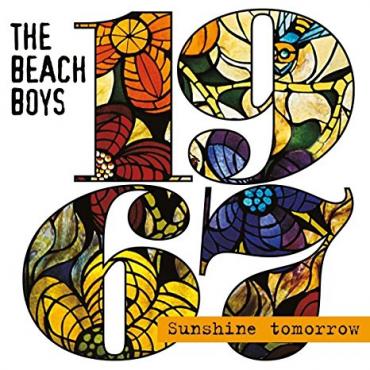 The Grateful Dead or perhaps Bob Dylan may hold the record for most releases from the vaults, but the Beach Boys aren't far behind. Over the years, we've seen the group's studio albums reissued as twofers, with a wealth of bonus tracks. Greatly expanded versions of Beach Boys Party and the Beach Boys' Christmas Album have also appeared, as have embryonic rarities (Becoming the Beach Boys) and the long-awaited Smile Sessions. Plus, we've been treated to some mammoth boxes, such as Good Vibrations: Thirty Years of the Beach Boys (five CDs), The Pet Sounds Sessions (four CDs), and Made in California (six CDs). What on earth could be left?
Enough, it turns out, to fill at least two more CDs to capacity. The new 1967: Sunshine Tomorrow contains 65 tracks—two hours and 38 minutes of music—and nearly all of it has not previously been released. True, other versions of most of the songs here are scattered throughout the catalog, but much of this is well worth hearing, anyway.
The Beach Boys had quite a year in 1967. They worked on the legendary aborted Smile album until mid-May, then recorded Smiley Smile (which incorporated elements of Smile) in June and July. In September, they waxed Lei'd in Hawaii, a live-in-the-studio album that never got released, and started work on what would become Wild Honey. As noted above, the Smile project is documented elsewhere; but virtually everything else the group did in 1967 gets some sort of airing on Sunshine Tomorrow.
The package—which includes a 28-page booklet with extensive liner notes—opens with the first-ever true stereo mix of Wild Honey. (Capitol originally issued the album in mono and re-channeled pseudo-stereo versions.) Containing standouts like the R&B-spiced title cut and "Darlin'"—both featuring impassioned Carl Wilson lead vocals—the album represents a departure from the complex arrangements and introspective lyrics of Pet Sounds. Instead, we hear Motown influences (even a cover of Stevie Wonder's "I Was Made to Love Her") and such funky, straightforward love songs as "Aren't You Glad," "Here Comes the Night," and "Let the Wind Blow." (This compilation draws its Sunshine Tomorrow title from the lyric for that last track.)
Though Brian Wilson wrote most of the songs, the piano-based Wild Honey feels more like a collaborative band effort than its immediate predecessors. "It was just an album for us to exhale and do something real simple," the group's Bruce Johnston has said, "but as it's Brian's music it's still fabulous and not so simple." True. This is a much more upbeat, less-contemplative, less-produced album than Pet Sounds, but it's frequently inventive and consistently endearing. It's also strikingly different from what anybody else was doing at the time.
Wild Honey has long been a must-buy for Beach Boys fans, and it's now a must-rebuy, because the stereo mix offers a significant upgrade to the listening experience. (Note that its final number, "Mama Says," remains in mono here because the eight-track master could not be located; but the performance is a cappella, and the lack of stereo isn't missed as much as it would be on a song with instrumentation.)
Though the original Wild Honey clocked in at a mere 25 minutes, 1967: Sunshine Tomorrow manages to devote all of its first disc to an examination of the album. Following the stereo mix come 14 recordings from the LP's sessions, including studio material for "Wild Honey" and "Darlin'" and previously unreleased instrumental snippets like "Honey Get Home" and "Hide Go Seek." Also here are concert and live-in-the-studio recordings of a half dozen Wild Honey tracks.
At the beginning of Sunshine Tomorrow's second disc, the focus turns to Smiley Smile, though not to the original album, as that has already been reissued in stereo (in 2012). Instead, we're presented with nine studio remnants from the sessions for the LP, which first appeared in September 1967, three months to the day before Wild Honey.
Though it contains the chart-topping "Good Vibrations," most of Smiley Smile is decidedly quirkier than Wild Honey, and it sold poorly at the time. In the wake of Pet Sounds and with the audience hyped up for Smile, it was seen as somewhat of a letdown. To me, though, it has always sounded innovative and largely lovable, and I can say the same about most of the outtakes featured here. Among them: a backing track from the single version of "Heroes and Villains," a complex Smile holdover that made it to number 12 as a single, and a long rendition of the amiably silly "Vegetables."
Also on disc two, from Lei'd in Hawaii, are excellent performances of such Beach Boys classics as "California Girls," "Help Me, Rhonda," "Surfer Girl," "Sloop John B," "God Only Knows," and "Good Vibrations," plus well-done covers of the Beatles' "With a Little Help from My Friends," the Box Tops' "The Letter," and Wayne Fontana and the Mindbenders' "Game of Love." Closing out the package are nearly a dozen period live recordings from multiple venues, among them "Heroes and Villains," "California Girls," a piano-and-solo-vocal "Surf's Up," and a breathtakingly beautiful a cappella "Surfer Girl."
What's not to like? Not much. Granted, all but the most devoted Beach Boys fanatics will probably consider portions of this collection somewhat less than indispensable: some of the previously unreleased versions don't depart all that much from available ones, and it's easy to see why several of the backing tracks and musical fragments have remained in the can for half a century: they're simply not as interesting, or in a few cases even as listenable, as the final product.
That said, there's plenty on this bargain-priced album that is indispensable, starting with the stereo Wild Honey and including much of the previously unreleased studio and live material. If, like me, you can't get enough of Wild Honey and Smiley Smile, you'll be glad to know you can now get more.
BRIEFLY NOTED
Arrica Rose and the …'s, Low as the Moon. If we were still in a musical era dominated by record albums, major labels, and rock radio, I'd predict stardom for Arrica Rose. As is, who knows? One thing's for sure: she deserves to be famous. There's not a bad song on this dreamy, ethereal, and beautifully sung album from the California-based artist, who also fronts a similarly styled band called Dear Country. After listening to Low as the Moon, you won't be surprised to learn that Rose once covered Roy Orbison's "In Dreams." Her sound is contemporary, but the twangy guitars, romantic lyrics, hooks, and passionate vocals all harken back to the best of 1960s pop/rock.
The New Zeitgeist, Myths and Mortals. Good luck guessing which three of the 11 tracks here date from the 1800s; they sound no more or less timeless than the originals on this album, which features vocals and poetic lyrics by a Chicago-based duo: Jen Reilly, who sounds redolent of Judy Collins, and Eddy Bluma. If you like the work of such artists as Fairport Convention, Renaissance, and Richard and Linda Thompson, give this well-honed collection a listen.
Game Theory, 2 Steps from the Middle Ages. The Game Theory reissue series ends on a high note with this expanded, remastered edition of their 1988 final album. Mitch Easter, who produced, writes in new liner notes that he "always thought music/sonic rules were a drag and the best records exist in their own self-defined universe." That's certainly the case with this cleverly crafted power pop/new wave CD, which arguably ranks as the most accessible record in the group's catalog. Supplementing the 13-song original album are three live recordings, two radio sessions, one rough mix, and five demos, all previously unreleased. Expect ringing guitars, vocals reminiscent of the Undertones and Big Star, and music that evokes influences ranging all the way from the MC5 (who are quoted in "Initiations Week") to Simon and Garfunkel (whose "America" Game Theory prime mover Scott Miller covers on one of the bonus tracks).
*****
Jeff Burger's books include Lennon on Lennon: Conversations with John Lennon, Springsteen on Springsteen: Interviews, Speeches, and Encounters, and Leonard Cohen on Leonard Cohen: Interviews and Encounters. His next book is set for publication in early 2018. His website, byjeffburger.com, contains more than four decades' worth of music reviews and commentary.
---