Elliott Brood Unearth Old Gems on Sixth Release
Posted On October 19, 2017
---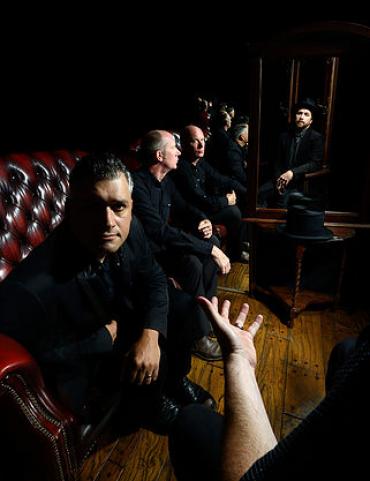 On its sixth release (Ghost Gardens), the Hamilton, Ontario-based alt-country, folk-noir trio recover some long-lost gems and polish these treasures. The result of this journey through the past is 11 choice cuts that linger long after you are done humming along and stompin' your feet to each song.
The disc opens with the lush and rollicking "'Til The Sun Comes Up Again." The song features sparse instrumentation, yet the production makes you hear each strum of the guitar, pluck of the banjo, and bang of the drums.
From here, the songs just keep getting stronger. A few of the other many highlights are: "Gentle Temper," "2 4 6 8," and "The Widower."
I caught up with lead singer Mark Sasso on a sunny day this past fall; it just happened to be release day for Ghost Gardens. Elliott Brood were playing a gig that night in Chicago. We chatted about the talented trio's new record, their "oasis on the road" (Panera Bread), the state of the music industry, and of course, the songs.
How does it feel to finally get these songs out into the world? 
It feels pretty good. We've been watching stuff happen on Instagram. We have lived with it for almost a year. It's the real birth for everyone else but for us it's now playing the songs live and expressing them in a different form. It's always nice to release anything … it's so hard to be a band these days."
Why is it so hard? What are some of the challenges of being a full-time musician these days? 
The landscape has changed so much. There are so few magazines left and few places to get reviews anymore; it feels like art has taken a back seat. It's certainly a different place. There are cultures and sub cultures of people who love music and those are our diehard fans; we fit into that slot. We are not on the radio. We are not a mainstream band, but there are enough people out there that love our music.
I understand these songs were written a while ago and were recently found on an old hard drive. Tell me about how this happened? 
I had moved to Hamilton; then Steve [Pitkin] moved there, but we were still rehearsing in Mississauga. Once Casey [Laforet] moved to Hamilton, we figured we should get a space where we can ride our bikes to and play. We got this studio and moved all of  our stuff there. We often record stuff on the road on a drive and sometimes it just gets forgotten and is out of our heads. One day we found this drive and started listening to the songs. There was one song in particular, "Gentle Temper," that floated around in our heads; we  found it on this drive. So, then, we said, 'oh man, look at all these other songs.' It gave us the space to look at them from another angle. Sometimes you need to go someplace else first. At the time when we recorded these songs, they didn't fit in the wheelhouse. Mountain Meadows was a raucous album, so these would never have made the light of day at that time. We feel lucky to rediscover and reimagine them now.
Talk about the title. To me, it feels a bit like you are speaking to some American cities such as Detroit before their recent revitalization attempts.
Yes, there is a lot of the idea of abandoning Detroit in that image. We watched a TV special about going through Detroit, the old Packard Plant and all these run down houses. The host of the show used the term ghost gardens when talking about perennials that keep coming up even though people have abandoned taking care of them. It's a beautiful image; it just worked for this album title. It's the idea that unless you look for something you are not really seeing it. It might feel lost, but it's still there and just needs to be rediscovered.
Tell me about the song "T.S. Armstrong?" That one sounds like it's about a real interesting character.
That's about  a guy we met on our very first tour back in 2005 on the top of mountain in Alberta. We were hiking in Pilchur Creek and Waterton National Park. We get up to the top and we meet this guy and he's like, 'You guys have any bear spray? There are grizzlies in the area you know!' We didn't understand, being naive kids from Ontario, but later learned that he was a guy who would take people on excursions … a guide. We ended up meeting him three more times within a couple of weeks, learned his name, and he talked about the area and what he did. There are things you forget about, but then something comes up that often ties things together. Three of the songs on this record are like a montage or mini opera and they are all tied together by this experience.
Once you listened to these lost songs and demos, how did you take these ideas and flesh them out to Ghost Gardens?
We went back to our new studio and said, 'let's see what we can create.' You don't always have to go to a big studio to capture a sound. Songs like "Till the sun Comes Up," "Adeline," and "The Widower" already had amazing tones; we didn't need to be bombastic or loud. For example, "The Widower" had a nostalgic tone that already felt right. The songs didn't require too much instrumentation, so it was more a process of subtraction: taking out instruments and still keeping the essence of the original ideas. For example, "Gentle Temper" on the demo sounds like a 1990s rock song … it gets crazy at the end and I'm screaming. In reworking it here, we stripped away the vocals and added a beautiful mandolin solo that takes over.
Tell me about the song "2 4 6 8." That one really struck me.  
When I was a kid growing up in Windsor, Ontario, and I was still in grade school, I was watching TV one night and remember seeing a news segment about a father who drove his car carrying his family into the Detroit River. His car sank and they tried to save him. My family and I were just watching TV on a Thursday night and the station cut to footage of rescue crews trying to save the children. That's one of the worst things to see as a young kid, live on TV, these lifeless bodies taken out of the water. There was no warning and it had a profound effect on me. For me, as a kid, Detroit was synonymous with Tigers games and baseball; the song is a blend of the innocence of going to a baseball game with the darkness of that moment. When I played t-ball, "2 4 6 8" is a chant we used to do; the song is a blending of those two worlds. To watch someone else's tragedy is brutal, but it seems to be commonplace these days. You get desensitized, but it still affects you.
Ghost Gardens was officially released last month on Paper Bag Records. Elliott Brood is set for a North American tour next month before heading to Europe for a short stint of dates. See this link for upcoming shows.
---