Bluegrass Signal Comes in Strong on Irene Kelley's 'Benny's TV Repair'
---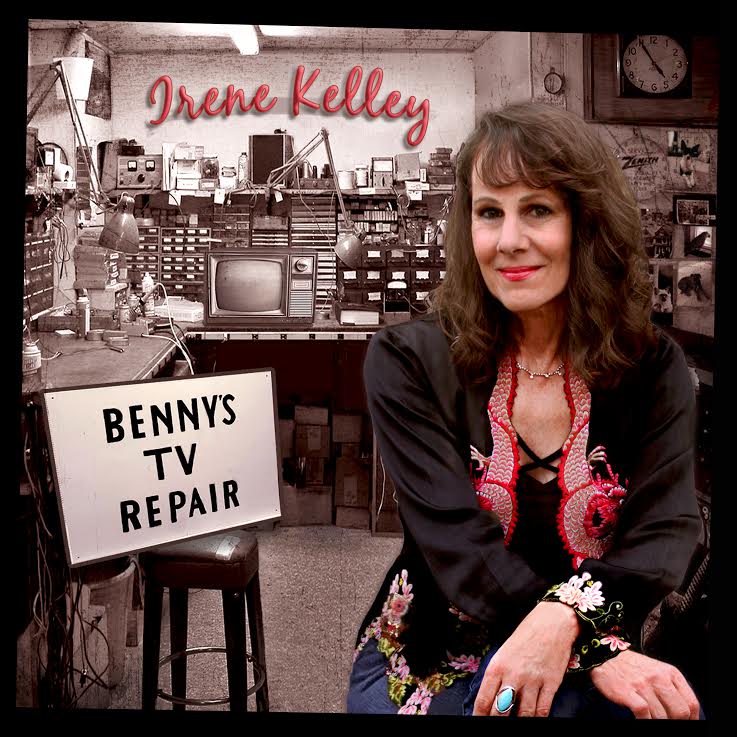 One line from the chorus of "Something about a Train Sound," the nimble opening track on Benny's TV Repair, describes perfectly the entire album: "music to my ears it just feels right." Every song on Irene Kelley's album is music to our ears, and she's joined by a holy host of others — Bryan Sutton on guitar, Adam Steffey on mandolin, Stuart Duncan on fiddle, Matt Menefee on banjo, Mark Fain on bass — as she delivers her heavenly vocals over lush and lively instrumentals. Her songs — co-written with artists including Bob Rea, Bill Whyte, Steve Cropper, Jerry Salley, and Justyna Kelley, among others — carry us over musical landscapes that feature terrain close to the heart of all bluegrass: the love of family, the bonds of community, the longing for returning home, the powerful influence of radio, and the depth of faith.
Duncan's sprightly fiddle kicks off "Something about a Train," before Menefee's banjo joins in to drive the sound down the track. Justyna Kelley and Jimmy Fortune lend their harmonies to this lively tribute to the train sound that rocks the singer to sleep like a lullaby and that "sounds so sweet in the middle of the night." A cascade of guitar chords and notes opens the buoyant and lilting paean to "Bluegrass Radio": "It's like you always know what's on my mind / Like you know just what I need to hear … Playing those songs that take me back home … Not a better friend out on the road / Than my bluegrass radio."
Scampering fiddle and rolling banjo lie under the rousing ballad of unlikely heroism "Cabbage Head"; Sutton's guitar cleverly matches Kelley's vocals note for note on the verses, providing the driving rhythm in the song. The title track opens with an interplay between mandolin and guitar that sets up the loving, lithesome musical foundation for the singer's remembrance of her father's strength and steadfastness. "Walk with Me Today," the album's closing track, featuring harmony vocals by  Brooke and Darin Aldridge, weaves in notes from the old gospel standard "Just a Closer Walk with Thee" as the singer praises and petitions God to be close to her; it's destined to become a classic of bluegrass gospel.
Benny's TV Repair delivers stunningly gorgeous songs that evoke the subtle and enduring beauty of bluegrass.
---