Billy Bragg and Joe Henry Can't Get Enough of Train Songs
Posted On October 11, 2016
---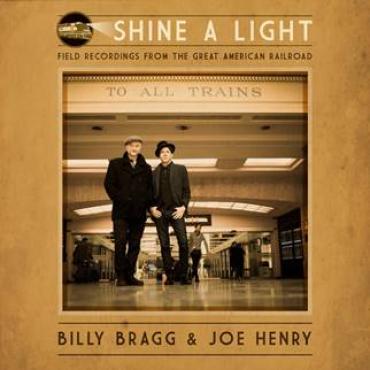 There is very little that gets the folk/country juices going more than a good American train song.* Something to do with the workers who built and ran the railroads plus the travelers that criss-crossed the country trying to make ends meet. Haunting tales of hard times and the glory of America's vast spaces.
British folk/punk/political activist singer Billy Bragg and his Grammy-winning alt-Americana colleague Joe Henry have gone a bit further in this splendid album. They took a train from Chicago to Los Angeles recording along the way – in carriages, on station platforms, waiting rooms and so on. The result is an emotional work that has a rawness to it that fits perfectly with the subject.
The two men have voices that might have been made for each other. For example, the most famous song on the album (at least as far as a general listener might be concerned) is "Gentle On My Mind", one of Glen Campbell's big hits. Henry takes the lead with his country tenor while Bragg's gravelly bass carries it to soaring levels. Ditto Woody Guthrie's "Hobo's Lullaby" – the steel rail's humming.
Bragg, however, takes the lead in grittier song's like "The L&N Don't Stop Here Anymore", the Jean Ritchie song that Johnny Cash put as intro track on 1979's "Silver". Bragg may be from England – the blue-collar east London borough of Barking – but he might as well be from Kentucky when he sings of being born and raised in the mouth of the Hazard Hollow.
Other fine tracks include classics such as "John Henry", "Railroad Bill" and "The Midnight Special" – many of which are punctuated by the sounds of the railroad such as slamming doors and that peculiarly mournful sound of a steam whistle in the distance.
All aboard!
* I am not, of course, talking about the misery that is my morning train commute.
---