---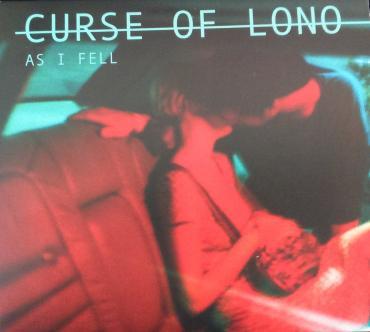 Described as 'Amerigothic', the five piece London band Curse Of Lono release their second album As I Fell on August 17. This is a deeply compelling record that totally pulls the listener into its spell. The songs and arrangements are complex, some visit dark places others are less bleak, but all say one thing; play again, as there's more to discover. Curse Of Lono are also described as 'cinematic' in their sweep of country, rock and indie. As I Fell is the musical equivalent of an IMAX cinema.
That description isn't just a glib elision either, as it does speak to frontman, Felix Bechtolsheimer's past and where the band are now. He formed Curse of Lono in 2015 having started in a UK band, Hey Negrita, that was very much alt-country. In between, Bechtolsheimer overcame addiction, while part of his recovery was spent listening to music very familiar to these pages; Guy Clark, John Prine, Waylon Jennings, Kris Kristofferson and Little Feat. He also dabbled in the electronic German sound, known colloquially as Krautrock. All can be found in Curse of Lono. Where As I Fell perhaps differs from its predecessor Severed, is that it sounds more of a band and less Bechtolsheimer and band.
In there is The Velvet Underground, The Doors and more contemporary, bits of War On Drugs but Curse Of Lono have created their own completely original sound. These influences are purely the ingredients. Their lyrics, too, stir the imagination. As much as they tell a story, there is a very 'big' feel to the record. That is a feature of the album overall. There's plenty of room for everything, They and producer Oli Bayston have created a big swirling sound, as the lyrics grapple with equally substantial subjects. Perhaps that's because Curse Of Lono recorded much of the album at a remote studio in Joshua Tree as well as at home in London.
Opener 'Valentine' starts with a menacing bass line to give an almost tribal feel, the vocals almost a chant. That's all very fitting as the song is about jealousy, not a mild envy or resentment, but the sort of emotion that could lead to disaster. Curse of Lono don't do mild.
'Way To Mars' combines alt-country with vocals that evoke Lloyd Cole. A sparse guitar line weaves in and out of the chaotic thoughts of a life so out of control that the only answer is, "Oh scrape me off the walls/I'll pay what's owed. Just grab my coat and help me find my way to the door".
Something this band does so well is to add layer on layer to a song, harmonising, then peeling it all away again. This is particularly effective on "And It Shows' about loss both in love and life. In the fascinating short film about the album,'Somewhere In Their Heads' Bechtolsheimer is very blunt about his time as a heroin addict, going to more funerals than the weddings more typical of someone his age.
Bechtolsheimer wrote all the songs and while all are new, several do go back to his time in detox, looking further back. 'I'd Start A War For You' has the twitchy feel of addiction, its buzzing riff never letting up, "the fever's got me scratching round/Cut the breaks we're only passing through/Stop me before I hit the ground/'Cos honey I would start a war for you'. The song almost sweats. 'Blackout Fever' pulls no punches either. A heavier sound, perhaps the beating heart of business of the oldest sort being done?
'Tell Me About Your Love' is about a conversation Bechtolsheimer overheard between his grandparents. Knowing he hadn't long to live his grandfather, who despite a tough life had always been an optimist, held his wife's hand and told her not to be sad. "Now that my time is done, tell me about your love". His grandfather had grown up half Jewish in Nazi Germany. That and his narrow escape from a devastating train crash are the subjects of 'Leuven'. Almost more of a poem, the strings add even greater feeling to the vivid lyrics. He sounds a remarkable man.
For the most country feel, 'No Trouble' lilts along with a more hopeful perspective. Here at least there is a sense that things may get better.
On a record that simply swirls with atmosphere, if forced at gunpoint to select only one song then the title track 'As I Fell' most conveys that sense. One of the shorter songs in terms of lyrics, there is no escaping the sensation of just falling even without, "I always dreamed that you might be there to catch me as I fell".
Bechtolsheimer fronts Curse of Lono but this is a team effort. Lead guitarist Joe Hazell works his chops throughout as do Dani Ruiz Hernandez (keys), Charis Anderson (bass) and Neil Findlay (drums). Their harmonies are spine-tingling. The final word however should go to Bechtolsheimer. He said that in writing he wants to create a world that the listener can get into for the four or five minutes of each song. If he can transport people somewhere in their heads and they can leave their phones for the length of the album then that would be an incredible achievement.
If my experience is any guide that really shouldn't be too difficult.
---