25 YEARS OF NO DEPRESSION: Friends Remember Neal Casal's Career and Legacy
Posted On September 23, 2020
---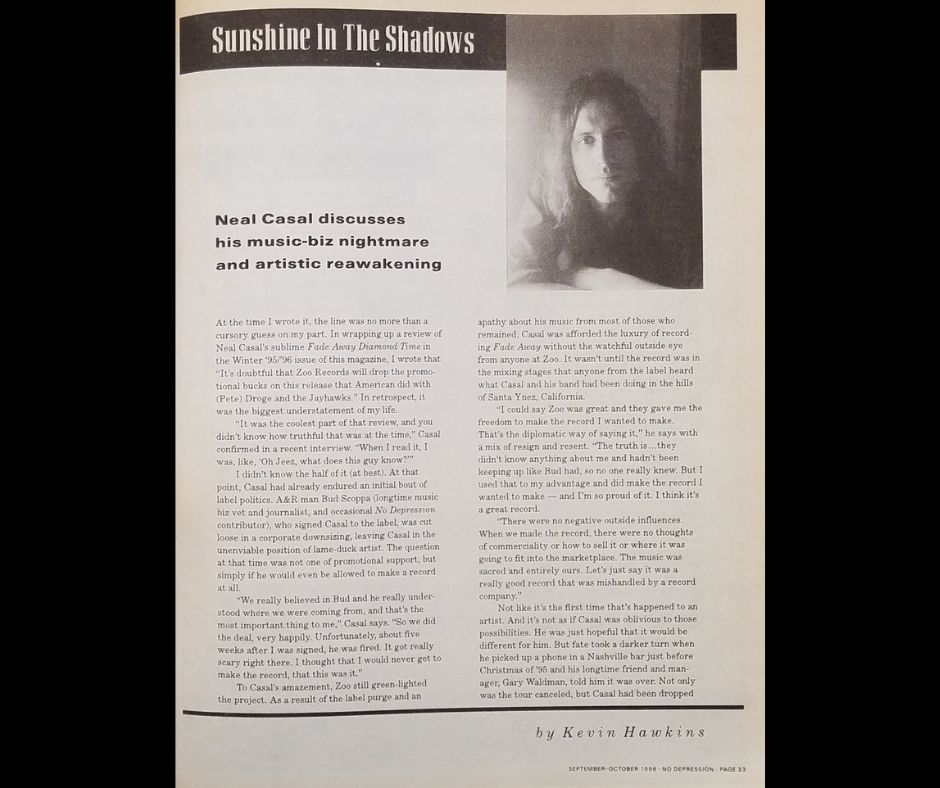 An interview with Neal Casal in the September-October 1996 issue of No Depression. (Photo by David Menconi)
EDITOR'S NOTE: To mark No Depression's 25th anniversary this month, we asked David Menconi, a contributing editor during its earliest years (1995-2008), to check back in with artists who appeared in the magazine's first few issues. Read other stories in this series here.
Guitarist Neal Casal first appeared in No Depression in a record review in Vol. 1, No. 2, Winter 1996 (the issue with Blue Mountain on the cover), followed by an interview feature in Vol. 2, No. 1, September-October 1996. Much of that interview was about Casal's career travails and the record deal he'd recently lost. That hastened his transition from bandleader to sideman, but it would be a role he thrived in.
Over the next two decades, Casal became a key player in bands including Ryan Adams' Cardinals, Chris Robinson Brotherhood, and the supergroup Hard Working Americans. He worked steadily into August 2019, at which point he was busier than ever. Casal had just recorded the third album with his instrumental group Circles Around the Sun, played the jamband Lockn Festival, and was about to commence producing a new album by his longtime friend Kenny Roby.
Behind the scenes and out of sight, however, Casal was in more serious turmoil than anyone realized. His story came to a heartbreaking and shockingly abrupt end on Aug. 26, 2019, when he took his own life. Casal was 50 years old and left behind legions of stunned fans, friends, and peers.
"It was a shock and a surprise," says Adam MacDougall, keyboardist and Casal's longtime bandmate in Circles Around the Sun as well as Chris Robinson Brotherhood. "We all knew he was going through some pretty big inner spinouts he thought he couldn't get out of. But none of us really thought he'd do that."
A year later, a handful of projects are in the works to honor Casal's memory, including a book of his photographs and a tribute album featuring Billy Strings, Hiss Golden Messenger, Lucinda Williams, and many others. Casal's first solo album, 1995's Fade Away Diamond Time (subject of that long-ago No Depression record review), is being reissued on vinyl for the Oct. 24 installment of 2020's multi-phased Record Store Day. And his longtime manager Gary Waldman has co-founded the Neal Casal Music Foundation, a charity supporting a number of causes, including music education and mental health.
"We all know people who struggle, and a lot of us have been there, too," says Roby. "Nobody can believe it when it gets that bad, and there's so much fear of rejection in sharing feelings like that. When people don't get it, that feels even more isolating, so … you don't share it. Yeah, I knew Neal was struggling and having some difficult times, but I did not know the depths of it because he kept it to himself. Like a sideman, you know?"
After the initial shock wore off, Roby found a way to keep going with his album project. Dave School, who was one of Casal's bandmates in Hard Working Americans, stepped in to produce Roby's album, the raw and emotional The Reservoir (which was released in August). The Reservoir includes "Silver Moon (For Neal)," a stately Sweetheart of the Rodeo-style waltz that Roby wrote immediately after playing the big Neal Casal tribute show in Port Chester, New York, in September 2019.
As for Casal's mates in Circles Around the Sun, they had serious doubts about continuing without him. But they completed work on Circles Around the Sun, the final album to feature Casal's guitar-playing, and released it in March, per instructions from Casal himself in a letter he left behind.
"He wrote a quite extensive half-hour read of a letter, which was very specific about what he was feeling," says MacDougall. "He said he wanted us to continue, and for this record to come out. But at first, it was impossible to imagine a future. We were so deep in grief and shock and, to be fair, anger. A big stage of this is serious anger, which is a shameful but real feeling. It's irrational, but it happens. I've had to talk to trauma counselors. So we started tenderly working on it, seeing what would happen by getting in the room with somebody else. It was very sad and hard, but we've been lucky to play with some really gifted guitar players who don't try to be Neal but do their own thing. I'm glad we decided to keep going."
If you or a loved one needs support, please contact the National Suicide Prevention Lifeline at 1-800-273-TALK (8255) or text the Crisis Text Line at 741-741.
---
David Menconi is a music journalist in Raleigh, NC, who has written for publications including Billboard, Spin, Rolling Stone, the Raleigh News & Observer, and No Depression — where he was a contributing editor for the magazine's original 1995-2008 incarnation. His next book, Step It Up and Go: The Story of North Carolina Popular Music, from Blind Boy Fuller and Doc Watson to Nina Simone and Superchunk, will be published in October by University of North Carolina Press.    
---