25 YEARS OF NO DEPRESSION: Blue Mountain Weathers Splits, Reunions, and a Changed Music World
Posted On September 9, 2020
---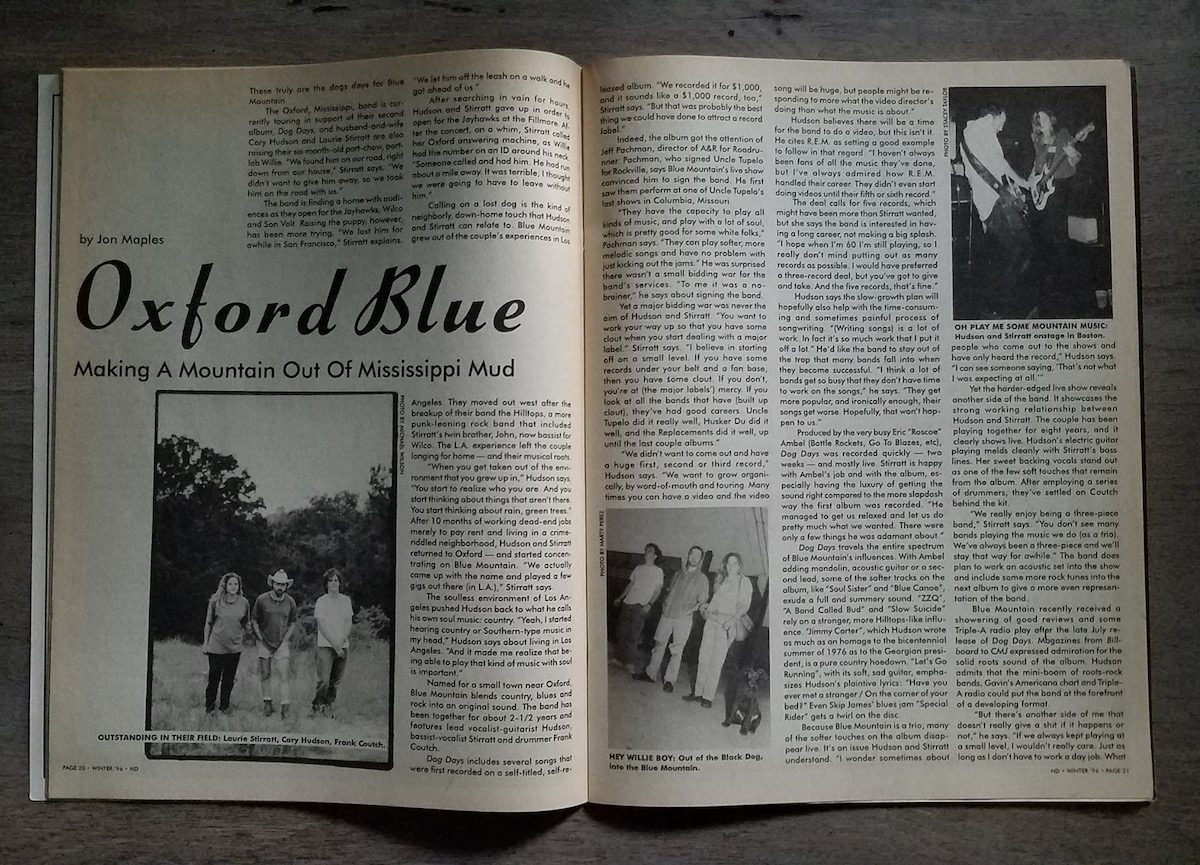 The Blue Mountain cover story in the second print issue of No Depression, Winter 1996. (Photo by David Menconi)
EDITOR'S NOTE: To mark No Depression's 25th anniversary, we asked David Menconi, a contributing editor during its earliest years (1995-2008), to check back in with artists who appeared in the magazine's first few issues. Read other stories in this series here.
Technically, Mississippi rock band Blue Mountain had only been together a few years when they landed on the cover of No Depression's second issue — Vol. 1, No. 2, Winter 1996. But the married couple of guitarist Cary Hudson and bassist Laurie Stirratt had been playing together in one form or another for a long while, going back to their group The Hilltops with Laurie's twin brother John Stirratt (of Wilco/Autumn Defense fame).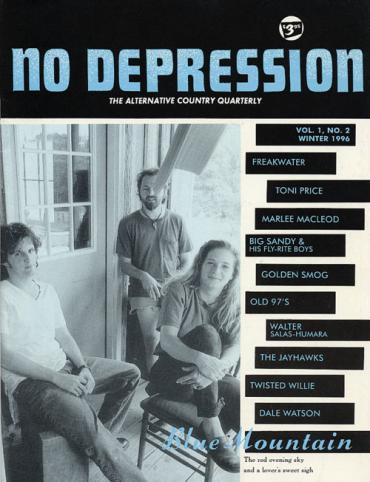 Even that early on, Blue Mountain was playing the long game. In the 1996 story, written by Jon Maples, Hudson declared, "I hope when I'm 60 I'm still playing." Reminded of that quote now, Hudson's first reaction is to laugh long and loud.
"Well, I'm 57 and I've just about made it!" he says. "A lot of the guys who kind of mentored me by example were the old country-blues guys in Northern Mississippi, like R.L. (Burnside) and Junior (Kimbrough). Playing music was just what they were and it was always my desire to emulate them. So I'm sure I'll still be doing it at 60 — if I survive 2020, of course."
Blue Mountain's No Depression cover turn came at a momentous time for them. The group had released Dog Days the previous summer, their first album for the major independent label Roadrunner Records, with production from the esteemed Eric "Roscoe" Ambel. In that album's wake, they toured all over the US and Europe with many of the leading lights of the 1990s alt-country generation.
"It was definitely a different life and really great," says Stirratt. "I enjoyed almost every minute of it. It is strange how things change, people you think will be there forever come and go. The music industry especially has changed so much since then. Some people might say it's easier now, but I feel like it's harder than ever — at least for somebody my age. I'm glad I was able to have the experience of playing music before the internet."
Blue Mountain had a good run through the 1990s with a series of country-rock albums showing off a literary flair (Hudson would later be among the participants on Just One More, Bloodshot Records' 2007 tribute to the late Mississippi novelist Larry Brown). The band also outlasted Hudson and Stirratt's marriage, although they have remained on good terms over the years.
In 2001, Blue Mountain disbanded. They regrouped six years later and kept the band going until 2013 before disbanding again. Now, Hudson and Stirratt are both still in Mississippi and still playing music — him mostly solo, her in an Oxford band called Teardrop City. The virus shutdown canceled a lot of gigs, and Hudson used the time to do some recording. His solo album Hobolochitto, named after a creek in Southern Mississippi, is set to come out around the first of October on Bandcamp.
Neither Hudson or Stirratt are averse to the idea of reviving Blue Mountain again, so it might happen someday. But they don't seem in a hurry to do so, either.
"I'm really proud of the Blue Mountain years," Hudson says. "But currently my head is more on the now, getting a couple of new albums of my own out. We both feel like we set really high standards with that band and we would not be willing to go out as Blue Mountain again unless it sounded really, really good. It would involve a lot of getting together and rehearsing, and I'm open to it. But I'm at a point in life where I'm more interested in seeing what other opportunities arise."
---
David Menconi is a music journalist in Raleigh, NC, who has written for publications including Billboard, Spin, Rolling Stone, the Raleigh News & Observer, and No Depression — where he was a contributing editor for the magazine's original 1995-2008 incarnation. His next book, Step It Up and Go: The Story of North Carolina Popular Music, from Blind Boy Fuller and Doc Watson to Nina Simone and Superchunk, will be published in October by University of North Carolina Press.    
---