25 YEARS OF NO DEPRESSION: Freakwater Stays Tuned for 'Moments of Real Not-Miserableness'
Posted On September 16, 2020
---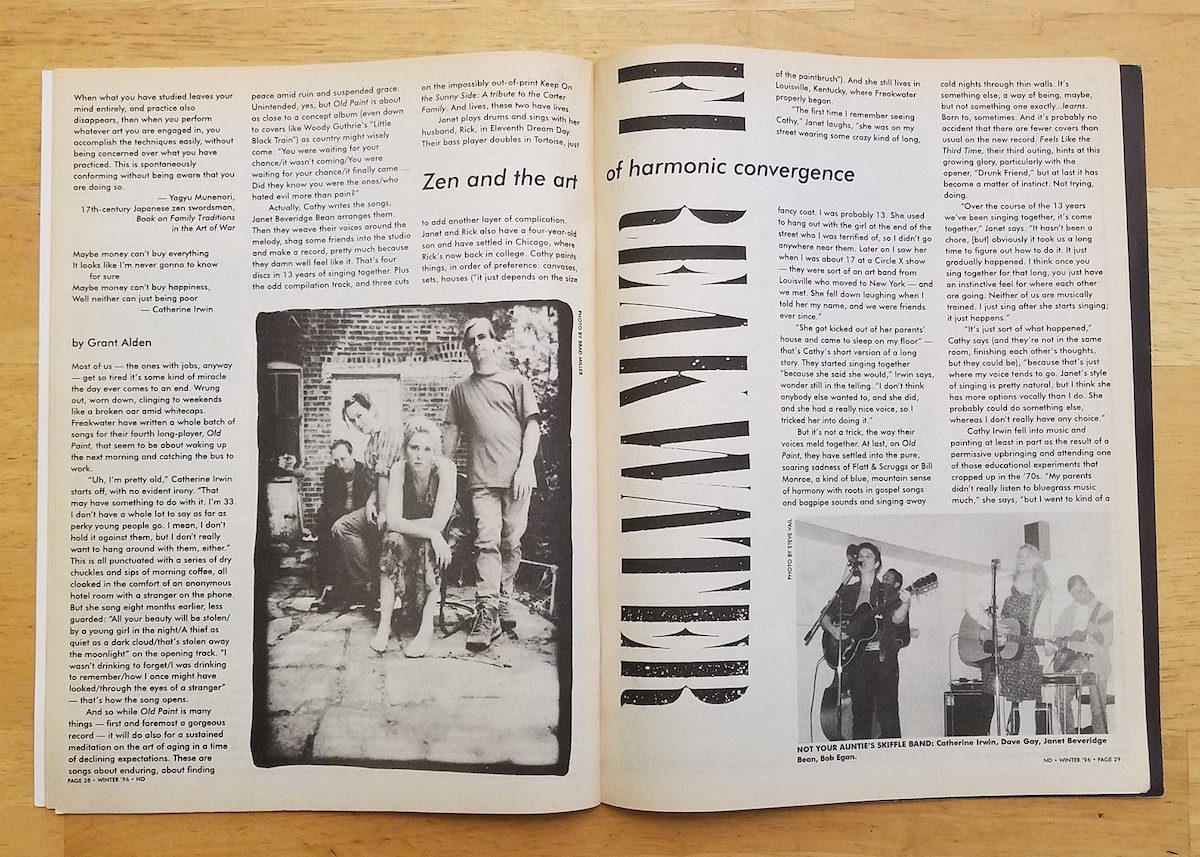 The opening spread of the Freakwater profile by Grant Alden in the Winter 1996 issue of No Depression. (Photo by David Menconi)
EDITOR'S NOTE: To mark No Depression's 25th anniversary this month, we asked David Menconi, a contributing editor during its earliest years (1995-2008), to check back in with artists who appeared in the magazine's first few issues. Read other stories in this series here.
Freakwater first appeared in No Depression's Vol. 1, No. 2, Winter 1996, the same issue with Blue Mountain on the cover. Twenty-four years ago, co-leader Catherine Irwin told No Depression co-editor Grant Alden this on the subject of age: "Um, I'm pretty old … I'm 33. I don't have a lot to say as far as perky young people go. I mean, I don't hold it against them, but I don't really want to hang around with them, either."
"Well, if you expect to be dead by the time you're 30, you sure don't expect to ever be twice as old," Irwin quips upon being reminded of this. "I was not wrong to say that 30 is pretty fucking old, and I stand by that. I feel like I have all the downsides of being geriatric with none of the adoration some cultures give to their elders for their wisdom. None!"
And at that, Irwin and her Freakwater co-leader Janet Beveridge Bean give a good long laugh. If they haven't had the last laugh, exactly, Freakwater has done right well over the past quarter-century. With Bean in Chicago and Irwin in Louisville, Kentucky, the group has always been something of a catch-as-catch-can proposition to fit in around the principal members' other doings — most notably Eleventh Dream Day, Bean's long-running and still-going rock band with Rick Rizzo.
Still, they've found the time to release 10 Freakwater albums, centered around the eerie, Carter Family-esque vocal interplay of Bean and Irwin. And they've also found themselves playing plenty of strange gigs over the years, including a few that sound like something straight out of Spinal Tap. Chief among those was a show sponsored by Garden & Gun magazine in honor of the founding of the state of Kentucky.
"It was at this really over-monied place, the Breeders Cup Horse Farm," recalls Bean. "Huge giant stable, we're doing soundcheck and they're asking us, 'Can you play quieter? Just unplug?' People wanted to eat, not hear us doing our songs about Bolsheviks over their silver-plated mint-julep cups. But they paid us well."
Freakwater was most recently heard on-record in 2016 with the album Scheherazade. As for if or when another Freakwater album might emerge, Irwin and Bean say it will probably happen. There might also be an album at some point by their collaborative group with members of The Mekons, the Freakons.
"I never envision anything," Bean says. "Stuff just starts to happen and when it does, it does. Over time, I've always said that Freakwater is like tennis. You can play until you're super old, you just keep getting slower and slower — which we have. We're one of the few bands that plays slower live than on record. We used to put out records because our moms were so enthusiastic, but both our moms are no longer with us. So there's no one telling us we should do that. Still, I don't understand why we'd ever say, 'Freakwater is done, time to close that chapter.'"
"Is making another record just a dumb idea?" Irwin asks rhetorically. "It would probably happen more quickly if someone told us it was dumb. Luckily we've never had the stress of money for motivation. I like almost all parts of making a record — being in the studio, singing with Janet — even if I have no interest in learning how to record."
"I love singing with Catherine and enjoy the company, so I'd do it for that reason," Bean says. "Singing together is really the only reason to do it, and why it's continued for so long. Those moments of real not-miserableness."
---
David Menconi is a music journalist in Raleigh, NC, who has written for publications including Billboard, Spin, Rolling Stone, the Raleigh News & Observer, and No Depression — where he was a contributing editor for the magazine's original 1995-2008 incarnation. His next book, Step It Up and Go: The Story of North Carolina Popular Music, from Blind Boy Fuller and Doc Watson to Nina Simone and Superchunk, will be published in October by University of North Carolina Press.    
---