Your 50 Favorite Albums of 2017
Posted On December 19, 2017
---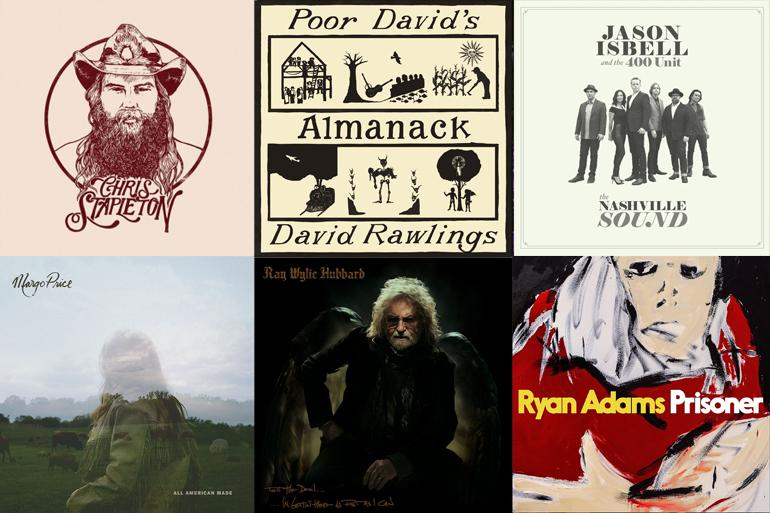 One of the most surprising elements of the results of this year's annual ND Year-End Readers Poll was the number of artists who wouldn't necessarily fall into the category of roots music. No Depression readers, you lifted Ryan Adams — who hasn't felt like Americana for years — into the top five. You encouraged The War on Drugs' hazy rock to float up within the top 20. You voted Beck — a eccentric rock and roller to the core — into the top 40. You put gospel music from Mavis Staples and music rooted in immigrant culture via Hurray for the Riff Raff into the top 50 best albums of the year.
And yet, according to you, No Depression's loyal supporters, all of this music comprises roots music. All of these different people — the performers and writers and contributors who made these records we unilaterally love — can be united in this one seemingly simple way. What a powerful realization! So while it's important to simmer in our emotions resultant from 2017's awfully contentious days, this concept of unity through diversity is one that we ought to carry into 2018.
The precipice of another year offers new opportunities for growth, for compassion, for forgiveness, and as we listen to these songs that brought us so much joy this year, let's not forget to embrace new sounds, new songwriters, and new perspectives in 2018. With that in mind, here are the Top 50 Albums of 2017, as chosen by ND readers.
1. Jason Isbell and the 400 Unit – The Nashville Sound
2. Margo Price – All American Made
3. Chris Stapleton – From a Room: Vol. 1
4. Ryan Adams – Prisoner
5. David Rawlings – Poor David's Almanack 
6. Gregg Allman – Southern Blood
7. Ray Wylie Hubbard – Tell the Devil I'm Gettin' There As Fast As I can
8. Rhiannon Giddens – Freedom Highway
9. John Moreland – Big Bad Luv
10. Steve Earle – So You Wanna Be an Outlaw
11. Alison Krauss – Windy City
12. Son Volt – Notes of Blue
13. Rodney Crowell – Close Ties
14. Neil Young – Hitchhiker
15. Old 97's – Graveyard Whistling
16. Willie Nelson – God's Problem Child
17. Chris Stapleton – From a Room: Vol. 2
18. Matthew Ryan – Hustle Up Starlings
19. The War on Drugs – A Deeper Understanding
20. Allison Moorer & Shelby Lynne – Not Dark Yet
21. Tyler Childers – Purgatory
22. Turnpike Troubadours – A Long Way From Your Heart
23. Aaron Lee Tasjan – Silver Tears
24. Mavis Staples – If All I Was Was Black
25. Chuck Prophet – Bobby Fuller Died for Your Sins
26. Marty Stuart – Way Out West
27. Nikki Lane – Highway Queen
28. Hurray for the Riff Raff – The Navigator
29. Chris Hillman – Bidin' My Time
30. Father John Misty – Pure Comedy
31. Justin Townes Earle – Kids in the Street
32. JD McPherson – Undivided Heart and Soul
33. Aimee Mann – Mental Illness
34. Eilen Jewell – Downhearted Blues
35. Taj Mahal & Keb' Mo' – TajMo
36. Beck – Colors
37. Lukas Nelson & The Promise of the Real – Lukas Nelson & The Promise of the Real
38. Billy Strings – Turmoil & Tinfoil
39. Jeff Tweedy – Together At Last
40. The National – Sleep Well Beast
41. Sarah Shook & the Disarmers – Sidelong
42. Lily Hiatt – Trinity Lane
43. Colter Wall – Colter Wall
44. Iron & Wine – Beast Epic
45. Kris Kristofferson – The Austin Sessions
46. Hiss Golden Messenger – Hallelujah Anyhow
47. Robert Plant – Carry Fire
48. The Contenders – Laughing with the Reckless
49. Mavericks – Brand New Day
50. Josh Ritter – Gathering
---