What Is Cosmic American Music? (And a List of Examples)
---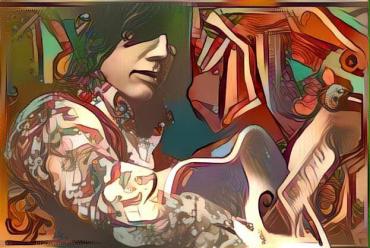 Cosmic American Music is hard to define, and often easier to define by what it's not. Michael Grimshaw in his essay "Redneck Religion and Shitkickin' Saviours? Gram Parsons, Theology and Country Music" writes: "Parsons' mission was the creation of a new way forward, a way to musically heal the separation and increasing divisiveness of late modern life. His term for what he attempted was Cosmic American Music.
Further he writes:
"The narrative focus of country became superimposed on the more urban concerns of rock so instead of statements of desire or anger followed by exclamatory choruses (as one could characterize much of rock) this new form takes the listener on often both a psychological and physical journey – short stories in three-minute forms. The aim was to bring together the past with the present and provide a musical and cultural point of epiphany, an American gospel of popular music in which both (latter-day) 'Greek and Jew' could be remade anew. To do so, Parsons reused the language and rhythms of country, played them through the language and rhythms of rock, and in himself attempted the incarnated embodiment of a musical and cultural reconciliation. To speak theologically he was both prophet and messiah: both pointing the way to a new beginning and attempting to live out the struggles of just what that new beginning involved."
Pretty heady stuff. Here's some of my key points in definition of the genre.
Its evolution is roots-based but it's not really roots, therefore not most Americana, especially if not heavily country-based*.
It's not usually singer/songwriter, though it requires solid songwriting, and is usually band-oriented (inc. in-studio if not officially a "band").
It's not pure country in the sense of it being solely traditional or "trad." It's usually more closely aligned with Bakersfield than Appalachian, though incorporates diverse background elements, including rock, soul, and jazz.
It's not pseudo "country rock," which is typically a market-driven synthetic synthesis, which may hint at why most in this list did not sell well at the time. (True "country rock" was epitomized by Jerry Lee Lewis.)
It's often southern in origin but usually not "southern rock," which is an identifiable and distinctive niche of rock music.
It is not usually "Outlaw" as epitomized by those who have recently co-opted that label; having said that, in some ways it followed Hank and Cash as the original outlaws of country music.
There is a large West Coast/Californian aspect to it, both migratory and per the Bakersfield sound, as well as in regard to the evolution of the genre itself.
It's not soul music per se, though Gram once described it as "white soul," and it is usually soulful in some way.
Above all Cosmic American Music is inventive in songwriting and delivery, cosmic in the sense of being cutting edge, but built upon the tried and true (e.g., Buck Owens, Merle Haggard, Louvin Brothers, Elvis).
(*As Americana is a relatively new genre and by its own definition literally includes everything, can't say "Americana" does not include some Cosmic American Music.)
With those initial thoughts in mind (something tells me more will be added to this organic discussion), here's a "Top 15" list, somewhat but not absolutely in order, of albums that to me represent the Cosmic American Music genre.
Gilded Palace of Sin, Flying Burrito Bros (FBB)
Safe at Home, International Submarine Band
GP, Gram Parsons/Emmylou Harris
Grevious Angel (inc. session tracks with Emmylou Harris later released inSleepless Nights), Gram Parsons w/ Emmylou (tied or ranked as one)
Nevada Fighter, Michael Nesmith & the First National Band (w/ Red Rhodes)
Muleskinner (imo only Cosmic Bluegrass album ever)
Wrecking Ball, Emmylou Harris and Daniel Lanois
Great Speckled Bird, Ian Tyson (not higher due to last track "We Sail")
Aereo Plain, John Hartford
Sweetheart of the Rodeo, The Byrds/Gram Parsons
Burrito Deluxe, FBB (admit that GP at least in part wrote Wild Horses and I'll rank it higher)
Hums of the Lovin' Spoonful
Trace, Son Volt (not higher as others were the forerunners, groundbreaking)
American Beauty, Grateful Dead (included somewhat reluctantly as really more rock synthesis with country overtones, great songwriting)
Will the Circle Be Unbroken (only first release, and almost didn't include as it's solid traditional country which the Dirt Band presents but doesn't really change, but it had a part in the in-roads of country into the rock audience, characteristic of CAM)
---