'We All Have the Same Questions': Josh Ritter Takes a New Route to Answers
---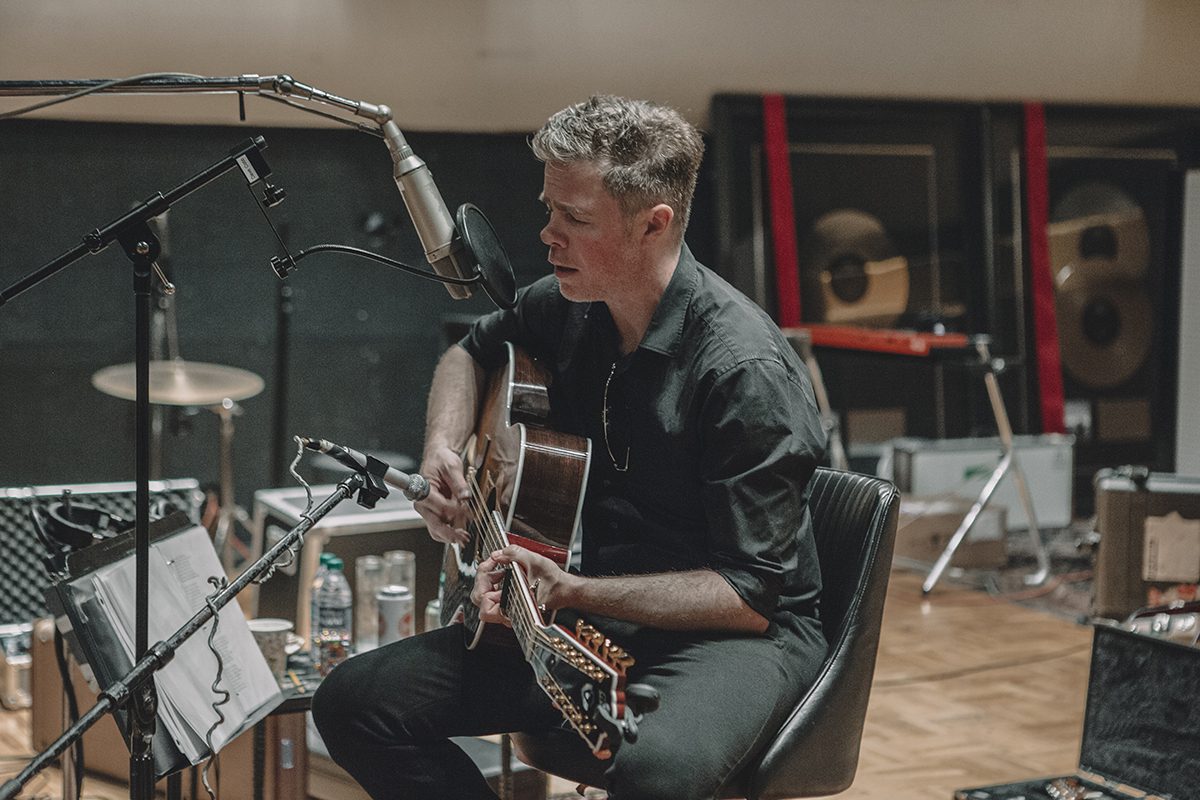 Photo by David McClister
Over the past 20 years, Josh Ritter's vivid imagery and expansive song topics have established him as a singular voice in songwriting — a reputation cemented by substantial experimentation and collaboration. His 2011 novel, Bright's Passage, and visual art (including the cover art for 2017's Gathering) attest to that. For Ritter, growth is as much a constant as his acclaimed songwriting and focus on sharing ideas through music. That spirit of musical generosity has led to performing with musicians including Hilary Hahn and the Boston Symphony Orchestra, co-writing "cowboy songs" with Bob Weir, and writing new songs for Joan Baez. Ritter's good friend Jason Isbell invited him to tour together in 2016, and that experience stayed in Ritter's mind as he began a new record.
"I was at the end of touring for Gathering, and I was lying fallow. Songs were accumulating but I wasn't working on things very specifically. It was time to start thinking about a record and also about how I would make a change from the ways I'd been working for the last 20 years," Ritter says by phone from his Brooklyn home.
To shake things up, Ritter asked Isbell to produce the new album, as well as play on it, and they recorded it at Isbell's studio in Nashville. Because the two shared such a rapport, it was easy to co-create a vision for the new work, Ritter says. "When I came to Jason with the idea, I had a pile of songs, nine or 10. We both wanted to make a record that wasn't going to be overly long. With Gathering, I had about 30. Over the time when I was working with Jason, I went down and visited them and played them a bunch of stuff. I also got, from that, an idea of what the album needed." Playing new songs on Jason Isbell and Amanda Shires' porch, the album began to take shape, especially when Shires and Isbell's band the 400 Unit joined in.
While Ritter and Isbell share lyrical prowess, the two have somewhat different approaches to songwriting. Ritter is more likely to deliver intricate narratives, while Isbell tends to be more direct and concise. Ritter is aware of the ways in which their sensibilities diverge, and that's one reason working with Isbell was so attractive, he says.
"Jason's approach to writing uses a really sharp and concise way of talking about the world, and it's amiable to be able to describe something with such sharpness and clarity. There are times that language should be decadent; there are other times when you have to strip everything to the bone and say everything you're talking about. That's something I really appreciate about Jason's writing."
On Fever Breaks, Ritter offers up "Torch Committee" and "All Some Kind of Dream," songs that address anti-immigration family separation policies. His lyrics are more direct than usual, reflecting his sense of urgency and, perhaps, his time spent with Isbell.
The unease that Ritter carries about precarious times in America has fueled many of his songs throughout his career. He created songs for 2006's The Animal Years to channel his feelings of panic following the US invasions of Iraq and Afghanistan, and angst over recent headlines have brought him to a familiar place.
"The feeling that I have in my chest is the same, this feeling of confusion and anger at what's happening in our country. I have that feeling, and it was first during those days during the invasion," he says. "I have that strong, strong feeling again. It's one that I recognize for the type of songs that come out of it. There are songs like 'Some Kind of Dream' or 'Torch Committee' which attempt to exorcise that feeling. To understand it by describing it."
In writing The Animal Years, Ritter referred heavily to Mark Twain's Deep South-set narratives of America, and recording with Isbell in Nashville provided another unintended echo for the Idaho native. Isbell is widely considered an ambassador of the New South, but Ritter has never lived farther south than Ohio. "Northern Ohio," he quips. Ritter recalls getting his first taste of Southern literature by reading Flannery O'Connor.
"She was my first introduction to Southern writing and also the Sistine Chapel of it. To find writing that was so spare and full of humor and strangeness and absurdity, it was like drinking something new and strange."
Drinking something new and strange. Surprising turns of phrase come up often in conversation with Ritter, as when he describes choosing "Old Black Magic" for Fever Breaks' lead single. "One of the things that's really important about getting to whip the sheet off the statue is that it's nice to choose a song that goes someplace different than you'd gone in the past," he says. The song continues imagery from "Change of Time," a dreamscape about drifting at sea. But it's far more desperate. Here, the lyrics aren't directed at someone whose presence offers consolation after dreams but rather someone who commits a betrayal at the worst moment. A guardian angel comes in the form of a crow, and Ritter depicts a lighthouse that refuses to scream in sympathy as the song's speaker drowns. Deep restlessness propels the song, refusing to lend moments of hope or relief. "For the many dynamics on the record, the many moods, 'Old Black Magic' has a feeling of a menace behind it that's a force behind the rest of the record," Ritter says.
Nobody wants to live with dreams of drowning or feelings of menace. But such visceral sentiments are universal, and they've informed music since music was born. "The only thing to do with a song is to use it to describe a situation that we can understand, all of us," Ritter says. "In so doing, you're not answering any questions, but you're at least providing some idea that we all have the same questions. Sometimes that's comforting."
On Fever Breaks, Josh Ritter is clearly saturated with the same anxieties shared by many, and he lacks the hubris to preach about solutions. What he does have is the willingness to collaborate with other songwriters who have the same questions, and those songs get us a little closer to understanding our common experiences.
---