VetsAid 2018: Joe Walsh, Don Henley, James Taylor, Chris Stapleton, HAIM and Ringo Starr
Posted On January 17, 2018
---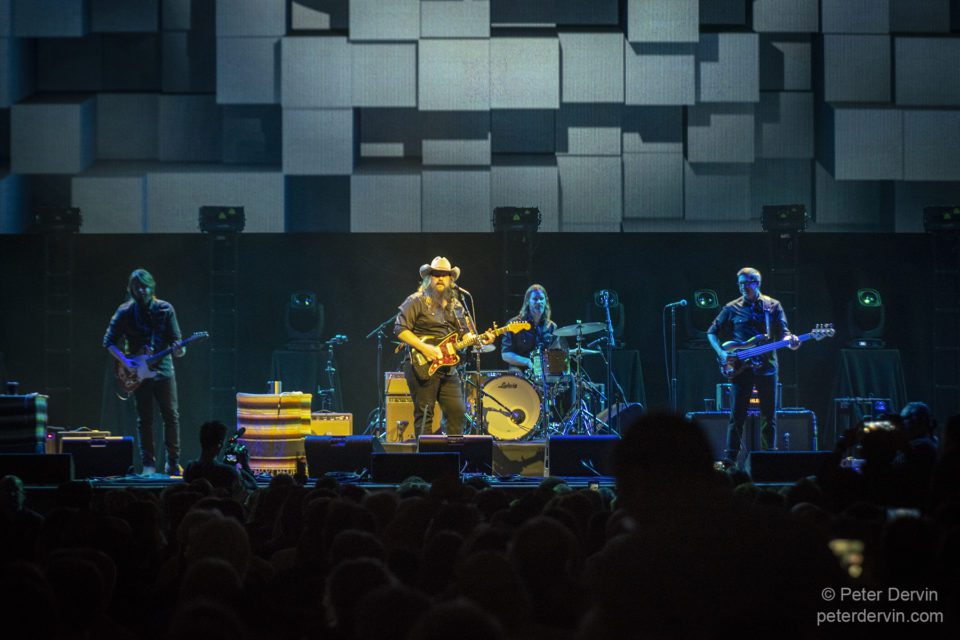 he 2nd Annual VetsAid 2018 rolled into the Pacific Northwest with a stop at the newly refurbished Tacoma Dome. Legendary singer, songwriter, and guitarist Joe Walsh of The James Gang and The Eagles founded the VetsAid Charity and nonprofit organization with his wife, Marjorie Bach, to support a variety of charities to support military veterans across the US.
In the press conference prior to the benefit concert, Joe and Marjorie explained how they both felt strongly in their support of veterans in need. Joe's father was a flight instructor for the first US operational jet powered aircraft, the Lockheed F-80 Shooting Star, and died while stationed and on active duty on Okinawa when Joe was just 20 months old.
Joe and Majorie founded VetsAid in 2017 to support organizations that reach out to those vets in need. In 2017, Walsh produced his first benefit concert to raise funds and awareness in the spirit of Willie Nelson's Farm Aid, which brings in a variety of musical performers who donate their time for this benefit. Donations to VetsAid can be made at www.vetsaid.org
For 2018, Walsh invited his Eagles bandmate Don Henley, the legendary James Taylor, country rocker Chris Stapleton, and Southern California's HAIM, with a special guest appearance with the one and only Ringo Starr to close out the evening with a group finale.
HAIM opened the evening with a fantastic set of pulsating drumming from the sisters Haim. Danielle, Alana, and Este Haim played an energetic set of songs and their playing was top notch. A bunch of their fans were in the crowd dancing to the music and the audience loved their set.
The evening continued with stories from several veterans, with comedian Drew Carey in the house. Heartfelt tributes were made on behalf of lost brothers and sisters and the ongoing need to help those here at home.
Chris Stapleton hit the stage and the crowd went wild. Over the past couple years, Stapleton has become one of country music's rising stars. After winning several Grammys and Country Music Awards, Stapleton is the real deal. His first couple songs were country tunes all the way, but midset, his music went into a rockin' blues vibe that set the place on fire.
Up next was the legendary James Taylor. Originally signed as the first artist to The Beatles' Apple Records back in 1968, Taylor became the soundtrack to the soft-rock '70s. On this evening he performed his classic "Sweet Baby James" and also a scat-driven "Steamroller Blues" with Joe Walsh on guitar.
Taylor then introduced Don Henley, who sang a couple of his solo hits, including "The End of the Innocence," with the backing band totally dialed in. Henley also performed a rousing version of Tears for Fears' "Everybody Wants To Rule The World" that completely blew the crowd away. Henley wrapped up his set with The Eagles' "Life In The Fast Lane," "Hotel California," and "Desperado," with sidekick Joe Walsh on guitar.
Walsh then continued to put on a rock show as only he can, kicking it off with "Funk #49" and continuing on into "Turn To Stone," "Life's Been Good," and "Rocky Mountain Way," to name a few. The evening came to close with Walsh's brother-in-law taking the stage with "A Little Help From My Friends" as Beatles legend Ringo Starr brought the house down with an exuberant celebration in honor of the men and women who have served our country.
Complete photo gallery at: http://peterdervin.com/20181111_vetsaid2018.html
---