Unpaid and Betrayed: Artists Stranded as PledgeMusic Admits Failure
---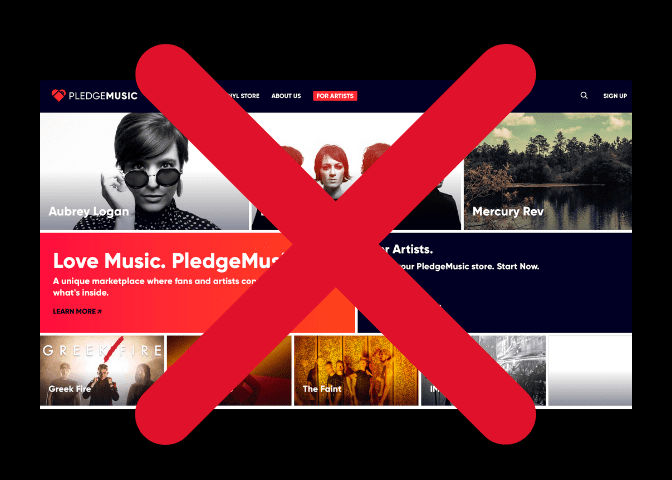 UPDATE: At the end of July 2019, PledgeMusic.com was taken down and replaced with the following message: 
A winding up order was made against Pledgemusic.com Limited in the High Court of Justice on 31 July 2019.
As a result of the making of the order, the Official Receiver becomes liquidator of the company. Any enquiries should be forwarded to LondonB.OR@insolvency.gov.uk, quoting reference LQD5671373.
According to Digital Music News, a "winding up order" is essentially a liquidation, which unlike administration (equivalent to bankruptcy) does not allow for artists and fans to have their voices heard in the proceedings. It is unclear as of this update whether artists will be able to recover the funds pledged to them via PledgeMusic.
For his last two albums, folk singer-songwriter Tim Easton created crowdfunding campaigns on PledgeMusic that helped him connect with fans and get his projects made the way he wanted them made — independently.
So when it came time for his latest album, Exposition, Easton didn't think twice about creating a new campaign, and he was delighted when fans came through with pledges that totaled 159% of his $6,000 goal. The money was intended to get the album recorded, mixed, mastered, and manufactured, but it never arrived in his bank account.
In January — on the day after Easton turned in the master of his record, as it happened — Billboard broke the news of trouble at PledgeMusic in an in-depth article headlined "PledgeMusic, Once a Crowdfunding Haven for Artists, Now Owes Them Thousands of Dollars." The article documented late payments to successful campaigns dating back to at least last spring.
In response to that article — and to rising outcry from artists — PledgeMusic started offering updates with promises like these:
"The first priority for the company is to sort the back payments issue as every penny that is owed to artists needs to get to them in the fastest possible time. A more detailed plan will be shared with the community shortly." (PledgeMusic.com/Jan. 29, 2019)
"All of us at the company are working around the clock to address everybody's concerns and are hopeful of reaching a positive resolution soon." (PledgeMusic.com/Feb. 1, 2019)
"We are deeply sorry for what you are going through and are working around the clock to resolve any and all outstanding issues." (PledgeMusic.com/Feb. 15, 2019)
But on Wednesday, PledgeMusic co-founder Benji Rogers (who stepped down as company CEO in 2017 but had returned in January to serve as a "volunteer" to help the board), announced that efforts to find a buyer for the company were unsuccessful and it would be "heading into administration."
The details of a bankruptcy ("administration" is the term used in the UK, where PledgeMusic is based) aren't yet known, but Billboard reported this quote from Rogers' Wednesday letter, which has since been edited and no longer includes this passage:
"The company will go into administration at some point this week or early next which means that any funds received for the assets of Pledge will be distributed to all of the creditors involved. This will include all of the artists who are owed money."
That would require artists to register as creditors, a process Rogers promised an update on in a passage from the letter that also has since been deleted.
For many artists, including Easton, the damage is already done. Since his album was already in progress, based on the pledges he'd secured during his campaign he'd already started work and incurred expenses. He had to use his personal credit card to pay various vendors so he could continue making the record and send promised rewards to pledgers.
"I'm not going to let some shysters prevent me from making art," Easton said in an interview Thursday. "So I spent my own money."
But that hasn't come without sacrifice. He's had to move to a cheaper apartment recently, he said, and keeping to the reward fulfillment schedule has been a struggle.
"I'd like everybody to know that I'm determined to fulfill my orders no matter what, and I am going to fulfill them," Easton said. "I'm not going to let Pledge stop me from connecting with the people who support what I do."
It's unknown how many campaigns were affected, and hard to quantify the effect of late payments and payments that never came through at all. But several roots musicians have taken to social media to express their dismay and plead for understanding from backers and fans.
In April, Joan Osborne issued a message to fans about a campaign for her new album, expected to be released this fall. She detailed her correspondence with PledgeMusic to seek information about late payments and assured fans she would remain on track regardless. "I'm still committed to the fans that have been trying to support this record and will send them the items they ordered, whether or not Pledge Music is able to send me the money they collected on my behalf. It may take some extra time, but I will personally make sure all pre-orders are fulfilled," she wrote.
When singer-songwriter Natalia Zukerman decided to crowdfund her latest project, the soundtrack and coffee-table book for a multimedia show titled The Women Who Rode Away, she knew she wanted to work with PledgeMusic based on the positive experience she'd had with a previous campaign. She loved the unique presentation options the platform provided, as well as the personal and strategic support she'd received. In correspondence with PledgeMusic co-founder Jayce Varden before she started her campaign in October, he "was very transparent with me" about financial problems, "which he characterized more as a rebranding or shifting internally," Zukerman said Friday. (Like Rogers, Varden had returned to the company at some point last year in a consulting role, but according to a Variety report he had ended that role as of January.) Any payment delays would be "a few weeks at most," she said he told her, so she decided to move forward — especially since she had already recorded most of the album and started design work on the book.
"They were as responsive as they had been the last time throughout my campaign with strategizing help and tons of support," said Zukerman, whose campaign ended in December. "And then I released my album and got … nothing. I started kind of kindly knocking at their email door asking when I would be paid. Then I started banging a little louder, asking almost daily. I received my first installment, which was a small fraction of the whole amount I had raised but enough to keep me quiet for a while."
Zukerman never received the rest of the $15,000 she was pledged. She filed a complaint with the New York Bureau of Consumer Frauds & Protection in February and received a call back from two assistant attorneys general asking for more information. She posted the agency's phone number on Facebook, encouraging other artists who were owed money to report it.
"Since then," she said, "I've heard story after story of independent artists who lost everything, who are in so much debt already and just waiting for this money to come in to get by. We live paycheck to paycheck as indie artists. It's just how it is. But beyond that horror, I was so terrified to start to tell my fans what happened."
Eventually, of course, she did, on social media and through updates to backers via PledgeMusic (which, then and even now, is up and running with no disclaimer about the bankruptcy plans and full access to starting new campaigns). And, in a silver lining to the situation, "the response has been what has kept me going," Zukerman said.
"A lot of my fans actually were able to contest the payments with their credit card companies, and I hate to think how long that took! And a lot of them have sent me money, one even sent me $5,000, which made me burst into instant tears and reduced me to a total puddle."
Easton and others also suggest that backers of PledgeMusic campaigns that did not pay out to artists try to get their money back from their credit card companies. If successful — or even if not — many artists are bringing their stories to supporters and asking that they consider sending donations directly to help them get back to doing what they set out to do all along: make music and connect with fans on their own terms.
"We are going to find another way to make all of this work for us, as artists," Zukerman said. "We used to do it alone. I've been fan funding since my first record came out in 2001. We don't need a middleman and in fact, we probably should take that ownership and power back. But this is the model that was presented and then the one that was absorbed into the mainstream fabric of the way we make and consume music."
Though Easton is angry and frustrated at how PledgeMusic has treated him and other musicians, as well as fans whose money did not go toward supporting projects as was promised, he's also keeping his eyes forward. "This is a bump in the road for me," he said. "I'm lucky. I'm driving to Fayetteville (Arkansas) tonight, where I have a gig with a lot of fun people and we're going to play music. We're really lucky."
---
To comment on this or any NoDepression.com story, send email to letters@nodepression.com. 
---