Turtles Annihilate London Ballroom
Posted On November 18, 2018
---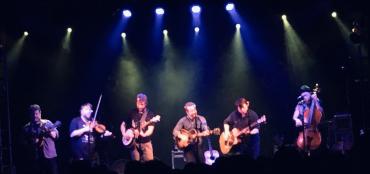 After an absence of nearly four years Trampled By Turtles are most certainly back. This year the six piece alt-bluegrass band from Duluth, MN, released their ninth album, Life Is Good on the Open Road and toured extensively in North America and Europe. The album blends their full throttle TBT pace with a more reflective side. Having seen TBT both at FreshGrass in September and on their final show of this year in London, TBT's time off would appear to have fired them up further. In between these shows I caught up with front man, Dave Simonett.
What brought about the four year hiatus? "It was probably my fault. I was creatively burnt out from touring for what seemed like decades. I'd reached the point where I felt I couldn't do it anymore. Being in a band is like any relationship, it needs time to breathe. So we all went off and did different things. The break was refreshing but after that I was itching to get back. Thankfully the others felt the same!"
What's it like being back together again? "Chaotic! I mean we're still just a group of good friends who got together to play music." Did you have a plan for the new album, a kind of rebonding? "Not really, our vision for the new record was simple. We went to our favourite studio, set up in a circle and played just like we'd always done. We were done in a few days".
Did you set out to make an album that sat somewhere between the raucous Palomino and more reflective Stars and Satellites? "No, that's just how it turned out. Maybe its because we are getting older but every record we've made has been unplanned. It's more of a snapshot of the time and place. We're just feeling level-headed and wholesome after our time out".
How do you manage the load of writing nearly all your songs and fronting the band? "I don't see writing as a burden. I enjoy the process, the whole creation of stuff. It's my favourite part". So who do you consider your main influences? "That's a hard question! But it must be songwriters. The first person that made me want to write songs was Dylan. We're from Duluth, he's everywhere here! Blonde On Blonde blew me away. He uses vocabulary I knew but it's the way he turns a phrase, puts those words in an order I'd never have thought of. For raw energy it has to be Crazy Horse and the Stones".
So how did you get into bluegrass? "Erik Berry and I played in local Duluth rock bands. He got hold of a mandolin so we tried some old bluegrass songs. That was all new to me as there's not a lot of bluegrass in the northern US. But the music had the energy and honesty that I found in punk rock. It was music from a certain place. I hate the word, but it is real. Then we put our own spin by writing a few songs with those bluegrass arrangements".
TBT has a very distinctive spin on bluegrass. How does that go down with the traditionalists? "That's a good description. The more traditional bluegrass scenes don't all work for us. That's ok. If others have found that music through us that's ok too. We've also been the weirdos at the big rock events like Coachella and Bonnaroo. Whereever we play we often don't quite fit in but I like that. We play 150 nights a year so we want to feel we're doing something new. If we feel a bit out of place then thats an accomplishment."
That's the perfect moment to switch to London's Electric Ballroom. Once a famous punk rock venue, now with a more club feel, will TBT look out of place here too? And the audience; there weren't many traditionalists here either. The age group looked a lot younger than I'd expected, certainly compared to FreshGrass.
Young or old there was an expectant buzz around the crowd that couldn't have been too far off the 1500 capacity. TBT's six in a line formation took up the entire stage but anyone expecting them to burst straight into full speed would have to wait. The stage was bathed in a light as blue as Simonett's voice for 'I'm Not There Anymore' from Life is Good on the Open Road. The pace picked up slightly on 'We All Get Lonely' before falling off for the title track with its pauses as Berry's mandolin and Dave Carroll's banjo intertwined around Ryan Young's fiddle, Tim Saxhaug's acoustic bass, and Eamonn McLain's cello.
In complete contrast the TBT motor fired into life with the opening fiddle line and blazing banjo of 'Kelly's Bar'."I was singin' like a stone in Red Wing, Minnesota/ In a bar called Kelly's right next to the train" sang Simonett as the place went wild. This was what they'd come for. And that set the tone for the show. Certainly if those around me were any guide, the faster and more furious the better so deafening whoops for 'Sounds like A Movie' the very suitably titled 'Annihilate', and 'Codeine'.
But the set, like the new album had more of a balance and it would be to miss a lot purely to judge TBT by speed alone. Sure, every member of the band shone in their virtuosity giving their every last ounce of energy into a memorable performance. But there is a depth to TBT's slower and mid-range numbers. 'Right Back Where We Started' and 'Thank You, Mr Steinbeck' are honest glimpses into Simonett's life off the road over the past couple of years. The band add to the emotion and poignancy of his words. 'The Middle', again from the new record, and 'Separate' from Palomino both cascade like a mountain river around rocks and bends. These more reflective songs add further dimension to the set. 'New Orleans' too, as Carroll's banjo navigates through another torrent of sound. 'Midnight on The Interstate' bore all the bleakness and solitude of its title. These are all integral parts of the TBT performance and should be given the recognition they deserve.
Chat between songs was limited to Simonett's profound thanks, otherwise TBT let the music talk. 'I Learn The Hard Way' set up the final number, 'Wait So Long'. This must be the TBT anthem and is a form of collective participation. The powerful fiddle/banjo lead into "I could never pretend that I don't love you/You could never pretend that I'm your man" turned into what can only be described as bluegrass punk. The three encores also balanced tempos finishing again at pace with 'New Son/Burnt Iron'.
A bluegrass traditionalist might have felt a bit uncomfortable among the frenzied Electric Ballroom crowd but there can be no doubting TBT's respect as well as command of bluegrass. Where they excel is in blending that with other musical ingredients to make their own unique brew. That's a glass to knock back with relish.
---