Tony Joe White's Swampy Legacy
Posted On October 25, 2018
---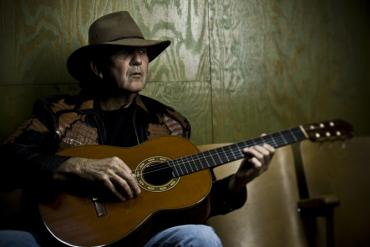 He was the voice of the swamp people, his folksy, humorous accounts of the antics of his downhome neighbors in rural Louisiana providing him with a songwriting career that persuaded Elvis Presley, Tom Jones, Brook Benton, Waylon Jennings, Ray Charles, and Tina Turner to cover his songs. Tony Joe White died Wednesday at the age of 75 of a heart attack at his home in Leiper's Fork, Tennessee, just outside of Nashville.
Born on a cotton farm near rural Oak Grove, Louisiana, in 1943, White's first love was the blues he discovered in his teenage years through Lightnin' Hopkins. In 1969, White got to play harp and guitar with Hopkins, who he described as one of his heroes, on California Mudslide (and Earthquake,) also writing the liner notes for the album.
White was living in Texas when he penned "Polk Salad Annie" and "Rainy Night in Georgia," two of his biggest hits. "When I got out of high school, I drove a truck for the highway department and lived with my sister in Marietta. And of course 'Polk' was about growing up on Beth River down there on that cotton farm," White told me in a 2004 interview.
But it would be a while before those songs were unleashed on the public. "I was livin' in Corpus Christi at the time, playing six nights a week at this club, and me and my wife saved up enough money to take off a week, she was teaching school back then, to take a week off and we headed up to Memphis. And for some reason, I got to Memphis and circled the city, hit Interstate 40 and just kept going. I don't know why. I got into Nashville and talked to a couple of people that afternoon that had record shops and things, and most everybody said you drove a long ways for nothing, cause it's a real country and western town, and all I had a little piece of 'Polk' wrote, and some of 'Rainy Night,' and a couple of real bluesy things." White toured the clubs that night, and got the phone number of Combine Music co-owner publisher Bob Beckham from a doorman who knew a guy who knew a guy, and called him the next morning.
"He had a terrible hangover," White chuckled. "And he said, 'You mean you drove all the way from Corpus Christi to play some songs?' And I said, 'Yeah.' And he said 'Let me get me some aspirin and we'll sit down and listen to a few.' And that's the way it started out."
He was in good company. Kris Kristofferson, Billy Swan ("I Can Help"), Dennis Linde ("Burning Love,"), and Donnie Fritts ("We Had It All," "Breakfast in Bed") were also in that stable. "We were just all really hanging out," White said, "a bunch of songwriters who was writing for Bob at the time, and we were all just kind of pulling for each other, no one had any set plan or nothing. Everything that happened was luck."
But once word got out about White's product, it was his talent, not luck that got him covered and on the charts on his own as well. Benton took "Rainy Night" to No. 4 on the pop charts in 1970. Tom Jones and Elvis Presley recorded "Polk Salad," Presley making it a regular part of his live setlist. Tina Turner covered White's "Steamy Windows" and "Undercover Agent for the Blues" in 1989.
White's rumbly vocals, chompy wah-wah pedal, and the fuzz-toned guitar sound he called "whomper stomper" made him instantly recognizable, and his renditions of blue-collar struggles could have only come from someone who lived them. White tempered his accounts of downhome folks struggling to make it through a hardscrabble lifestyle with a wry sense of humor that didn't demean his protagonists but made them seem even more human. Even as late as 2013's Hoodoo release, he was still singing about his upbringing as one of seven kids on his daddy's 40 acre cotton farm. "9 foot Sack" recounts waking up at the crack of dawn to be fortified by mama's biscuits before a day of back-breaking field work: "We ate like hongry wolves / walked out in the dark … We was po' but we didn't know it," White growls softly, accompanied by his mournful guitar.
White returned to his blues roots for his last album, Bad Mouthin', released in September (ND review). It was a stripped down project, low down and wiggly, that featured a Muddy cover of "Baby Please Don't Go" along with Jimmy Reed's "Big Boss Man" and some swampy White originals with John Lee Hookerish influences.
Whatever White touched with his voice he owned, his swampy grumble coating it with a murky patina that wouldn't wash off. White had a simple, organic approach to songwriting.
"I hardly ever think about putting myself in a frame of mind to write because I couldn't just sit down and write a song. Something has to come, like a title, or a guitar lick or a line or something, just comes from the air, or another source," he said. "When I get that far along with it, I'll usually go down by the river out here and build a little campfire, get my guitar and work on it until something starts coming."
His river visits are done, but that campfire burns on, tended by fans who'll make sure that Tony Joe White's flame will continue to cast a mellow glow, lighting his swampy path for future generations to follow.
---