THROUGH THE LENS: Women Roots Artists Rule SXSW 2022
---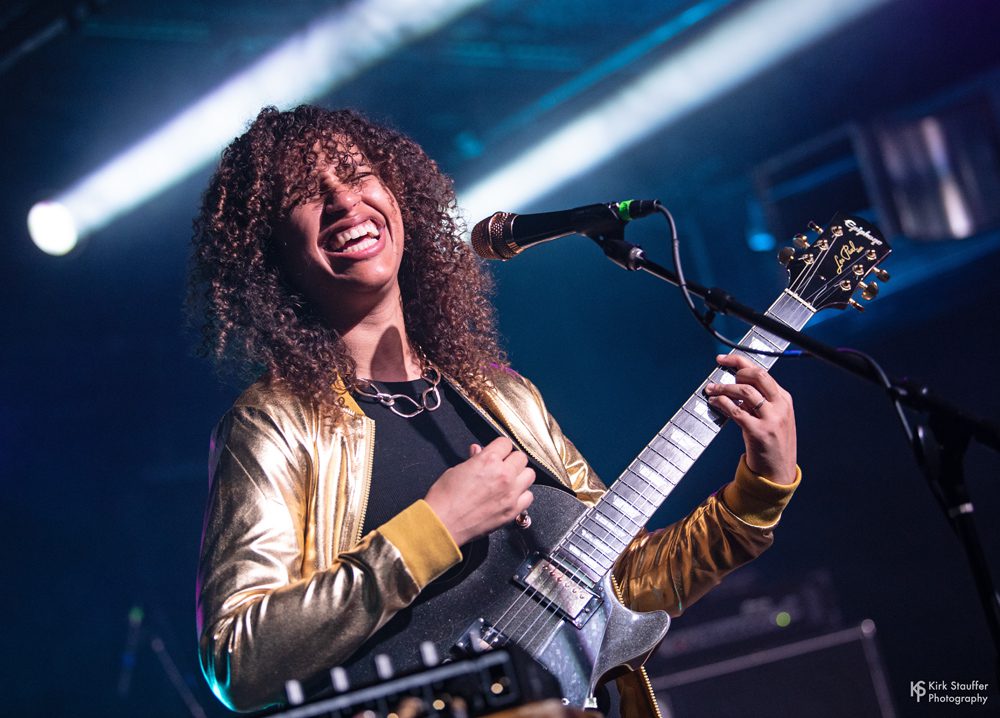 Jackie Venson - SXSW 2022 - Photo by Kirk Stauffer
For the fifth time, Kirk Stauffer, who traveled from the chilly climes of the Pacific Northwest to sunny and warm Austin, shares with us his photos from SXSW. Once again he concentrates on the many women artists who performed there. Even in these "enlightened" times, too much of the roots and Americana airwaves is devoted to men. Kirk and I have seen firsthand that women artists' live audiences are just as big and enthusiastic as the men's. So, why do they continue to be treated as secondary? 
While Kirk caught some well-known names at SXSW, he primarily concentrated on lesser-known artists who should be on your radar. Two of them, noted below, knocked him out. I trust Kirk's eyes and ears, and I bet he'll turn you on to a musician or two you might not yet be familiar with — right in keeping with the spirit of discovery at SXSW, and at No Depression too.
Some Usual Suspects
Suzanne Vega: Vega has won more awards than she can carry, so why is she not covered more often? Her 2020 live album, An Evening of New York Songs and Stories, recorded at the famed Café Carlyle in New York, demonstrated the close connection of the roots and cabaret genres: Both are at their best in intimate settings. A 4-LP box set of her Close-Up series was released last month on vinyl and is cause for celebration. But, sadly, it went largely unreported.
Whitney Rose: Rose may emulate Nashville's "Queen Bees" (Kitty, Tammy, and Dolly) but she's no throwback. The Canadian-born, Austin-based Rose is 100% original, adroitly mixing classic country with both a harder, electric edge and early '60s "girl group" sounds. Her albums and EPs routinely wind up on best-of-the-year lists, including mine.
KT Tunstall: Kirk (along with many others in the ND family) has been a fan of this Scottish singer-songwriter since 2005's "Black Horse and the Cherry Tree," which was selected by Q magazine (an influential British music publication that closed, sadly, in 2020) as best song of the year. Since then, she's toured extensively and released six critically acclaimed albums.
S.G. Goodman: As ND's Maeri Ferguson noted in a review of Kentucky-native Goodman's 2020 album, Old Time Feeling: "Blessed with a one-of-a-kind voice that cuts through the atmosphere like a sharp blade, Goodman sings the kind of soul-baring torch songs that stick with you, compelling you to turn them up louder and louder and belt them out alongside her."
New Artists to Watch
Ber: Of all the new acts at SXSW, Kirk was impressed most by this Minnesota-via-England-via-Norway singer-songwriter whose debut EP, And I'm Still Thinking About That, was released in February. After her set she informed Kirk that this was her first time on stage in front of an audience. Kirk told me that she had a "down-to-earth" presence that made her wonderful songs even more so. Stage fright must not be in her vocabulary. 
Jackie Venson: Playing in her hometown, Venson wowed Kirk with her fabulous guitar playing. He's not alone:  In 2014, The Austin-American Statesman called her "a Gary Clark Jr.-level talent who speaks boldly through her guitar while entrancing with her gorgeous, smoky voice." She's released six EPs, three studio albums and four live albums, one of which was recorded at Austin City Limits. We all need to catch up with Jackie Venson. 
SIDE NOTE: As in many other walks of life, relatives of well-known music artists were also represented at SXSW. Kirk caught two: Miller Campbell, a distant cousin of Glen Campbell; and Paris Jackson, daughter of Michael Jackson.
Click on any photo below to view the gallery as a full-size slideshow. 
---