THROUGH THE LENS: The 58th Annual Philadelphia Folk Festival
Posted On August 27, 2019
---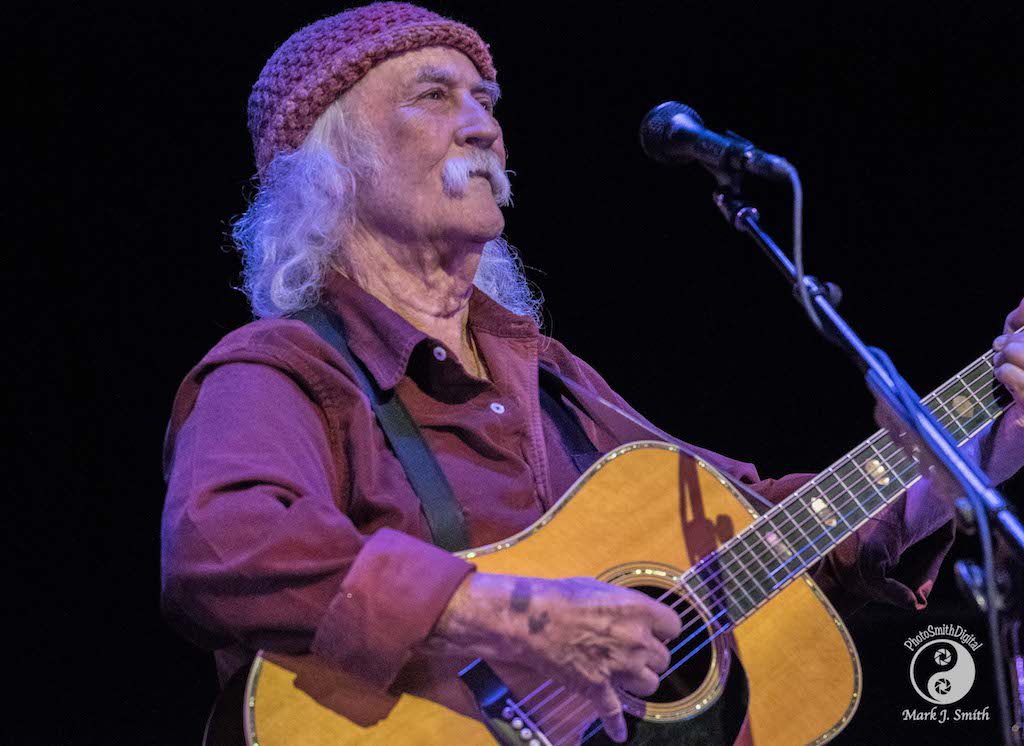 David Crosby -Philadelphia Folk Festival 2019 - Photo by Mark J. Smith
Once again our Philadelphia correspondent, Mark J. Smith (aka Photosmithdigital), reports from his festival of choice, the Philadelphia Folk Festival. It will always have a special place in my heart, too, as it was the first fest I ever attended, and the first time I saw legends such as Muddy Waters, and a legend to be, David Bromberg. Now, in his own words is:
Mark J. Smith 
The 58th edition of the Philadelphia Folk Festival is over and done, enjoyed to the fullest and it's now in my head to be remembered. And believe me there was plenty to remember. Now if I could only remember what I am writing about … oh yeah, 2019. 
Definitive Highlights: David Crosby, Amanda Shires, and Margo Price
I'm constantly reminded it is a folk festival out in the middle of a farm (thank you, Godshall family), and in the outdoors like that things can go wrong no matter how good and hard people work. Case in point, Amanda Shires did two songs and no one could hear her vocal. Now remember, it was outdoors, with about 10-15 minutes between sets to clear one band and set up the next, sound check and all. We in the photographers pit were trying to get her attention while other were scrambling to fix the issue. Between song two and three I yelled, "Amanda, we can't hear you." She looked down and said "What should I do? I only do the singing." Someone from the soundboard yelled, "We are fixing it," and on we went to hear a great set. 
All of that took less time than it took me to type it. The fest has a great staff. Margo Price always, and I mean always, is wonderful. She put on as energetic a show as I have seen. Oh wait, maybe as energetic as when I shot her in December when she was about to have a baby. 
David Crosby, with his Friends, closed the festival, just as legends should. The Friends are one hell of a band supporting this guy in front who still has one of the most incredible voices around. Crosby sang many of his well known songs as well as some of his wonderful new songs. What more could you or I want? The memory lingers.
Friday: Joan Osborne, Yola, Preservation Hall Jazz Band, and More
Gordie MacKeeman and his Rhythm Boys got my feet stomping and hands clapping. MacKeeman and mates from Prince Edward Island had the crowd in their hands.
As the sun was going down on Friday I was dying to see Yola. There she was, and she was magnificent. Joan Osborne sang Bob Dylan, then we took a trip to one of my favorite cities: New Orleans. Cha Wa with a couple of Mardi Gras Indians led us into The Preservation Hall Jazz Band. Watching Preservation Hall I thought about catching their show in New Orleans by looking through the open windows at the Hall. I don't want to turn this into a list but wanted to show just how marvelous the weekend began for me. Oh, and I started on Friday. Campers start with shows on Thursday.
Saturday: Jeffrey Foucault, Steve Poltz, The Mavericks, and More
Saturday was another HOT but sunny day. No rain … and no mud and it was to stay that way, at least through a shower on Sunday. Besides liking the shirt Jeffrey Foucault's drummer, Billy Conway of Morphine fame, was wearing I was really looking forward to the great music scheduled. And yes, Foucault and band were excellent. Steve Poltz, Kathy Mattea (who is prominently featured in the upcoming Ken Burns documentary on country music), and Talisk (fantastic) led into the night with a Philly boy gone big-time, Langhorne Slim. With his grandmother celebrating her birthday in the audience, Slim rocked the place to the point of his jumping off the stage — no mean feat itself — and heading into the audience to bring it to the people. To close things out, we all know The Mavericks can always rock the house, and they did to end the night.
Outstanding Discoveries: The Way Down Wanderers and Digging Roots
At any fest there are always folks I have not heard before who blew me away. A young Illinois band, The Way Down Wanderers, was referred to as the hardest working and touring band around. That they were, and they sounded great. The other one was Digging Roots, a Canadian duo who proclaim that they know the root of the world's problems: "People don't make out enough."
Postscript 
Unfortunately, due to a lack of mobility, I missed a number of outstanding talents I otherwise would have caught: Tami Neilson, Nina de Vitry, Peter Mulvey, Originaire, and Front Country, among others. I heard from many reliable sources that they were just marvelous. Amos had another friend, Steve Ramm, there and he shares with us some photos of Neilson, a Canadian by way of New Zealand, whom I know Amos is extremely high on. She also has a showcase at AmericanaFest this year.
You can check out Mark J. Smith's website here: www.photosmithdigital.com
---