THROUGH THE LENS: Start the New Year Right With These Exciting New Roots Music Releases
Posted On January 11, 2022
---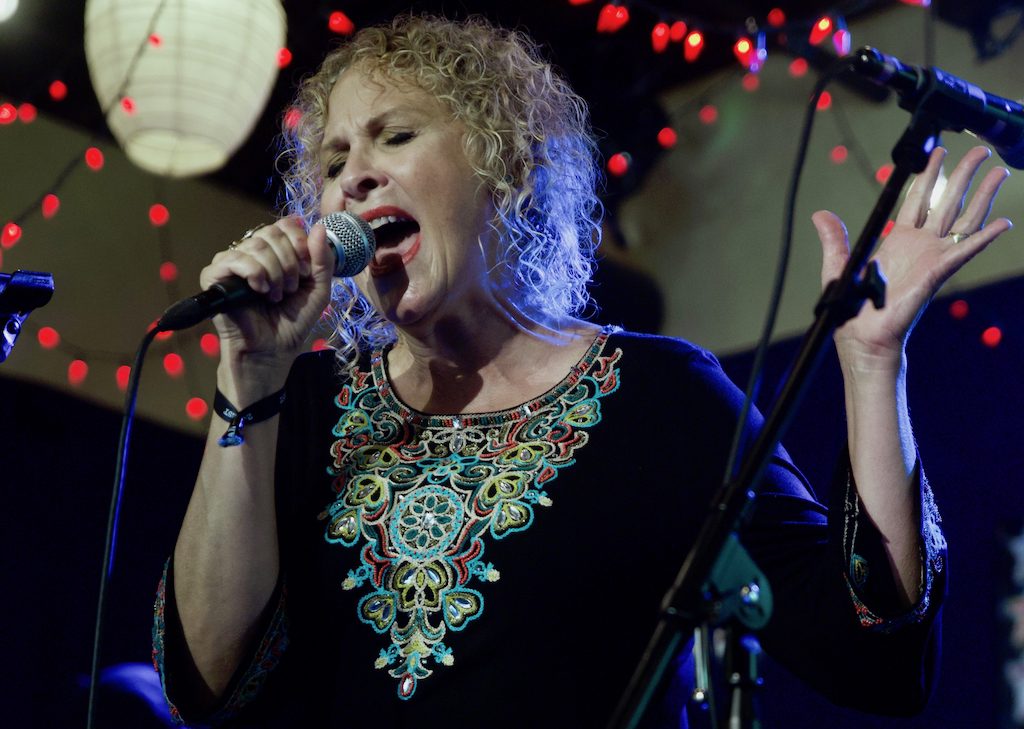 Julie Christensen - AmericanaFest 2016 - Photo by Amos Perrine
With 2021 under our belts, and all those best-of-the-year lists in the rearview mirror, it's time to turn our attention to what the new year holds. Below are initial impressions of four new releases that I'm enamored with. Hopefully, you'll be enticed into checking them out, as none should be lost in the shuffle.
Jamestown Revival — Young Man  (Jan. 14) 
Be it the big skies of Montana or the deserts of New Mexico, this album has a western feel to it, as if you're on a cattle drive. But instead of cattle it's memories and feelings being herded. You can easily view each of the 10 songs as being sung around campfires at night, reflections on the roads taken and where on life's journey you find yourself.
The opening track, "Coyote," succinctly stakes out the territory. Ostensibly about the animal, I hear it as a metaphor for our own roving, scavenging nature as we move from place to place picking up what we need to help us on the way. The following track, "Moving Man," solidifies that thought but with a slow, simmering beat that you can groove to. The other eight tracks are just as hypnotic.   
Johnny Dowd — Homemade Pie (out now)
How does one describe Johnny Dowd to the uninitiated? Imagine, if you will, a blues rocker showing up on Sam Phillips' doorstep in the 1950s after spending the 1960s in Andy Warhol's Factory. Dowd has the uncanny ability to meld rhythmic dissonance with off-kilter lyrics and come up with unexpected punch lines. Case in point, the title track is about a deadbeat who, after seeing "Homemade Pie" on a cafe menu, goes into an hallucinatory riff on being a Bible salesman who's just as mean and evil as those he's trying to save. Or maybe he really is a Bible salesman having a really bad day.
The title track is just one of 13 subterranean adventures Dowd takes you on. Longtime collaborators Mike Edmondson (guitar and organ) and Willie B (drums) more than underscore his incendiary take on the world; they're the hammers driving Dowd's nails into the cross. Kim Sherwood-Cason's Debbie Harry-like vocal support adds a plaintive sweetness to the mix, often acting as a counterpoint. Contrarian to the core, the album was released on New Year's Day, as if to say, "I don't want any part of 2021."
Julie Christensen — 11 From Kevin: Songs of Kevin Gordon  (Jan. 21)
Nearly 30 years after his first album, Gordon should be better known, as should Christensen, who was a staple in the Los Angeles punk and jazz scenes before her extraordinary collaborations with Leonard Cohen, and then a solo career. But these things happen. Now comes a record that adroitly fuses Christensen's exploratory vocals with Gordon's vividly drawn emotional and physical landscapes. The result brings out the best in both of them, especially in the way Christensen unearths veins of gold that were hiding in plain sight.
While it's difficult to highlight a single track, I keep returning to "Joey and Clara" and "Jimmy Reed Is the King of Rock n' Roll." The former lays out adolescent childhood like no other song I've heard, Clara enticing Joey to brave the brambles and barbed-wire fences to seek out the joys of a summer day that lay otherwise hidden in a forest. The latter is a lament about the largely forgotten bluesman. On both tracks, as well as the album as a whole, Sergio Webb's dobro has a haunting, welcome presence. 
Sam Weber — Get Free  (Feb. 4) 
It's hard these days for any singer-songwriter to stake out their singular territory in the vast world of roots music. What is needed is something to set you apart from your peers, a uniqueness that no one else offers. Just as they did Ian Tyson and Corb Lund, Canada's four strong winds have blown in another fresh, bright talent: Sam Weber. What sets Weber apart from his contemporaries are the jazz-influenced patterns in both his vocals and free-floating music. 
The extremes of those patterns are evident on the album's first and last tracks, and also serve as contrasts. On the former, "Truth or Lie," Weber uses soft-spoken lyrics, with minimal backing, that flow into a cresting wave like a pipelining surfer — you almost don't know if they'll make it. The latter, "Streets of LA," uses layers of fuzzy guitars overlaying, and sometimes obscuring, Jackson Browne-like lyrics reliving a romantic breakup in the midst of a cacophony of sights, sounds, and memories, all while wandering the byways of the one-time City of Angels.
Click on any photo below to view the gallery as a full-size slideshow.
---