THROUGH THE LENS: Ruthie Foster, Gretchen Peters, and Other Outstanding Roots Music Releases on the Horizon
---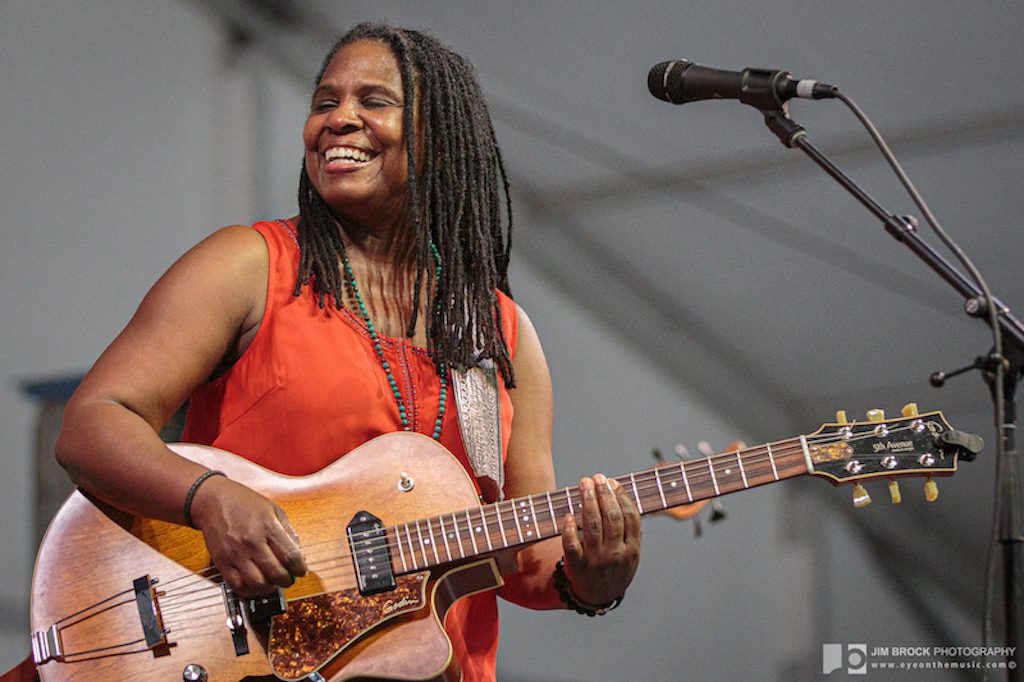 Ruthie Foster - Photo by Jim Brock
I don't know about you, but I always get excited to hear about upcoming albums. The anticipation is like Christmas morning. This week I am particularly excited about revisiting the Outlaw Movement, a fabulous live album by Ruthie Foster, Nicole Atkins' painterly eighth album, and, perhaps most of all, Gretchen Peters' recording of 12 Mickey Newbury songs. Criminally neglected, Newbury is one of the pillars of Americana music who, as a songwriter, had three number one hits on three separate charts at the same time.
Newbury could write songs so full of pathos that you could barely stand after hearing them. Despite his songwriting skills, Nashville did not know quite what to make of him. For example, Newbury put a nine-minute track on a country record, 1969's masterpiece Looks Like Rain. To make Peters' album even more intriguing, she recorded some of the songs in the studios where Newbury recorded the originals, and with folks who played on them — most notably Wayne Moss and Charlie McCoy in Moss' Cinderella Studios. But my enthusiasm for Newbury these past 50 years may well be second to that of Mary Andrews, who knew and photographed him. I am turning over the preview of that album to Mary, whose photos are also included in the gallery below.
Gretchen Peters – The Night You Wrote That Song: The Songs of Mickey Newbury (May 15)
Singer-songwriter Gretchen Peters took on the daunting task of picking 12 songs from the Mickey Newbury songbook. The collection of songs is a good representation of Newbury's albums through the 1970s. Peters, like Newbury, constructs her songs like a play that tells the story of American life. The songs she selected are not necessarily Newbury's best known, but even on the better known ones — "The Sailor," "San Francisco Mabel Joy," and "Heaven Help the Child" — Peters gives them new life via her soulful interpretations. 
Her bluesy version of "Just Dropped In (To See What Condition My Condition Was In)" is a welcome departure from the rock version delivered by The First Edition. Peters recreates "She Even Woke Me Up to Say Goodbye" with the slow, subtle deliberation that evokes the same heartache for the listener. On "I Wish I Was," Peters recaptures the haunting melody and imagery as she leaves room for the listener's imagination. 
The production is stripped down, with arrangements that feature just enough harmonica, pedal steel, and fiddle without overpowering the message of the songs. Peters may not have the vocal range of Newbury in his prime, but her vocals have the emotional impact to deliver the punch of his songs without being overly sentimental. This album is worthy of many listens.  — Mary Andrews
Ruthie Foster Big Band – Live at the Paramount  (May 15) 
While I have seen, and been knocked out by, Ruthie Foster numerous times solo or with a small band, I was not prepared for this big-band outing that features a full horn section and three backup singers in an 18-piece band. Nor was I expecting Foster's command of so many vocal styles: From New Orleans gospel to Ella Fitzgerald's swinging jazz, Foster's voice, so expressive and yet so smooth, fills in the valleys of life's experiences. Foster caresses the lyrics in a way that permits them to linger, growing deeper, in this fine mix of of originals and covers.
All too many albums with orchestras overpower the vocalist, obscuring, sometimes overriding, the vocals. No so here, as the production permits us to hear with district clarity not only Foster's luscious voice, but also individual musicians in the band. Perhaps the most intriguing track is "Ring of Fire," which she does as a sweet ballad, with a touch of Motown. If you are like me and think you know Foster, think again. She keeps getting better upon repeated listenings. This is easily the best live album I have heard in a very long time.
Waylon Jennings – The Outlaw Performance (May 15) 
The Outlaw Movement that began in 1973 is more than the stuff of legend; it continues to reverberate today, be it through country music, alt-country or Americana. But most folks who came to this music after its heyday do not know how it actually felt, largely because they didn't get to see it firsthand. That's about to change with this video release (DVD and digital) that features a full 1978 performance by Waylon Jennings and his band in Nashville. 
Also included are interview excerpts in which Jennings gives the music context and a look inside his head, and interviews with Willie Nelson, Johnny Cash, George Jones and Jennings' drummer Richie Albright. Plus, it gives you the option of watching just the performance. Having seen Jennings not long before this was filmed, I — or least my memory — can attest that this performance is as close to the real thing as we're ever going to get.
Nicole Atkins – Italian Ice  (May 29) 
As anyone who has seen or heard Nicole Atkins can attest, she's not one to be pigeonholed into any easily identifiable category, or sound.  If you've checked out her single "Domino" from this album, you'll think, "Oh, it's going to be a French techno record, with a nod to 'Stayin' Alive.'" Wrong. You also won't get the full picture just from "Never Going Home Again," which begins like Harry Nilsson's "Coconut," then seemingly becomes a sequel to Bobbie Gentry's "Ode to Billie Joe:" After jumping off that rural Southern bridge, Billie sees a UFO and wakes up in a Hello Kitty motel bed in the Northern industrial town of Youngstown, Ohio. That's just the first verse. Definitely not going home again.
So don't try to figure out where Atkins is going to take you; enjoy the journey as the songs' themes are as just as varied as their styles. Significantly, the songs were recored in six studios from New Jersey to Austin by way of Muscle Shoals. With such a mixture you should not be surprised that Atkins' is an art school grad who continues to paint. Most painters I know are wanderers who like to change their color palettes depending on the locale. Atkins, in her musical life, does the same with this record, with admirable aplomb.
---