THROUGH THE LENS: Pull Up a Seat for Queer-antine Festival Porch Pride
---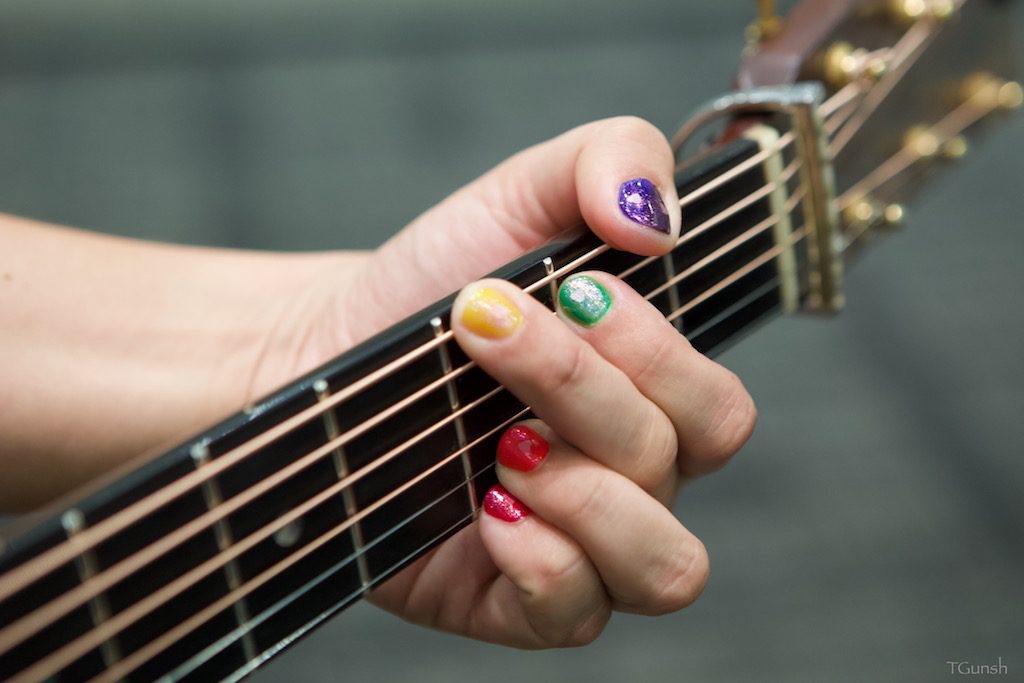 Melody Walker of Front Country - Photo by Todd Gunsher
This weekend (June 27 and 28), California's Bluegrass Pride will celebrate Pride Month, and the 51st anniversary of the Stonewall Uprising, by presenting Porch Pride: A Bluegrass Pride Queer-antine Festival. Headlined by Amythyst Kiah and Molly Tuttle, the festival will stream 23 half-hour sets showcasing LGBTQ+ roots musicians, with music beginning at 1 p.m. Pacific Time each day. Not only does the online festival provide some lesser known, but no less noteworthy, artists more exposure, but given the recent U.S. Supreme Court ruling that the 1964 Civil Rights Act protects the rights of LGBTQ+ individuals, it's also a time for momentous celebration. Porch Pride is for everyone.
All Americans should celebrate: Just as roots music is for everyone, equal rights are for everyone. Porch Pride could not come at a more opportune time. Along with additional information on Bluegrass Pride and a donation option, the complete festival lineup can viewed on the Porch Pride website as well as on YouTube and Facebook.
Porch Pride Origins
Just one year after the first Shout & Shine diversity showcase was hosted at the International Bluegrass Music Association's World of Bluegrass event in 2016, the California Bluegrass Association created Bluegrass Pride. CBA was the first bluegrass association to take part in an LGBTQ+ Pride celebration, and organizers and participants took the love, acceptance, and joy at the heart of the music and invited the world to share it. 
Since then, Bluegrass Pride has has been working year-round to support LGBTQ+ roots music artists and fans by hosting regular beginner-friendly jams, sponsoring a local concert series, and continuing to participate in the annual San Francisco Pride Parade.
"When the COVID crisis forced us to cancel our in-person Pride celebrations in San Francisco, Portland, and Nashville, we knew we had to find another way to support our community with financial relief for vulnerable artists in need and with an uplifting event for our community to safely share from home," said Kara Kundert, executive director for Bluegrass Pride (and also the Fifty States of Folk columnist for No Depression). "We are proud to be able to bring Bluegrass Pride to where it is most needed right now: your front porch."
Kundert also provided a personal touch during our conversation: "I am a proud bisexual woman who also plays mandolin, and I chose bluegrass as a place to call home. I was pretty lucky that I got started picking here in the Bay Area, where I was able to be myself and still be accepted by all the people who attended my local jams. I gained access to this powerful community, but that hasn't always been true for folks in LGBTQ+ community. As someone who has been lucky enough to choose this musical family, and have it choose me right back, I believe that it should be open to anyone who wants to be a part of it."
The Stonewall Uprising and the U.S. Supreme Court
June 28 is a significant date because in the early morning hours of June 28, 1969, following a police raid on the Stonewall Inn in New York City, lesbian, gay, bisexual, and transgender persons openly rebelled against what were common, everyday acts of harassment, intimidation, and brutality by the New York Police Department. It became known as the Stonewall Uprising, and led the following year to Pride marches and other celebrations, and effectively started the LGBTQ+ rights movement.
Now, 51 years later, the U.S. Supreme Court, in Bostock v. Clayton County, Georgia, has held that the 1964 Civil Rights Act protects the rights of LGBTQ+ individuals. This decision follows the 2015 holding in Obergefell v. Hodges recognizing the marriages of same-sex couples.
Porch Pride Lineup
Porch Pride performers are featured in the photos below, and can be found on Porch Pride's website. Among them are many roots musicians well-known to ND readers, including Alice Gerrard, Karen Pittelman, Cathy Fink & Marcy Marxer, ND columnist Rachel Baiman, Front Country, Jake Blount, Allison De Groot, two members of Della Mae (Kimber Ludiker & Avril Smith, whose performance in Porch Pride is sponsored by No Depression parent nonprofit The FreshGrass Foundation), and West Virginia's Rachel Eddy, along with headliners Amythyst Kiah and Molly Tuttle.
Those of us who were in attendance at the Americana Music Association's Honors & Awards show last year will not forget Kiah leading Our Native Daughters' rendition of her song "Black Myself" that not only brought the house down but threatened to unhinge the Ryman Auditorium balcony where a "Confederate Gallery" sign once was placed in direct view of performers on stage. That sign was removed three years ago. 
Tuttle, the first woman to win the IBMA Guitarist of the Year award, said in a press release, "[Bluegrass Pride's] hard work has created so much positive change for LGBTQ+ musicians and fans, and I couldn't be more thrilled to be a part of Porch Pride 2020! When I walked alongside their float in the San Francisco Pride Parade in 2018, I saw firsthand the effect that they were having on the community by giving a voice to marginalized people and letting people who weren't familiar with bluegrass know that this music is for everyone."
Now, onto the photos of 15 of the artists who will be appearing on Porch Pride, and a copy of the weekend's lineup. Please note that all times are Pacific Daylight Time. 
---