THROUGH THE LENS: Portraits of Roots Musicians
---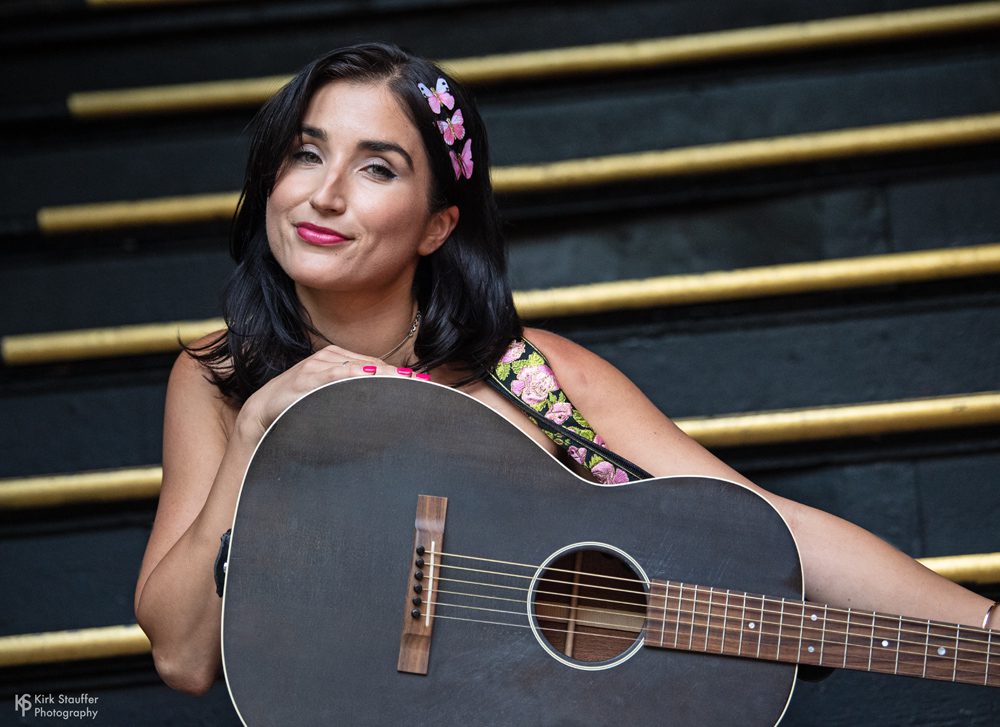 Jade Jackson - Seattle 2023 - Photo by Kirk Stauffer
This a column I have been wanting to do for quite some time. With the publication of Jeff Fasano's wonderful new book Americana Portrait Sessions, reviewed for ND by Henry Carrigan, now seems to be the opportune time to feature portrait photos taken by the No Depression photographers.
As most of the ND photographers do not have studios, their portraits are informal affairs that are dependent on the locations where the photos are taken. Usually referred to as "environmental portrait photography," that kind of work lies somewhere between candid photography and studio portraiture.
The photos in the gallery below include legends such as Joni Mitchell and Patti Smith and legends-in-the-making like Brandi Carlile, Billy Strings, Our Native Daughters, and more. Seven of the ND photographers also share with us how they approach this aspect of their work.
While reviewing these portraits I found that there were way too many to feature in a single column. So, not only will there be a second installment, but I can also see this being a recurring theme.
Kirk Stauffer
I typically combine taking portraits with shooting a show. I'll also ask if the artist is available for some casual photos and, if so, how much time they have. To help with approval, I'll let them know that I'll send them several photos the next day for their social media (in addition to some onstage photos). If I want photos with big smiles and laughter, I'll ask the artist to bring a friend along. That usually results in joking and banter as well as increasing the comfort factor.
Chad Cochran 
I have two scenarios when I am taking portraits. Sometimes they are backstage or on the spur of the moment. I try to find the best light and do what I can with the environment I'm working with. My studio portraits are a much different animal and approach. In the studio, I will spend half of the time talking and half of the time taking photos. I like to develop a relationship, albeit temporary, or find commonalities, which always leads to a more relaxed and natural look.
Jim Brock 
My portraits are usually at Fort Adams, where the Newport Folk Festival is held. Constructed in 1857 and surrounded by Narragansett Bay, the structures and grounds are dripping with history, giving the location its own unique vibe. The fort is with brightly lit rooms exposing century-plus-old layers, darker chambers and tunnels, and massive stone walls and archways, so an artist portrait there can pull the full range of light and texture out of any shoot. 
For example, for Katie Pruitt, I only had five minutes or so. We walked to the rear of the Fort, chatting along the way. I explored some of the back rooms and chambers and played with a flash but wasn't getting what I wanted. So, I moved her closer to an interior opening with diffuse natural light and Pruitt looking out, and the shot immediately came together.
Kim Reed 
I have found that a portrait session with an artist is easier if you can catch them before they become well known. For example, Southern Avenue had one album under their belt as a band when I first caught up with them at the Peoria Blues Festival. I got a nice band shot, which lead to a photo shoot with drummer Tikyra Jackson before another show.
Joni Mitchell, on the other hand, was at a different spoke in the music business wheel when I photographed her in 1988. Although I, along with two other journalists, was generously allotted 30 minutes in a hotel suite, I was only able to get a couple of photos before the interview began. While I was not able to give any direction or placement, and it's not my best photo, it is Joni Mitchell. It's a personal favorite and a copy hangs on my office wall.
Peter Dervin 
When I do portraits, I tend to like natural environments, such as architectural features or landscapes. I also prefer natural light as I am working typically onsite at a venue or festival. I look for interesting backgrounds, whether it be foliage or features of a building. What I have found, though, is that most artists tend to know how to pose, and I give very little instruction, mostly asking to get a smile. Most of the time it is me moving around to get a certain angle in creating my composition and framing for the photo.
C. Elliott
As a live music photographer I rarely take portraits of the artists as I have no professional in-studio experience and I'm not at all comfortable in asking someone to pose for a photograph. However, when I was the in-house photographer for KXCI community radio in Tucson, I did have access to the artists when they'd come in for live interviews and performances, so I was able to photograph them in a quiet setting.
Liza Orozco
The best time for me to catch a musician for a quick portrait session is on the day of their show. Usually they are available after sound check or after their set. However, I always reach out to management or the artists themselves prior to the show to see if its possible to capture some portraits. Most recently, I got some of Sierra Ferrell during the Stagecoach Festival.
Click on any photo below to view the gallery as a full-size slide show. 
---