THROUGH THE LENS: Oregon's Jackalope Jamboree and Waterfront Blues Festival
---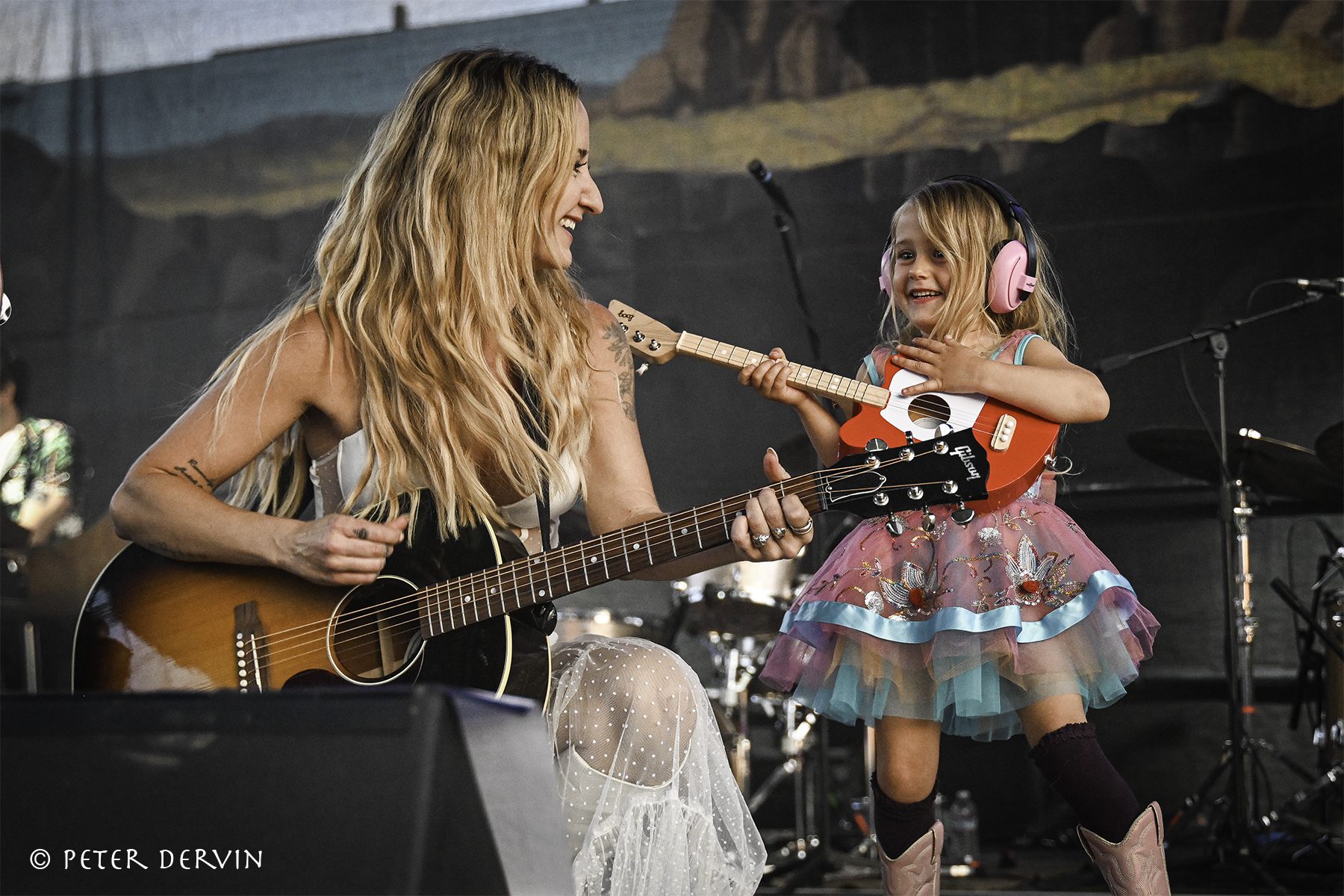 Margo Price & Ramona Lynn Ivey - Jackalope Jamboree 2023 - Photo by Peter Dervin
This week the column features two music festivals in Oregon that offer distinctly different takes on roots music: The Jackalope Jamboree in Pendleton, this year held June 22-24, concentrates on honky-tonk and country with a welcoming small-town feel, and the Waterfront Blues Festival (July 1-4) in more metropolitan Portland highlights the many flavors of the blues. But they have one significant thing in common: Both emphasize cultural roots in the best possible sense.
As an acknowledgement of the importance of local ancestral lands and Native American tribes, Jackalope begins each day with a presentation of dance and music from the Confederated Tribes of the Umatilla Indian Reservation. At Waterfront, the Little Village Foundation, a nonprofit organization that produces and distributes culturally significant recordings made by individuals and groups that might not otherwise be heard by a wider audience, presented two such artists, Nik Clark and DK Harrell.
Once again we are fortunate to have had veteran ND photographer Peter Dervin on hand to cover both fests — he's also a staff photographer for both. Here are his reports. 
Jackalope Jamboree
Margo Price wowed the crowd on opening night. Especially touching was when she brought out her 4-year-old daughter  for her stage debut to open the set. With her husband, Jeremy Ivey, and her rockin' band, Price, who I thought could not get any better, upped her game and had everyone wanting more. Never taking her audience for granted, she continued her tradition of passing out roses to fans at the end of her set. 
After his Oscar- and Grammy-winning song "The Weary Kind" from the 2009 film Crazy Heart, Ryan Bingham stepped away from the spotlight and to many it seemed his career was on the wane. But with his recent star-making turn in the hit TV series Yellowstone, he was back with a wide smile that lit up the night sky. He and his band, the Texas Gentlemen, proceeded to ignite the night with a dynamite set of kick-ass Americana.
Also outstanding were out-of-the-limelight Corb Lund, who brought his storytelling tunes in true country music style; Shane Smith and The Saints, who have played every Jackalope Jamboree since the fest's inception in 2019; and Vandoliers, who brought a heavy dose of country rock to the mix.
Not that the fest was male-dominated: Kelsey Waldon, Kaitlin Butts, Jade Jackson, and Margo Cilker were integral to the mix. Plus, there were several up-and-comers who should be on your must-see list, notably Summer Dean and June Clivas and The Ditty Boys. All were fantastic.
Waterfront Blues Festival
Alongside the blues, zydeco is one of the cornerstones of Waterfront. Portland's Too Loose Cajun/Zydeco Band started things off on day one, setting the tone for the weekend. A huge dance floor was set up for the dancers, to everyone's delight. Featuring fiddles, accordions, and washboards, zydeco remained in full force with Steve Riley and The Mamou Playboys, Cedric Watson, and Jourdan Thibodeaux et les Rôdailleurs.
Amythyst Kiah and Sunny War displayed their versatility as well as their immense talents with both intimate acoustic performances and fantastic full-band sets. Performing back to back, Ruthie Foster and Shemekia Copeland got their grooves going and never let up. Not to be outdone, even while fighting back some laryngitis, Cellise continued to thrill with her amazing guitar playing.
The headliners did not disappoint either. Eric Gales shredded his electrifying blues with a blistering assault — damn, he's something else! Embarking on his farewell tour, the legendary Buddy Guy, a mainstay of blues guitar for decades, gave a performance for the ages.
Closing out the Fourth of July fest were Curtis Salgado and The Mavericks. Salgado brought his soulful blues with a full band that featured guitarist Alan Hager and the sweet harmonies of LaRhonda Steele. The Mavericks had the crowds dancing to the country swing grooves that they are famous for. Raul Malo followed the Mavericks party with an amazing rendition of the national anthem that gave me chills. Then came the amazing fireworks display over the Willamette River, bringing the 2023 Waterfront Blues Festival to a close. What a way to end the weekend!
Click on any photo below to view the gallery as a full-size slideshow. 
---