THROUGH THE LENS: ND Photographers Share Stories and Photos of Their Favorite Shows
---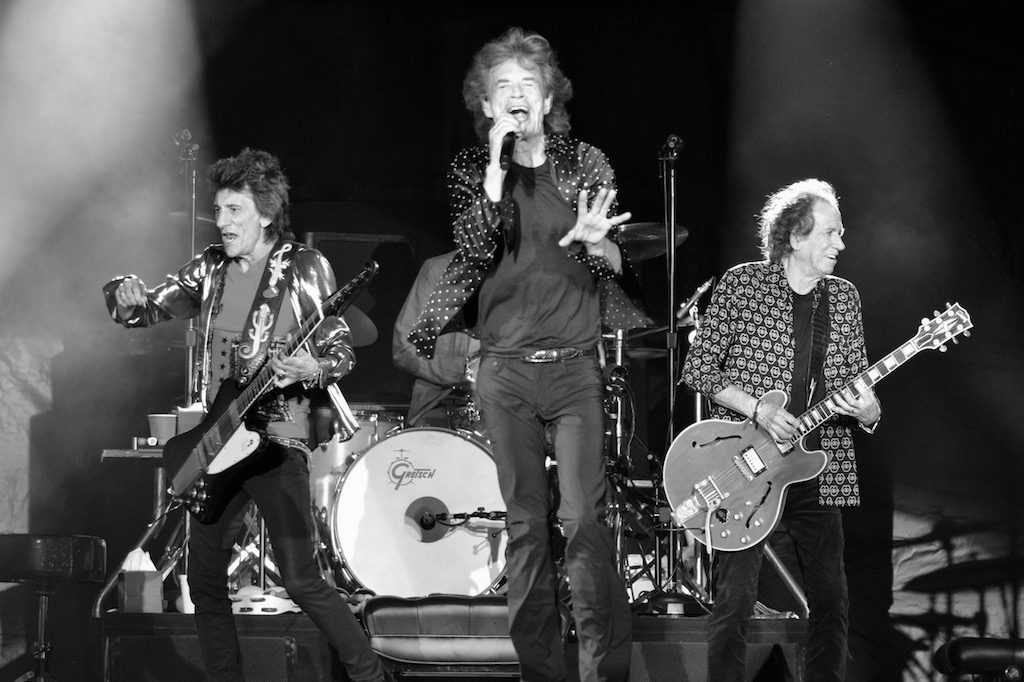 The Rolling Stones - Jacksonville, FL 2019 - Photo by Kim Reed
As you may recall, not long ago the ND photographers shared with us photos and remembrances of their first shows. I thought that next it'd be cool for them to share photos, along with brief descriptions, of their favorite shows.
Again, without any prompting on my part, they came up with a representational sampling of the ongoing diversity that is roots music. From a once-in-a-lifetime opportunity to get up close to The Rolling Stones to The Infamous Stringdusters in my favorite small town in America, Saxapahaw, North Carolina, you will be as exhilarated as I am with this week's treat of a column. The cherry on top: Most of the photos have never been featured before.
The Rolling Stones – Jacksonville, FL, July 2019
One of my life's regrets is turning down an invitation to join a little soiree for Mick Jagger because I was "too busy." I was indeed pre-occupied that day teaching my fourth-grade class. I was teaching by day, shooting in the pits on nights and weekends. But I did get a once-in-a-lifetime chance to have Jagger and the other Stones stare down the barrel of my lens as they got 80,000 Jacksonville fans on their feet one steamy summer night in 2019.
Only four photographers and two video camera operators were allowed to shoot. We were stationed at the end of a runway. There was designated staff escorting us, and we were directed not to take a single shot (not even for settings) until the first note from the band. No crowd shots at all.
We were allotted 10 minutes to catch The Stones as they strutted their stuff, and our cameras clicked and whirred. I was weak at the knees walking back to my car. Interestingly, after all of the contracts and waivers I have signed before shooting a show, for that one we weren't ask to sign a thing. Thanks for the night of a lifetime, boys! — Kim Reed 
Sharon Jones & The Dap Kings – Arlene Schnitzer Concert Hall, Portland, OR, April 2016
This was my second and final time in seeing Jones. Despite not feeling her best, she hit the stage with a smile and, as always, gave a powerful and moving performance. She will always be one of my favorite and most audience friendly artists. — C. Elliott 
The Infamous Stringdusters – Haw River Ballroom, Saxapahaw, NC, April 2019 
Bluegrass is better when it comes with a healthy dose of laser lights, and shooting this band is a special treat for those who focus on roots genres. No matter where you go, the lighting designer is your best friend, but that's especially true with the 'Dusters. The Ballroom is a special place. Originally a cotton mill, it's also where I met my friend and colleague Jay Strausser — he's spent a few years on the road with this crew and he's not only a stellar photographer, he's a kind soul in a crazy business. Be sure to say hello if you have the chance to meet him. — Rob Laughter
Keb' Mo' – AmericanaFest, Nashville, TN, September 2019
I don't know why, but my camera really likes Keb' Mo'. One of the few shots I have kept from my early days was of him, also at AmericanaFest. While he's not particularly animated compared to some, he emits a sense of joy at just being on stage that you don't often see from a performer of his stature. — Chris Griffy 
Brandi Carlile – Mann Center, Philadelphia, PA, Summer 2019
While I had shot Brandi before, the Mann was new to me, so I was bit nervous. But once inside I realized I knew some of the security guys and a couple of the other photographers. So that relaxed me. 
My assigned seat was next to a woman and her daughter who had attended the sound check "meet and greet." I mentioned that I had heard Mavis Staples was opening. She chuckled, and told me there were some other guests as well. Mavis was wonderful, then Amanda Shires showed up, then Lukas Nelson, and finally Tanya Tucker. I was only approved for the first three songs, but I convinced the security guard that it was essential that I also shoot the guests. Oh, the PRESSURE … one song and get the hell out. What a night. — Mark J. Smith 
Glen Hansard – Beacon Theater, New York, NY, June 2019
I've spent a couple of years trying to capture what Hansard is all about, and my shot in the gallery below is about as close as I can get. The audience loves his shows so much and to see him amongst them while performing Mic Christopher's  "Heyday" was a sight to behold! — Anthony Mulcahy
Willie Nelson's Fourth of July Picnic – Austin, TX, 2003 
The Picnic, which has been held annually since 1973, offers up many local performers as well as legends. I was there at the beginning, but 2003 is my favorite. It was a two-day affair with Neil Young, The Dead, Joan Osborne, Toby Keith, and Merle Haggard, just to name a few. Some of the photos were shot backstage as well as during the performances. It was, indeed, an unforgettable feast for a roving concert photographer.  — Mary Andrews 
Levon Helm – Woodland Park Zoo, Seattle, WA, August 2010
There are special moments in one's life that are like lightning in a bottle. This was one: Helm's Midnight Ramble. Levon and band lit up the evening with some of the most incredible songs by The Band, along with Dead, Lead Belly, Dr. John, and Bob Dylan covers. While at this point in his career Helm's singing was limited, seeing the joy in his expressions and the wonderful spirit he created was magical. 
The band was so great I have to give them a shout-out: Larry Campbell (guitar and musical director); the great jazz composer and leader of his own band, Steven Bernstein (trumpet); Teresa Williams and Levon's daughter Amy, who was very pregnant (vocals); Jim Weider (guitar); Brian Mitchell (Hammond B-3); and Erik Lawrence (sax). To top it off, the band snaked out into the audience while performing the song "Mardi Gras Day." To quote Dr. John, "It was, it really was such a night," and what fun it was. I still miss Levon, who died in 2012. — Boom Baker 
Now, the photos. Click on any photo below to view the gallery as a full-size slide show.
---