THROUGH THE LENS: ND Photographers' Favorite Roots Music Concerts of 2022
Posted On December 6, 2022
---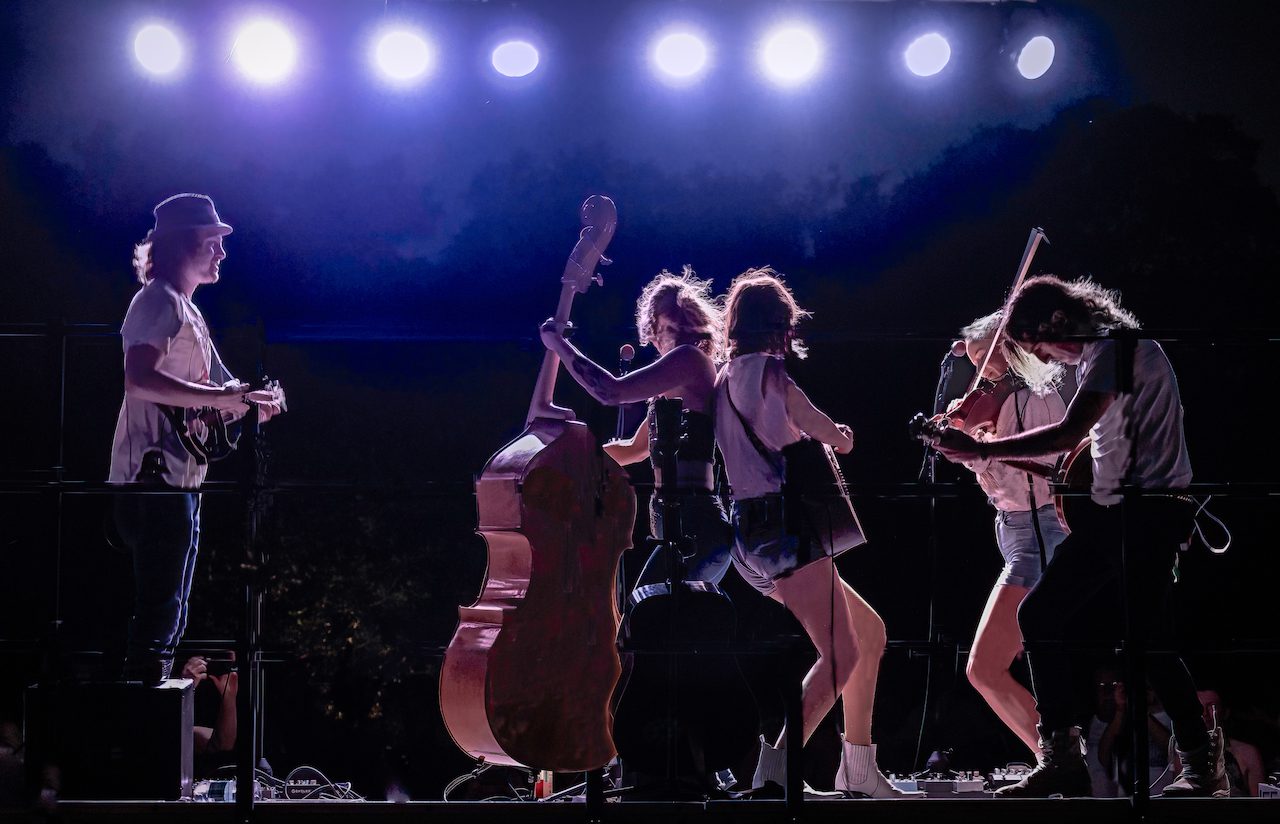 Molly Tuttle and Golden Highway - Photo by Rick Davidson
With touring and festivals back in full gear, No Depression's contributing photographers not only got in an extraordinary number of shows, but it also seemed they were making up for time lost due to COVID. From Ireland to Australia, and from the heart of Appalachia to sunny California, their photos demonstrate the vitality and popularity of roots music all over the globe.
Here's what 20 ND photographers have to say, in words and photos, about their favorite roots music gigs of 2022. So many thanks to them for sharing so much with us.
The Last Waltz Tour 2022 — St. Augustine, Florida
When The Band celebrated the end of their career on Thanksgiving 1976, little did they know that decades later musicians around the country would be banding together to commemorate that historic event. This year's tribute tour included, among others, Warren Haynes, Jamey Johnson, Cyril Neville, Don Was, Kathleen Edwards, and Bob Margolin, a member of Muddy Waters' band and the only musician at this tribute who played in the 1976 show. The Band would have approved. — Kim Reed 
Joni Mitchell — Newport Folk Festival, Newport, Rhode Island  
In a remarkable comeback year for live music, Joni Mitchell's closing set stands above all others and was one of the more moving musical experiences of my life. — Jim Brock
James McMurtry — Tucson, Arizona 
McMurtry's songs paint a vivid picture of middle America's blue-collar families struggling to survive in an unforgiving world and are unlike those of any other other songwriter today. Unlike many of his contemporaries, McMurtry continues to improve with age. — Mary Andrews
S.G. Goodman — Fisherman's Village Music Festival, Everett, Washington
I knew nothing about Goodman before seeing her here, which made her strong impression even more striking. Her songs and vocal style are haunting and riveting at the same time. I caught her again at Hardly Strictly Bluegrass, where her set was the most talked about the entire weekend. — Peter Dervin 
Molly Tuttle and Golden Highway — Lake Wales, Florida
While I had seen Tuttle numerous times before, I was unprepared for the energy and musicianship she and her band brought to central Florida. Animated personalities, great stage interaction, and just plain fun. Having seen them three times since I can unequivocally say they are the best touring band in bluegrass. Other folks must feel the same, as she's nominated for this year's Best New Artist Grammy, unprecedented for a bluegrass performer. — Rick Davidson
Jimbo Mathus and Creatures of the Southern Wild — Mobile, Alabama

Callaghan's Irish Social Club in Mobile has a well-deserved reputation as one of the finest small venues in the Southeast, and it's where I caught two fantastic sets from Mathus and band, featuring the absurdly talented Schaefer Llana. — Justin St. Clair
Sierra Ferrell — Sydney, Australia 
Ferrell, whom I had seen before, outdid herself during an extended run of sold-out Australian shows with her band in October. Just superb. — Steve Ford
Tyler Childers — Healing Appalachia, Lewisburg, West Virginia  
Childers tore through a 20-song set, weaving in songs from his new album, Can I Take My Hounds to Heaven? With his band, The Food Stamps, they brought a "take me to church"-level energy to the several thousand fans who had descended on the West Virginia State fairgrounds. The focus of the event was creating awareness and finding ways to address the opioid crisis in the Appalachian region. — Chad Cochran 
Samantha Fish — Brooklyn, New York  
No one lights up a room like Fish, pure energy from the get-go every night. Her 2021 show, also at Brooklyn Bowl, was my pick for show of last year as well. — Lou Montesano
Tedeschi Trucks Band — Philadelphia 
Tedeschi and Trucks would be impressive enough on their own, but add their incredible supporting musicians, along with guest appearances from the opener Los Lobos, and the ensemble lead the audience on a jam-filled journey that could only be described as spiritual in nature. — Eric Ring
The Ronstadt Family — Tucson, Arizona 
The Family's multicultural roots of ethnic folk go back 140 years, and they're legendary in southern Arizona and around the world. Four generations were onstage celebrating a musical dynasty. The evening ended with all five Ronstadt ensembles sharing the stage with family members called up from the audience to perform the family favorite "Volver, Volver." — C. Elliott 
Tami Neilson —  AmericanaFest, Nashville  
Neilson, with fire in her eyes and blood on the tracks, closed down AmericanaFest with a complete run-through of her latest album, Kingmaker, joined by Aussie legend Henry Wagons singing the Willie Nelson part on "Beyond the Stars." AmericanaFest 2022 was a Tami Neilson show preceded by a week of some great openers. — Chris Griffy 
Todd Snider and Ramblin' Jack Elliott — Nashville  
Two great storytelling troubadours on the same bill at the Ryman put on a fabulous show that left their fans full of heartfelt emotion. Elliott, now 91, was very sweet, and Snider matched him story for story. — Willa Stein 
Robert Plant and Alison Krauss — Redmond, Washington
Following a 13-year break, this super roots music duo cast their magic once more with a witches' brew of cuts from the new album, songs from their individual repertoires, covers, and, of course, Led Zep classics. They dazzled and delighted a high-energy crowd with a finale of "When the Levee Breaks" that knocked the breath out of your body with its haunting, Middle Eastern-tinged, psychedelia-kissed arrangement. — Lisa Costantino
Sierra Hull — Philadelphia 
With a talent that is matched only by her energy, Hull put a smile on everyone's face as we all joined her for a fun night of fantastic music. — Mark J. Smith 
Greta Van Fleet — Charlotte, North Carolina
After seeing them two weeks prior, with no expectations, sitting in the cheap seats, I became hooked. The Charlotte concoction of glam rock meets roots rhythm and blues had a multigenerational audience out of their seats for the whole dang show. With a performance that also included "That's Alright, Mama," I promise you, if he'd been there, Elvis would NOT have left the building. — Kelly Shipe
Brandi Carlile — Moon Crush, Miramar Beach, Florida 
As the sun began to set Carlile and the Hanseroth Twins brought their hearts and souls to this acoustic oceanside performance where I felt chills run down my spine. This enchanting evening was not just my show of the year, but one of my top ten ever. — Boom Baker 
Leyla McCalla — Grand Rapids, Michigan 
Sitting at center stage, McCalla was surrounded by instruments (cello, banjo, guitar) and brought them out one by one to tell stories of particular people in particular places at particular times, and in so doing, she allowed us to see our own. — Bryan Bolea 
The Frames — Dublin, Ireland
On a beautiful early summer evening, in a city with visitors from all over the world, The Frames celebrated 30+ years as a band by bringing their trademark energy to a sold-out show in their hometown. Fronted by Glen Hansard, the band ran through its extensive catalog of songs, matched word for word by their many longtime fans. — Anthony Mulcahy 
Colter Wall — Stagecoach Festival, Indio, California 
Singing his old-timey cowboy songs with a baritone voice, Wall took me back to the days of yesteryear. — Liza Orozco 
Click on any photo below to view the gallery as a full-size slideshow.
---