THROUGH THE LENS: Nashville Boogie 2019 Brings Rockabilly to Music City
---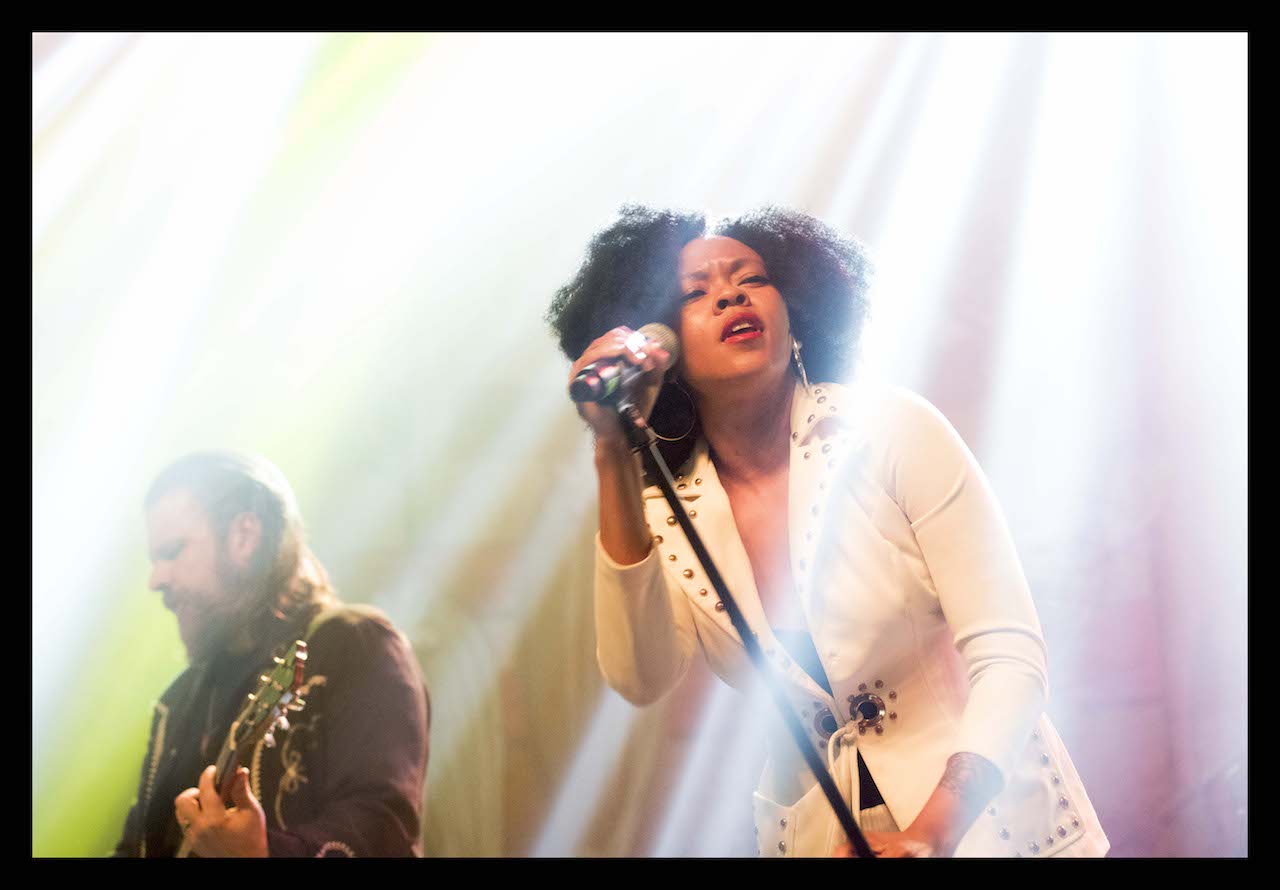 Nikki Hill - Nashville Boogie 2019 - Photo by Kevin Smith
This week I cover an underserved branch of roots music: rockabilly. Specifically, Nashville Boogie, a festival held in Nashville every Memorial Day weekend. As if the music is not enough, it identifies itself as "a celebration of midcentury American music, culture and style." It includes a car show, a Western fashion show, vintage vendor market, pinup contest, and a record convention. You could almost call it a lifestyle.
Covering the long weekend of music is a writer-photographer who perhaps knows the genre better than anyone, Kevin Smith. Kevin, whom I met at a festival several years ago, is a regular contributor to the rockabilly print journal Blue Suede News and the influential online journal Saving Country Music.
Kevin has covered Nashville Boogie many times, but never before for ND or this column, and I am extremely pleased to introduce him to our readers. Now, in his own words, is Kevin Smith:
Nashville Boogie
At its very heart, Nashville Boogie is a rockabilly festival, first and foremost. Though not as big as Viva Las Vegas, the big daddy of rockabilly gatherings, it nonetheless draws a devoted crowd year after year to Music City. Held at Gaylord Opryland Hotel and across the street at The Nashville Palace, it attracts a diverse crowd of artists from all over the world. The promoter, Jason Galaz of Muddy Roots, has always made it a point to include country and western swing artists as well, in keeping with the rich history of Nashville. Nonetheless, each year always brings surprises, and you never quite know what to expect musically. You might also find garage rock or outlaw country sprinkled in, or even some retro R&B and soul. 
Three Nashville Bands of Note
Three Nashville-based bands are festival mainstays and are worthy of attention. Hillbilly Casino specializes in rockabilly with serious punk and country influences, and their frontman Nick Roulette is an unbelievable showman. The Hi-Jivers are a current favorite of mine and they are at heart a primitive jump-blues band with the powerful female vocalist Dawna Zahn, who has a Big Mama Thornton meets Wanda Jackson vocal style. As a whole, they are heavily influenced by the Chicago blues of Muddy Waters, Howlin' Wolf, and Willie Dixon. The rockabilly crowd loves them, though, and they are quickly becoming a top-shelf act. Then there are The Planet Rockers, a rockabilly band that was once Morrissey's opening act and includes Los Straitjacket founder Eddie Angel, legendary bassist Mark Winchester (Emmylou Harris and Brian Setzer), drummer Billy Thunder, and Nashville wildman Sonny George. These guys lay down rockabilly in a way you've never experienced.  As usual, the "hillbilly Ramones," as they have been called, blew the crowd away.
Women Artists Make Their Presence Known
This year's festival really showcased the growing diversity in the rockabilly scene. If there was perhaps a running theme that I saw, it's female fronted bands with pronounced blues, R&B, and soul influences. Stunning newcomer Tammy Savoy, who just won big at The Ameripolitan Awards, brings a sassy, playful, Ruth Brown meets Irma Thomas vibe to her music. She is backed by famed musician Chris Casello, who always dazzles with his guitar virtuosity and songwriting skills. Then there was Shanda and The Howlers from Las Vegas, who bring a raw R&B strut to their sound. They are part of a growing Latino roster on Wild Records, a label well worth exploring.
Linda Gail Lewis, sister to Jerry Lee Lewis, also performed with her daughter Annie Marie and son-in law Danny B. Harvey and was backed by three members of Los Straitjackets for an exhilarating run of rock-and-roll covers, with nods to her brother, as well as a few originals. It was wonderful to see Linda Gail in fine form, with an absolutely killer band! I can't neglect to mention Nikki Hill, who absolutely lit the stage up with her electrifying presence. She has dabbled in the past with an R&B and soul influence in her brand of very wild and loud rock and roll. These day's she's edging closer to a modern rock sound. 
Rockabilly Is Also International 
Other performers that impressed me included Sonny West, an excellent traditional British rockabilly performer, and Swedish honky-tonk band The Country Sound of Harmonica Sam, who specialize in recreating mid-'60s era Nashville sounds in the style of Lefty Frizzell, Wynn Stewart, Webb Pierce, and others. They absolutely quieted and captivated a rowdy crowd for nearly an hour, a difficult feat! In another vein entirely, Bloodshot Bill, a true wild and primitive rockabilly performer, played an unforgettable late-night set with Japanese band The Stompin' Riff Raffs and legend Deke Dickerson. It was absolute mayhem!
The Big Names: Ronnie Spector, The B-52s, JD McPherson, and The Cactus Blossoms
Bringing a more calm side to the music were The Cactus Blossoms, who play ethereally beautiful and haunting music a bit reminiscent of The Everly Brothers. Sunday night brought out a record crowd for the event. JD McPherson really got things going Sunday night, playing his version of rockabilly and Memphis-influenced groove. He was, as always, fantastic!
The true show-stopper of the night though, was Ronnie Spector and The Ronettes. She was as great as you might hope, and yes, she played the key songs, including the Brian Wilson penned "Don't Worry Baby," originally written for her! Along the way Spector showed video footage and pictures of The Ronettes in their glorious heyday and told stories of her life. It was absolutely mesmerizing and her band was terrific! Of course she closed with "Be My Baby," did you have to ask?
That made way for the evening closer, The B-52s. Yes, that band. They sounded in good form and immediately got the crowd going with "Cosmic Thing," "Hot Lava," and other crazy tunes from their career. Anyone remember "Love Shack"?  Campy, kitschy, and goofy, are all good terms to describe what they do, but the massive crowd ate them up. That wrapped up a great weekend of music. Nashville Boogie continues to be a little music festival with surprises and something for everyone.
Note: While Ronnie Spector and The B-52s did not permit photos during their sets, the other artists enthusiastically made up for it.  
---