THROUGH THE LENS: More Scenes from MerleFest and Bristol Rhythm & Roots Reunion
Posted On October 12, 2021
---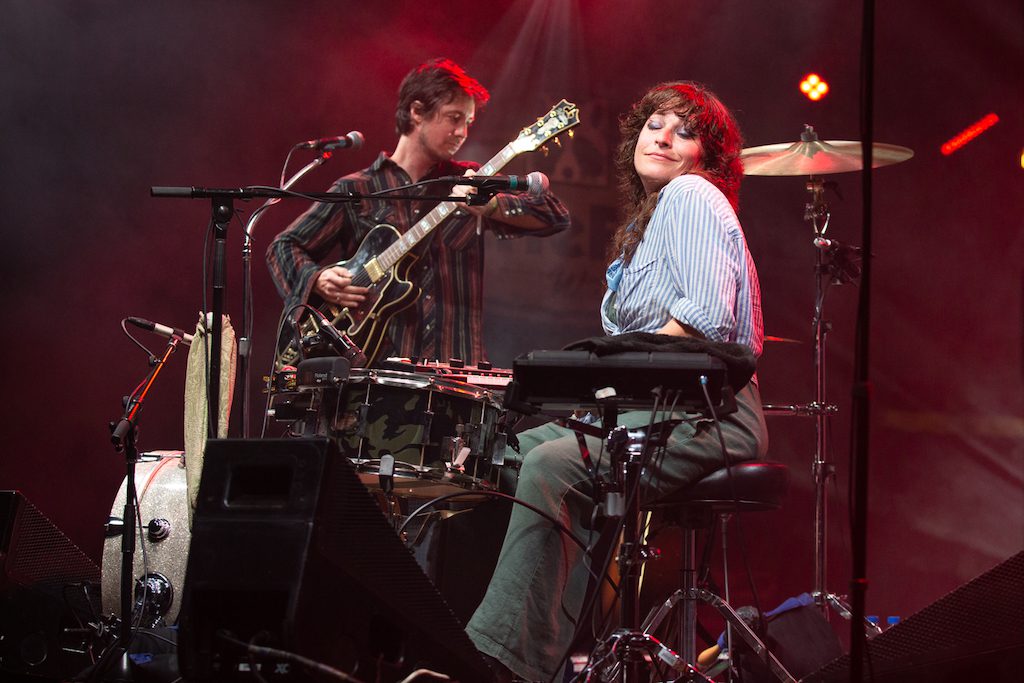 Shovels & Rope - MerleFest 2021 - Photo by Willa Stein
As September was jam packed with roots festivals, I'll be playing catch-up in the next couple of columns to feature ND photographers' festival photos that we haven't yet gotten to show off.  In other words, so many festivals, so little time.
This week features two well known, and much loved, festivals that occurred in back-to-back weeks: Bristol Rhythm & Roots Reunion (Sept. 10-12) and MerleFest (Sept. 16-19). The elephant in the room was COVID-19, and despite being only 90 miles apart, these two festivals took opposite approaches to who would be able to attend. MerleFest required proof of vaccination, or a negative test, before entry. Bristol took no such precautions.

MerleFest by Amos Perrine
Postponed five months from its usual April date, this year's MerleFest was a cause for celebration. Attendance seemed to be down a bit, and one indoor stage was closed, but the enthusiasm, both on and off stage, remained unabated. It seemed that the fest's organizers pulled out all the stops to make this the most welcoming and gracious edition ever. It worked.
Unlike most years — this was my 20th MerleFest — I took a cautious, pragmatic route that focused more on involvement with individual artists than trying to be everywhere at once. It helped that Jim Gavenus and Willa Stein were there as well, and graciously share with us their photos.
The Buzz: There's always buzz about new artists every year. In years past its been, for example, Carolina Chocolate Drops and Billy Strings. This year's buzziest MerleFest artists were Sierra Ferrell and Yasmin Williams. Ferrell accomplished something I'd never seen before: a standing ovation at the end of the first afternoon set at the main stage (Watson Stage). It occurred again just a couple of hours later at the indoor Walker Center. With just a fiddle and upright bass to accompany her, Ferrell captivated the audience with her gypsy-infused music that reinvigorated what otherwise could be called century-old traditions. She also scored a lot of points with her astute finger picking, which made her trio — guitar, bass, and fiddle — seem like so much more.
Williams likewise enthralled the audience with her solo acoustic guitar skills reminiscent of John Fahey and Tony Rice, but with a lighter, more melodic touch. Often playing her guitar on her lap, sometimes like a hammered dulcimer, she made it ring like a 12 string, weaving tunes so intricate and mesmerizing that you felt caught in dream. In short, no one is doing what Williams and Ferrell are doing. They are originals.
Highlights: As I had not seen Margo Price in a while, I did not quite know what to expect. What I heard was one of the tightest backup bands, now including her husband, Jeremy Ivey, full time, I have heard in a long time, and a self-confidence that gave flight to an expansive set list. Swinging back and forth from hard-core country to soul to LA-infused rock, there was nary a misstep and many moments to relish.
The Waybacks' annual Hillside Album Hour finally featured a true roots music album, John Prine's 1971 debut. With the likes of Sam Bush and Jim Lauderdale you knew it would be spectacular, but The Barefoot Movement's Noah Wall's vocal on "Angel From Montgomery" was THE moment. It brought audience members to their feet, even those with uncertain footing on a slippery hillside. 
Two barrier-breaking legends were set to close out the weekend on Sunday, but when Mavis Staples and Melissa Etheridge took the stage together an electric thrill ran through the crowd. It energized the drive back home.
Bristol Rhythm & Roots Reunion by Kelly Shipe
Like the festival itself, I straddled the state line: my right foot in Tennessee, my left in Virginia. I was smack-dab in the center of the Birthplace of Country Music, the Southeast nook that bore the first recordings of The Carter Family and notable others. 
The early September breeze moved past me, whispering that fall is near. Strolling State Street, I passed Ryan Kendrick shredding blues on his guitar and Mama Molasses belting western swing. The 20th anniversary of Bristol Rhythm & Roots had begun, and I was a happy relative enjoying the reunion. 
An acoustic set from country icon John Anderson sent me back to the front porch of my youth. His rich twang emanated from the State Street Stage, effortlessly filling the space with satisfying timbre. Classics like "Would You Catch a Fallen Star" and his new "I'm Still Hangin' On" were like the cooked caramel icing on your mama's scratch-baked cake.
As with any good reunion, this was just the beginning. In the distance I heard Hayes Carll singing his stories. I broke into double-time toward Piedmont Street just in time for "It's a Shame." But there were new acquaintances to make. Early James is Americana dynamite in orange overalls. He commanded Cumberland Park, wailing "Mama Can Be My Valentine" with fierce, fun bluesy roots-rock. Underhill Rose and The Jakob's Ferry Stragglers became new faves too. 
Now, we all know reunions can get raucous, and the band for that is Nashville-based The New Respects. Steeped in Motown soul, gospel, and funk, they've got a beat you can dance to and I did just that! And American Aquarium infused the night with exuberance, electricity, and all the feels that burrow deep in me and anyone in this Reunion family. What a time! I can't wait to walk that line next year.
Now, the photos of Willa Stein, Jim Gavenus, and Kelly Shipe, including many artists not discussed above. Click on any photo below to view the gallery as a full-size slide show.
---