THROUGH THE LENS: Kelsey Waldon, Jeremy Ivey, Dori Freeman, and Other Upcoming Roots Music Releases
Posted On September 3, 2019
---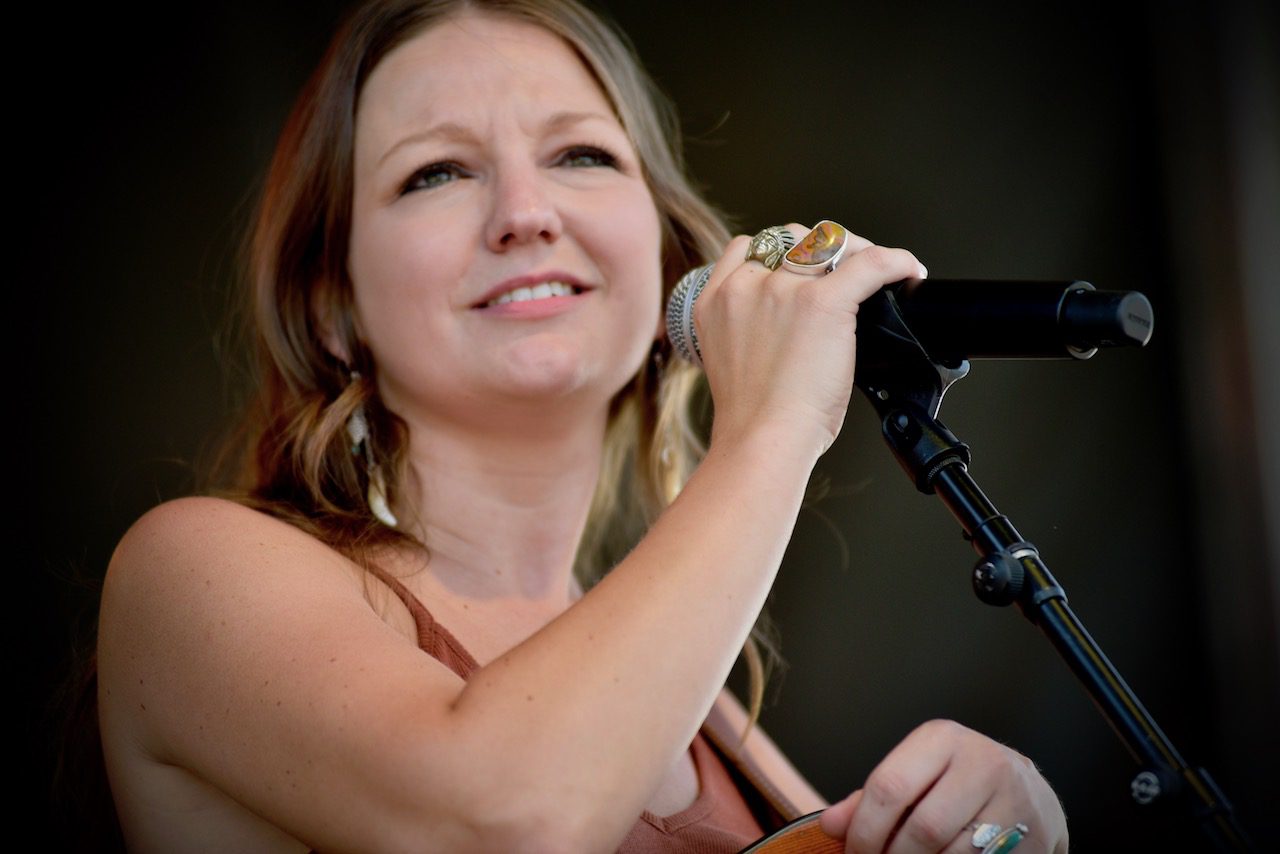 Kelsey Waldon - Photo by Amos Perrine
Every six weeks or so, you may have noticed, I share my excitement about some new releases. This time the excitement even bigger than usual as four of the artists have showcases during next week's AmericanaFest: Kelsey Waldon, Michaela Anne, Dori Freeman, and Jeremy Ivey. If you're going, make a point to catch them. The other three — Hot Club of Cowtown, Staci Griesbach, and an Ian & Sylvia reissue — aren't too shabby either.  
Kelsey Waldon — White Noise/White Lines (Oct. 4) 
After a couple of indie releases didn't make much noise, on this one Waldon more than makes up for that. From the opening track, "Anyhow," she grabs you by the throat and says, in an unapologetic, in-your-face, hard-edged Kentucky voice that taste-makers did their best to annihilate: "If you're listening to me, you're hearing country music as it was meant to be." (Paraphrasing fellow Kentuckian, Loretta Lynn). 
On the outstanding title track, replete with Chris Stapleton-like lead guitar, Waldon reaches outside mortality with, "Make your mind free and live on / We're only here for a moment and then we're gone." The circle is complete with the final track, a stark cover of Ola Belle Reed's "My Epitaph:" "The flowers that you give me, give them today / Don't waste their beauty on cold lifeless clay," while a pedal steel moans. Elizabeth Cook and Margo Price may have opened the door, but Waldon is at the forefront of resolute young women taking back country music.
Hot Club of Cowtown — Wild Kingdom (Sept. 27)
Despite having a loyal following, how this Austin trio remains under so many other folks' radar is a mystery to me. For the uninitiated, they take the basic premise of Django Reinhardt and Stéphane Grappelli's Hot Club of France, ground it in western swing, mix in some Pink Martini and Manhattan Transfer, and make the most elegant uptown roots music you will ever hear. This, their 11th album over a 20-year span, is their most toe-tapping, lyrically catching ever — and I have heard them all. 
Elana James, the band's primary songwriter, vocalist, and violinist, outdoes herself with "Near Mrs.," an enticing play-on-words song in which she also displays her eloquent playing. In the other direction, the violin becomes a bluegrass fiddle on the gospel-like "Last Call" and High on the Mountain," and then Cajun with "Tall Tall Ship." Taking nothing away from Whit Smith and and Jake Erwin, these are just some of the nuggets on this superb album of 11 originals and 3 standards. 
Dori Freeman — Every Single Star  (Sept. 27)
If Eilen Jewell is the Queen of the Minor Key, Freeman is the Queen of the Bittersweet. It's ironic, as Freeman is a happy person, really. I do not find that to be a conflict or a contradiction, as many writers write their darkest work when they're up, and their sunniest when depressed. It's the ability to tap into that other side that's the mark of talent. Freeman has, as one from southwest Virginia might say, a pantry full of it.
Her first album (which I selected as one of the best of 2016) was infused with near unbearable heartbreak. Star, her third, has a maturity that tempers those themes with songs about a happy marriage and her daughter, such as "Like I Do." But she still explores heartache with lyrics such as, "I remember every single star / A million little scars / The night I packed my car" in "Walls of Me and You." Like Ashley Judd in the 1993 movie Ruby in Paradise (about an Appalachian woman leaving a bad relationship), Freeman makes lemonade in her own way.
Staci Griesbach —  My Patsy Cline Songbook (out now) 
Jazz vocalist Griesbach does what made Patsy Cline so great: She approaches songs as a cabaret vocalist would, focusing on the stories within them, not merely reciting the lyrics. Mandy Barnett did Cline quite well on Sweet Dreams (2011), but she stayed within the country genre. Griesbach transposes them and brings out their jazzy underpinnings, not unlike what Cline often did, especially live. 
Griesbach enlisted, among other notables, jazz stalwarts Tamir Hendelman on piano (Barbra Streisand) and Bob Sheppard on woodwinds (Diane Reeves, Kurt Elling), along with fiddler Stuart Duncan, who's played with everyone, to ensure the songs got the full treatment they so richly deserve. Together they have taken Cline's 15 best-known songs, written by Nashville's most renowned songwriters such as Willie Nelson, Hank Cochran, and Harlan Howard, and made an album worthy of being added to the Great American Songbook. You know what the songs are, now hear them as Ella Fitzgerald or Billie Holiday might have approached them. 
Jeremy Ivey — The Dream and the Dreamer (Sept. 13) 
While a lot of the new Nashville seems to be following the trail blazed by Margo Price, there is a substantial portion of the town's underground that's enamored more with Warren Zevon than, say, George Jones. I can see that in Ivey, but I see a whole lot more. His music is grounded in the best the '70s had to offer, introspective country-rock with a dash of psychedelia that he first explored in the band Buffalo Clover (that also featured Price). 
My favorite tracks are the ones that bookend the album. "Turning Diamonds Back to Coal" begins with a gangly, foreboding guitar riff that that delivers: "I've been walking through the wasted streets … Is this the land of broken bone and cinder? … Turning diamonds back to coal." In it Ivey explores, in a Cormac McCarthy-like manner, the devastation wrought by manifest destiny, both on the land, the peoples, and the soul. The title track concludes that theme, but this time a processional piano solo dissolves into a mirror: "When the Mayflower landed and the natives came / The dreamer got greedy, the dream got the blame / Now the land is dying, the sea is grey / While the dreamer drives his car on the natives' graves." Or, will you be having fries with that Big Mac? 
Michaela Anne — Desert Dove (Sept. 27)
I include Anne in a select, yet ever expanding, group of younger artists who are making music in Nashville on their own terms. However, while most of them are driving a harder-edged sound, as if kicking the spittoon out of a saloon, Anne stakes her claim in the countrypolitan side of town. To my ears, Anne's previous albums were training grounds for this one, her fourth. That's saying something as her last one, Bright Lights and the Fame, was pretty darn good.
My fav tracks are: 1) The Tammy Wynette-inspired "Two Fools:" "You tell a joke, I'll try not to laugh too loud / 'Cause someone might see and say we're in love / But they don't understand / We're just two fools who can't say enough is enough," with just the right amount of pedal steel and tinkling piano to make it a real tearjerker; and 2) "If I Wanted Your Opinion" presents a feminist theme that's also an up tempo toe tapper: "I'm not a poster on the wall, not a porcelain doll / Ain't it funny how you think you run the show / I'm not some puppet on a string / And if I wanted your opinion you would know." Anne has arrived, and she can buy her own drink, bless your clueless little heart.
Re-Issue: Ian & Sylvia – The Lost Tapes (Sept. 6)
This year is the 60th anniversary of the meeting of Ian Tyson and Sylvia Fricker. They not only defined Canadian music but also became the model for all duos who came after, folk or otherwise. Their songs, "Four Strong Winds" and "Summer Wages" still can't help but bring tears to your eyes. "Someday Soon" and "You Were on my Mind" were monster hits, albeit by Judy Collins and and We Five, respectively. 
Those first two songs are just the tip of the iceberg of recently discovered batch of live recordings from the early 1970s, when Ian & Sylvia were riding high. Also included on this 2-CD set of 26 songs are country standards such as "Crazy Arms," "Sweet Dreams," and "Together Again," along with the gem "Darcy Farrow" by a largely forgotten contemporary, Steve Gillette.
Listening to the album reminded me of what I felt when I last saw Tyson some 25 years ago. In introducing "Someday Soon," he said, "This is the the song that paid for the ranch." There was a gleam in his eyes that took me to a faraway place. This album does the same.
---