THROUGH THE LENS: John Prine Was One of Us
---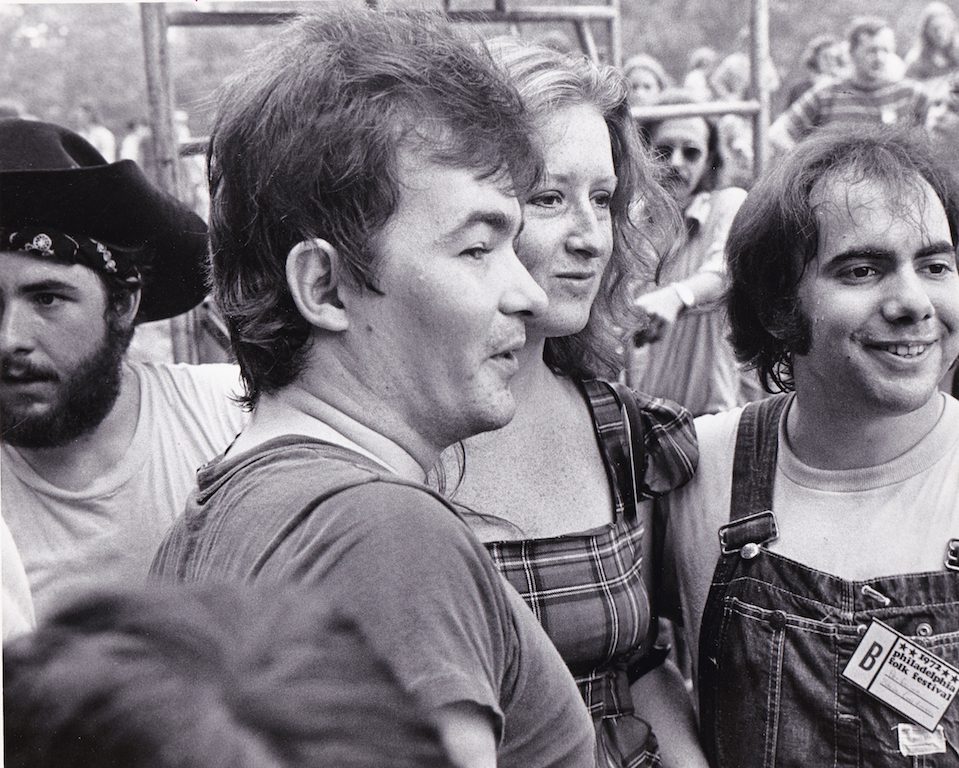 John Prine, Bonnie Raitt & Steve Goodman - Philadelphia Folk Festival - Photo by Steve Ramm
"I guess I just process death differently than some folks. Realizing you're not going to see that person again is always the most difficult part about it. But that feeling settles, and then you are glad you had that person in your life, and then the happiness and the sadness get all swirled up inside you. And then you're this great, awful candy bar, walking around in a pair of shoes."
— John Prine (in Pitchfork) 
John Prine was not some distant, unobtainable, unknowable entity. He was one of us, and he listened. He listened to old folks, the broken, the goofy, the off-kilter, the Donalds and Lydias of the world. He refracted what he heard through a prism, enabling us to embrace the colors of the world around us where before there had only been invisible light. He found us as we wanted to be found; he knew us as we wanted to know ourselves.
While I did not meet Prine until several years later, the first time I saw him was early 1973. David Morris (of the Morris Brothers, West Virginia old-time music legends) called me at college saying he was bringing Prine to a new music venue in my hometown, the Capitol City Jamboree. On the appointed day, seven of us piled into my 1967 Plymouth Fury, driving mostly non-interstate miles in a light snow, singing the entire first album, some songs several times over. By the show's end Morris and Prine were onstage together, trading quips, trying to one-up each other, drunk as skunks. The audience had rip-roaring good time, along with some illegal smiles.
The remainder of this week's column are more recollections, anecdotes, and thoughts from ND photographers who have shot Prine over the years. Most of the photos in the gallery below have never been featured at ND before; some are being published for the first time.
Steve Ramm: In 1972 I was doing press photos for the Trenton (New Jersey) Times. My photo was taken at the 1972 Philadelphia Folk Festival and was included in the 2018 book Smiling Banjo: A Half Century of Love & Music at the Philadelphia Folk Festival. I gave Raitt a matted print during the 2017 AmericanaFest, and she graciously signed one for me.
Rick Davidson (MusicFestNews.com): I have seen Prine many times, but only got to meet him at AmericanaFest 2019 in Oh Boy Records' backyard. At one point I told him I was sorry he wasn't going to be on the Cayamo cruise, was disappointed in the lineup, and had never been a Jeff Tweedy fan. He said, "Really? He's such a great writer and person. You ought to listen to some of his recent material." That was it. He genuinely cared what I thought. It reinforced every good thing I had ever heard about him from friends in Nashville who do know him. Thanks to my friend Kerri Ringeisen for telling me about the quote from Pitchfork that's used above.
Larry John Fowler: I first became familiar with Prine in the mid-'70s through my following of Steve Goodman and Kris Kristofferson. His songs fit my sense of humor, were easy to play, and matched my voice range. I wasn't able to see him live 'til the '90s. His 2018 Cayamo appearance was the year my daughter came along. It was during a song with Richard Thompson and Brandi Carlile that she poked me, saying, "OK, now I get it!" His songs have that ability to reach through the generations and bring people together. I'll be teaching those songs to my grandson this summer.
Jim Brock: I knew of Prine when I was a kid, but appreciation and respect didn't come until way deeper in life, when his lyrics rolled over me like some sort of summer porch hang filled with all the bite and humor and truth we stumble upon every day with the courage and frailty of waking up human. It was always an honest conversation that left me quietly smiling, even if I was just listening. Best damn storyteller in the room.
Chris Griffy: In 1996 I was a metalhead college senior in taking a Modern Satire class. One day the professor walked in with Prine's first album, saying the best satire of the last 50 years had been set to music. He connected Prine's songs with his own experiences: "Your Flag Decal Won't Get You into Heaven Anymore" with the dying days of the Vietnam War, and how "Sam Stone" came back when his wife was dying of cancer and spent her final days drugged into semi-death. The stories Prine told, the way they so colored another person's life, triggered something in my soul.
Mark J. Smith: Two remembrances: Shooting pool with him and Steve Goodman in the back room of the Other End in Greenwich Village, and seeing him catch up with Kris Kristofferson backstage at the 2004 Philadelphia Folk Festival.
Boom Baker: My first time was in the early '70s at the Troubadour in Los Angeles. He had a bar stool next to him with a pitcher of beer. He filled his glass, then sang and told stories. Halfway through the set the now-empty pitcher was replaced by another, which John finished as well. After intermission there was another pitcher of beer, and more songs and stories. The man can sing, the man can write, and the man can hold his beer. That night's a souvenir.
Carol Graham: My most distinct memory was photographing him in Glasgow in 2017. He looked directly at my lens and I froze, worried initially that his long stare was disapproving — but then he smiled, which meant the world to me. Late in the show an unscheduled Sturgill Simpson suddenly appeared. I quickly left my seat but was immediately shut down by a member of security. I appealed, saying, "But this is John Prine and Sturgill Simpson in Glasgow, it will never happen again!" He acquiesced.
C. Elliott: I saw him several times over the years, he was the soundtrack to our lives. Every time I heard one of his songs and after every show I felt that all's right with the world with him in it.
Jim Gavenus: Each time I photographed Prine I felt like a little kid going to meet his hero. He made me laugh, smile, and reflect on my life.
Brenda Rosser: I have followed Prine since the '70s. He filled me with a lot of joy and he touched my heart in a way few performers do. His 2019 AmericanaFest show with friends playing the songs of The Tree of Forgiveness stays with me as a treasured memory. He reminded me of a favorite uncle who always had a great story to tell: You were never quite sure if it was fact or fiction, but there would always be laughter. As I read Jason Isbell's remembrance of John looking at the stage clock, saying "I wish we had more time," all I could think was, "So do we, John. So do we."
Final thought: In 1999, when he was stumping for In Spite of Ourselves, Prine was interviewed on NPR's All Things Considered. He said he was amazed that most of the folks he asked to be on the album said yes. As I sometimes do, I talked back to the radio and declared: "Who in the world would say no to John Prine?"
The photos below may be viewed as a slideshow by clicking on any one of them.
---