THROUGH THE LENS: Jazz, Blues, Funk, R&B, and Other Roots Music Photos of the Week
Posted On February 4, 2020
---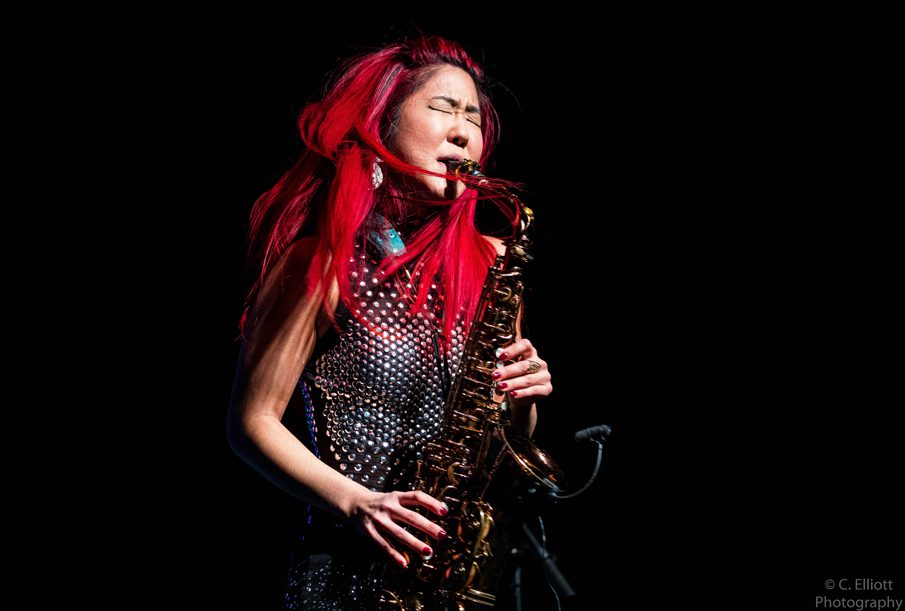 Grace Kelly - Photo by C. Elliott
 This week's column highlights an under-represented and under-appreciated branch of roots music: jazz. Perhaps it's viewed as having more of an urban vibe as opposed to invoking the dusty backroads, barrooms, or juke joints of rural America. What most folks miss is that it's rooted in the blues. Before it became the toast of both coasts, it was born in New Orleans, flourished in Kansas City, and became what we have called jazz for the past 80+ years.
As its past giants have passed away, the genre has evolved into something perhaps a bit too abstract for all but the most inside of insiders. It is also somewhat more difficult to describe, write about, and dance to than other forms of music. Nonetheless, jazz remains a vibrant force, as exemplified by those featured below.
Tucson Jazz Festival: Grace Kelly, Christian McBride, Maceo Parker, Aubrey Logan 
C. Elliott recently attended this jazz fest in Arizona and caught a nice mixture of young lions and elder statesmen. 
I first heard Korean-American saxophonist Grace Kelly when, as a teenager, she guested on Marion McPartland's Piano Jazz radio show in 2008. For a full hour she tackled tunes by Monk, Ellington, and other notables with great aplomb. Since then she's toured the world and worked with two masters of the sax, Phil Woods and Lee Konitz. Still under 30, you can tell from Elliott's photos that she has a commanding stage presence. As demonstrated by her 10th album, Trying to Figure It Out, which was voted the number-two Jazz Album of the Year in the 2016 DownBeat Readers' Poll, she's got the chops to match.
Unfortunately, over the years the trombone as a lead instrument has fallen out of favor. In the right hands, it can be not just an evocative instrument, but a sensuous one as well. What is even more rare are women trombonists. Not if Aubrey Logan has anything to say about it. In 2009 Logan won both the Audience's Choice Award and the Jury's First Place Award at the fabled Montreaux Jazz Festival. Logan gave an inspired performance, and as bonus she and Kelly did a couple of tunes together. 
At the other end of the spectrum is six-time Grammy winner Christian McBride, whom I first saw when he was a teenaged member of Bobby Watson's band. Since then he has done widely wonderful things, not least of all 2017's big band record Bringin' It. His new album, which comes out this Friday, The Movement Revisited, is a tribute to four icons of the civil rights movement: Rosa Parks, Malcolm X, Martin Luther King Jr., and Muhammad Ali. A fitting way to begin Black History Month.
Best known for his work in James Brown's band and later Parliament-Funkadelic, Maceo Parker has grown into the jazz world. As a staple on the jazz fest circuit, he's taken on the status of an elder, and can still funk it up while working in lush ballads, such as Burt Bacharach's "The Look of Love."
Roots Legends: Mavis Staples, Taj Mahal, Booker T. Jones
These three artists are the epitome of roots royalty. Peter Dervin's photos show Mavis Staples in her element, as well as the intimate onstage relationship she has with her guitarist-bandleader Rick Holmstrom.
Elliott caught the irrepressible Booker T. Jones, whose set at the famous Monterey Pop Festival was finally released this past Record Store Day. Last fall Jones also wrote a memoir; here's Henry Carrigan's review for ND.
Kim Reed caught Taj Mahal, whose first album was released when I was in college. Taj had the good fortune to absorb much of traditional blues while young, most notably through his friendship with Mississippi John Hurt. He just keeps on keeping on.
Two Artists on the Rise: Stephanie Anne Johnson, Delvon Lamarr
A former contestant on The Voice, Stephanie Anne Johnson (not the multimedia artist of the same name), fronts the Tacoma, Washington-based band The Hidogs. She has a sound that's deeply rooted, but there's also a springy sheen to it. That's likely not only to garner her new fans, but also to spur them onto digging a bit deeper. Peter captured some photos that show her energy.
Delvon Lamarr's Organ Trio helps carry the torch Booker T. still wields, and like Johnson's work, his should expose newer fans to roots music. Todd Gunsher's photos capture them quite nicely.
Todd also caught Hiss Golden Messenger, and Peter got Rachael Sage and Howard Jones, who looks as though he's gone somewhat experimental. Elliott also captured a blast from rock's past: The Average White Band.
Now, enjoy the photos.
---