THROUGH THE LENS: The Power of Mythical Creatures (The Jackalope and the Blue Ox) and Roots Music Fests
---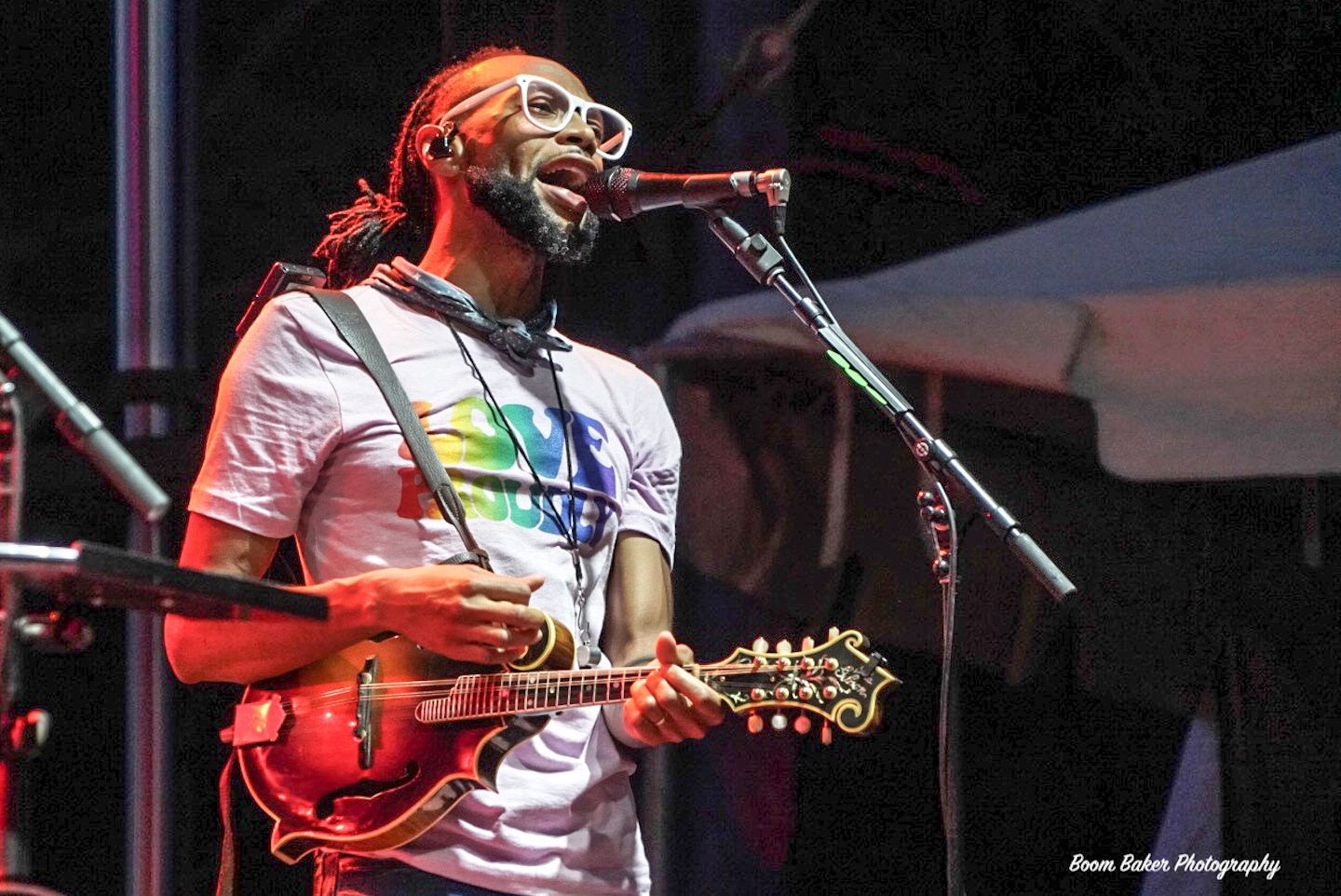 Jerry Pentecost of Old Crow Medicine Show - Blue Ox 2022 - Photo by Boom Baker
This week's column features two festivals, Jackalope Jamboree and Blue Ox Music Festival, that have taken their names from mythical creatures. The former was the brainchild (or, as some might say, a brain fart) of two Wyoming brothers who grafted deer antlers onto a jackrabbit carcass, then sold the combination. The latter refers to Babe, the huge ox that was Paul Bunyan's constant companion. The blue ox also served as a symbol for the American frontier, the then-great, wild unknown that had yet to be discovered, and, like Babe, tamed.
Two column veterans, Peter Dervin on the Jackalope Jamboree and Boom Baker on the Blue Ox Music Festival, were on site to report on the action.
Jackalope Jamboree 2022 by Peter Dervin
In only its fourth year, this year's Jackalope Jamboree in Pendleton, Oregon, kicked off the summer music festival season, bringing together an enticing mix of regional and national artists to the Eastern Oregon area. The festival's two adjacent stages enable fans to catch all the acts as they begin and end in a continuous flow. There is no slogging from stage to stage. 
The Headliners: Each evening closed with acts that are festival favorites wherever they go, performing sets that aim to please even the most passive of fans. Reckless Kelly had everyone hootin' and hollerin', The Turnpike Troubadours' set was filled to capacity, and Mike and the Moonpies closed the weekend with a blowout set that left everyone smiling from ear to ear.
Festival Favorites: Shane Smith and The Saints, who have played all the fests, have been likened to the Troubadours as they also have a fiddle-heavy sound, and coincidentally opened for the Troubadours on their first tour outside their native Texas. As their songs have been featured in the TV series Yellowstone, Shane Smith and The Saints' fan base has broadened considerably. 
Tylor and The Train Robbers once again brought their country rock for a fun set. James Dean Kindle played stripped-down, country crooner tunes. Jenny Don't and The Spurs put on a wildly entertaining set of honky-tonk, and Darci Carlson, feisty as ever, packed a wallop.
Certified New & Fresh: Margo Cilker continued to build upon her critically acclaimed album Pohorylle with a wonderful set of folksy rock. Robert Francis and The End Times played a fantastic set of country rock that had folks stomping in their boots. Oregonian Olivia Harms had perhaps the freshest set, combining originals and with select covers. Colin Harris Jr. did an acoustic set of original tunes, and Black Belt Eagle Scout surprised us with her indie-tinged sound.
Blue Ox Music Festival 2022 by Boom Baker
There was no better way for me to get summer started than by attending the three-day Blue Ox Music Festival 10 miles outside Eau Claire, Wisconsin. It's a gathering of laid-back, peaceful music lovers all converging in one place for three days of music, art installations, and music workshops along with a "soul sanctuary" where you could find yoga, meditation, and even a hula-hoop skills workshop. With no lack of tie-die, there was magic in the air from start to finish.
Blue Ox was founded in 2015 by the Minnesota bluegrass band Pert Near Sandstone and the Bischel family, who had a long history of planning and operating music fests on their land. So it is no surprise that the festival grounds were well laid out and the fest itself was well organized. Campsites and plenty of parking surround the grounds, and the numerous food stations, restrooms, trash bins, and chilled water stations are all easily accessible.
The main stage is neighbored by a smaller one that provides for non-stop music. A third stage, farther back into the woods and aptly named the Backwoods Stage, permits fans to explore the music of newer acts.  
Headliners and Late Nights: As is the norm at any fest, the headliners are there to attract fans, and Railroad Earth, Old Crow Medicine Show, and Béla Fleck's  My Bluegrass Heart ruled the roost on successive nights on the main stage. For folks that did not want the night(s) to end, the sets on the Backwoods stage went on into the wee hours of the morning, 2 a.m. and later.
Bluegrass Saturday: Saturday began with thunderstorms but was dry by afternoon, and on the main stage it was bluegrass heaven, featuring the best of the genre from the past 50+ years: elder statesman Del McCoury; Sam Bush, who pushed the genre forward in the 1970s; Béla Fleck and The Punch Brothers who, respectively, have taken bluegrass into heretofore unknown territories of world music and a touch of classical. Fest co-founders Pert Near Sandstone, who may be best described as a synthesis of all of the above, did not disappoint their many fans. 
Blues and More: While the fest primarily presents a nice combination of bluegrass and roots-oriented jambands, it has also featured other roots genres through the years. This year blues was added to the mix, featuring Samantha Fish and Cedric Burnside. Local bands, such as Armchair Boogie, Them Coulee Boys, and Horseshoes and Hand Grenades, provided infectious grooves, power, and one-of-a-kind chemisty. And they kept us up well past bedtime. 
Click on any photo below to view the gallery as a full-size slide show.
---