THROUGH THE LENS: Highlights from Australia's Out on the Weekend Festival
Posted On November 5, 2019
---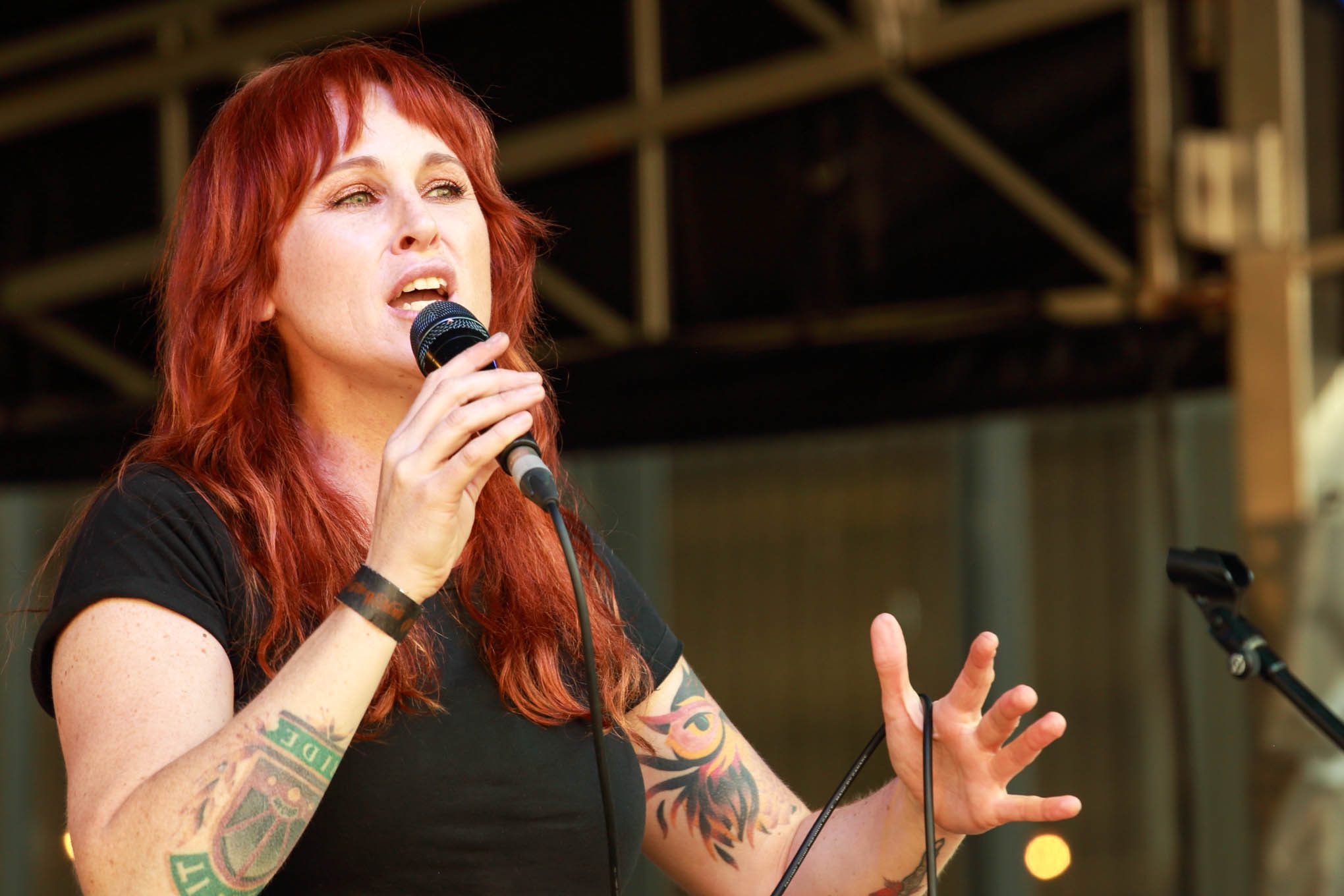 Ruby Boots - Out On The Weekend '19 - Photo by Steve Ford
I spoke a bit too quickly a couple weeks ago when I said that the festival season was coming to a close. It's springtime in Australia, and their festival season is just starting. Case in point is their Out on the Weekend Festival, a one-day Americana festival in Williamstown, near central Melbourne. The festival, now in its sixth year, showcases mainly Americana music, with equal numbers of US and Australian artists. 
Our correspondent Steve Ford had a front-row seat and shares his gorgeous photos and experiences with us:
Out on the Weekend
Out on the Weekend is held at the Seaworks Maritime Precinct in Williamstown. It's all asphalt and corrugated iron sheds, the biggest about the size of an aircraft hangar. There's not a blade of grass, but there's the harbor backdrop of Hobson's Bay and it was a nice place to be on a warm spring day. 
The Main Stage is in the biggest shed, alternating with the second stage out in the open air. One show started as another finished, pretty much like clockwork all day. There was a third stage in another shed, and a fourth in a smaller bar. The festival had a friendly, community feel.
Molly Tuttle, Ruby Boots, Sierra Ferrell, Jim Lauderdale, Tami Neilson, and The Felice Brothers
Four of the first five acts I saw were fronted by women and it was, indeed, a strong day for female artists. Hana and Jesse-Lee's Bad Habits kicked things off for the early arrivals, followed by Little Georgia, fresh from AmericanaFest. Then it was outside for Madeline Leman and the Desert Swells, a local Melbourne outfit playing a mix of pop, surf, and "Femmericana." 
The quartet version of the Easy Leaves, from Sonoma County, appeared to have been assembled just for this tour, but you wouldn't have known it, as they settled into a tasty set of Central Valley country.
Wanita, billed as "Australia's Queen of Honky Tonk," was followed by the laconic Archer, a quintessentially Australian bloke, singing folk ballads and reciting bush poetry. Ruby Boots' set rocked hard, although the highlight was her a cappella anthem, "I Am a Woman."
Jim Lauderdale's band — including a full horn section — took proceedings up a notch. Lauderdale's voice is a smooth as a baby's butt, and his band chugged along like a limousine.
Molly Tuttle was introduced by festival head honcho Brian Taranto on the outside stage as "your new favorite artist." It was a short set, with significant sound bleed from another stage, but she was superb.
West Virginian Sierra Ferrell is an old soul in a young body.  We'll be hearing much more from her, including  a new album on Rounder due in 2020.
"Dusty in Memphis" on the outside stage was a good concept that worked well. A small band of seasoned Melbourne session players backed a succession of women on the full track list from Dusty Springfield's classic album. While the singers included a virtual roll-call of Australian Americana singers, the undisputed star was New Zealand-based Canadian Tami Neilson, who took two of the marquee numbers.
My festival MVPs were The Felice Brothers, hands down. The current lineup — Ian and James Felice, Jesske Hume on bass, and Will Lawrence on drums — has been together less than two years, but they play with the ease and familiarity of veterans. Not for nothing have The Felice Brothers been compared with The Band.
Missy Raines
Back home after the long drive from Melbourne, I had a nice bookend to a bucket-list week as The Missy Raines Trio played in Katoomba, just up the road from my Blue Mountains home.
Making up the trio are two of the better young players in acoustic music, guitarist Ben Garnett from Texas and New Zealand fiddler George Jackson. Both are now based in Nashville. 
Raines, another West Virginian, began her set with "Angeline," an achingly beautiful tune from the 2009 album Inside Out. Her trio was immediately dialed in, and the arrangement of the tune was gorgeous. I quietly turned to my friend and said, "That made me cry a little." "Me, too," she replied.
Now, scroll through Steve's marvelous photos in the gallery below. 
---