THROUGH THE LENS: Great Musical Moments at Sea Aboard Cayamo 2023
Posted On February 28, 2023
---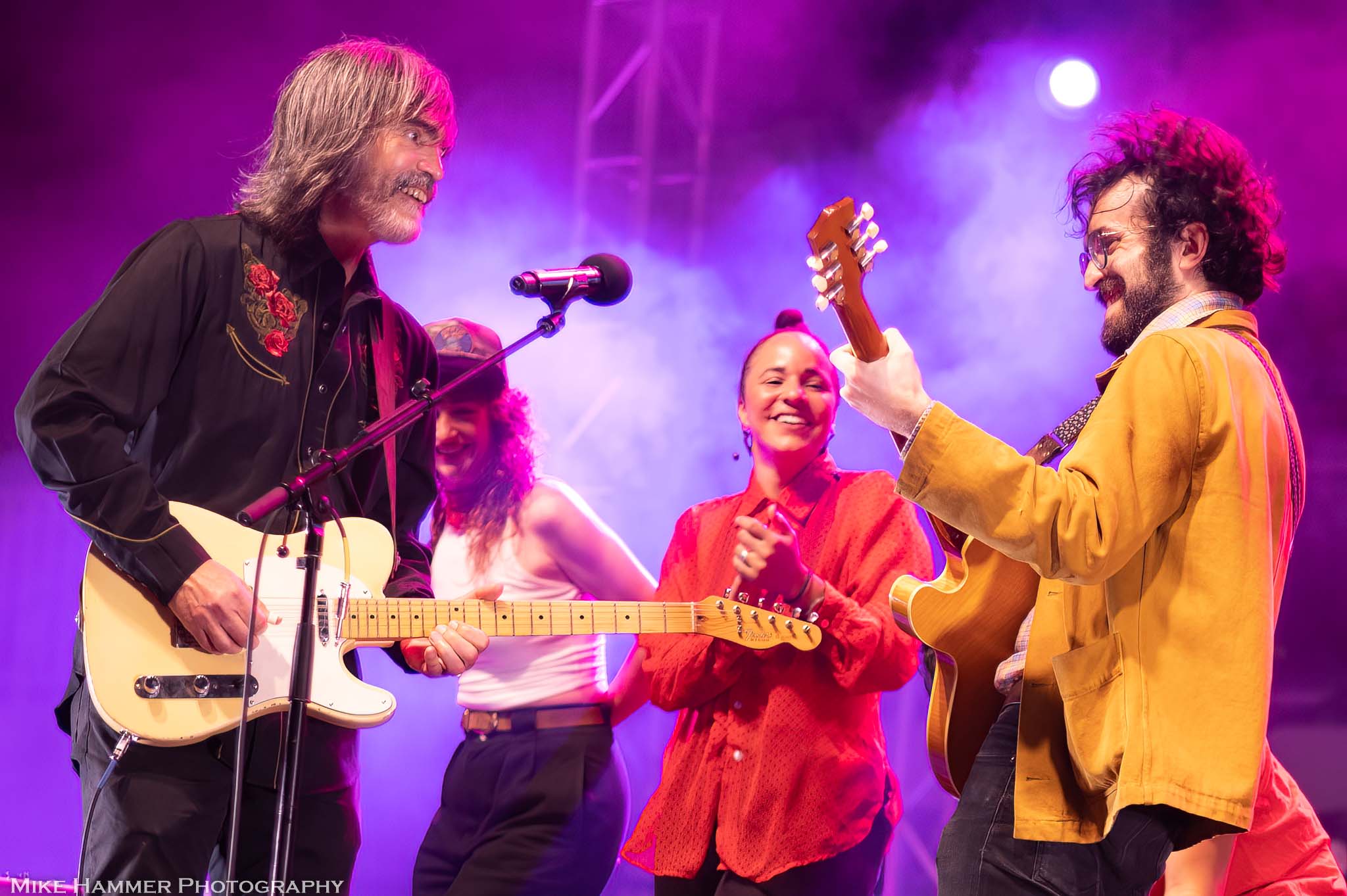 Larry Campbell, Anthony da Costa & The Rainbow Girls - Cayamo 2023 - Photo by Mike Hammer
Since 2008, Cayamo, the annual cruise billing itself as "A Journey Through Song," has gained a well-deserved reputation for bringing together a rather eclectic group of roots musicians for a weeklong sail through the Caribbean. This year's edition embarked on Feb. 10 from Miami with stops in St. Maarten and Tortola. In addition to a myriad of shows, the cruise has other diversions for its attendees, including songwriting sessions,  yoga, impromptu jams, interviews, autograph sessions, and beer and wine tastings.
Once again the column was fortunate to have two seaworthy veterans, Brenda Rosser and Larry John Fowler, on board to share with us just a few of their experiences. Their photos, along with those by Mike Hammer and Boom Baker, are featured in the gallery below. 
Cayamo 2023 by Brenda Rosser and Larry John Fowler
This year's Cayamo featured the most diverse, inclusive lineup in its history, performers who are reflective of what's happening in roots music today. On every deck and around every corner awaited something exceptional. Here are just a few of our highlights.
The Nitty Gritty Dirt Band
The Nitty Gritty Dirt Band played the "Sail-Away" show as we left port. That put a grin on our faces that seemed to be permanently affixed during the week that followed.
Later on the cruise, their Dirt Does Dylan set featured Bob Dylan band alums Larry Campbell and David Bromberg, along with Teresa Williams, Amy Helm, Jeff Tweedy, and Allison Russell. Russell's cover of "Knockin' on Heaven's Door," with Helm and Matraca Berg, was electrifying. The Dirt Band's final show featured Bromberg on "Mr. Bojangles," who, as Jerry Jeff Walker's musical partner, had played on the original. 
Speaking of Bromberg, he announced his second (and likely for-good) retirement while on the ship. This gave his marvelous individual sets an extra poignancy, with long-time fans savoring the privileged moments. It made one want to sing his famous "Bullfrog Blues."
Collaborations and Support
The Black Opry Revue's "In the Round" set introduced a slew of new artists with fantastic original material, including Jake Blount, Yasmin Williams, Julie Williams, Chastity Brown, Devon Gilfillian, and Lisa Sanders. Gilfillian's "Motown vs. Stax" show, complete with a strong horn section, got even the most reticent folks up on their feet moving and grooving. A highlight was Adia Victoria's rendition of Marvin Gaye's "I Heard It Through the Grapevine." 
A few years ago Allison Russell won the most votes from Cayamo attendees to join the cruise as a Soundcheck artist. Her artistic growth since has been phenomenal. Her band members, Mandy Fer, Elenna Canlas, and Elizabeth Pupo-Walker, should all be singled out for their flawless playing. Together, their show was deeply touching, full of emotion, joy, and elation. 
Women artists were also well represented. Courtney Marie Andrews did a solo set with support from Anthony da Costa and members of Jeff Tweedy's band that left all of us wanting more. S.G. Goodman's set of raw, authentic songs and down-to-earth stage presence had us lining up for more of her sets, too. Katie Pruitt's fresh songs and powerful voice blew everyone away at her shows. 
Mary Gauthier's excellent sets were enhanced by Jaimee Harris's lovely harmonies, so moving we had no tears left by the time we left the boat. The highlight of this year's "Songwriters In The Round" set featured the songs, and humor, of Patty Griffin, Gauthier, and Neko Case.
The "Tribute to The Rolling Stones" had Anthony da Costa ripping up tunes on lead guitar. Brady Blade channeled Mick Jagger on a blazing "Gimme Shelter" with Larry Campbell and Teresa Williams.  The Burney Sisters sang a sublime "Wild Horses," John Fullbright scorched "Jumpin' Jack Flash," Jeremie Albino sang an energetic "Beast of Burden," and Cary Ann Hearst led a heavenly chorus on "You Can't Always Get What You Want."
Shawn Mullins' "Variety Show" featured a fun send-up of Rupert Holmes' "Piña Colada Song," and Steve Poltz improvised an a cappella riff due to an ill-timed guitar string break. The stage was full of too many guests to mention them all. 
The Bluegrass Situation was also on board. Most enjoyable was their "Party On, Garth" set, a tribute to '90s country music in  hosted by Kelsey Waldon. A highlight was Caitlin Canty doing "Strawberry Wine" and being joined by its writer, Matraca Berg. A few days later, Jerry Douglas enthralled us at the first-ever late night BGS "Nightcap" jam that featured not only the Dirt Band, but also Tommy Emmanuel, David Bromberg, Larry Campbell, Twisted Pine, and many others. It was hard for many of us to get to sleep afterward. 
During the "Sunday Gospel Hour" hosted by The Fairfield Four, The Oshima Brothers turned in a great version of "(You Make Me Feel Like) A Natural Woman" and Amy Helm delivered a powerful rendition of "Glory Land" that she learned from her father, Levon.
It was a stunning week of roots music at its best for fans who are well-steeped in its many traditions. The initial lineup for next year's edition has already been announced. Sign us up!
Click on any photo to view the gallery as a full-size slideshow.
---