THROUGH THE LENS: Five Notable Winter Roots Music Releases
Posted On January 26, 2021
---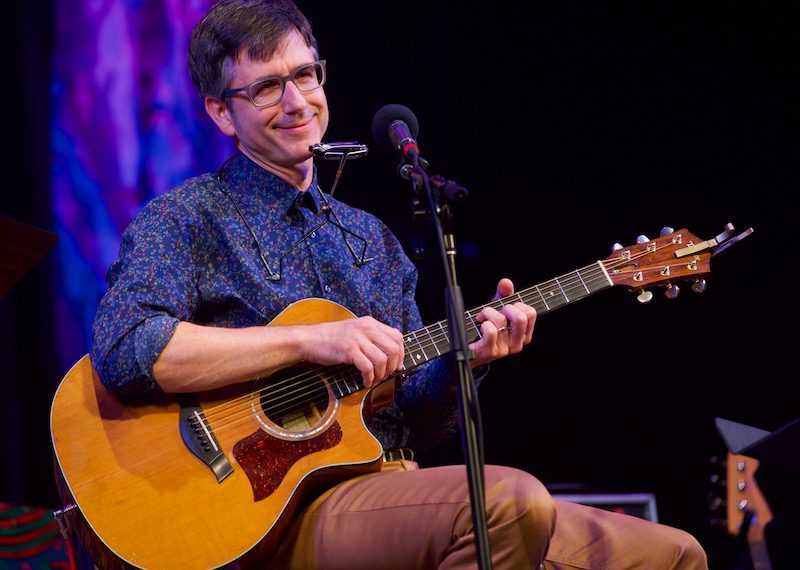 Todd Burge on Mountain Stage - Photo by Amos Perrine
On the morning of Jan. 20 I put on Nina Simone's version of "Feeling Good" and sang along: "It's a new dawn. It's a new day. It's a new life for me and I'm feeling good." That's also how I feel about the first batch of new roots recordings for the new year highlighted below.
These folks aren't quite household names, yet each has something special to offer. Three are singer-songwriters from different regions of Appalachia, another is a legend whose very name has been the definition of idiosyncratic for some 60 years, and the last is a jazz duo that dips its toes into some roots gems.
Todd Burge – Live in Parkersburg  (out now) 
Burge is West Virginia's most prolific singer-songwriter, with a couple of dozen albums under his belt. But, sounding ever so slightly like John Hartford, he's at his best delivering his insightful, often warmly satiric, songs in a Tom Hanks-like disarming manner before a live audience. While he's appeared at venues as diverse as the Kennedy Center and CBGB, for a couple of decades he's been celebrating his birthday with a performance for family and friends in his hometown of Parkersburg, and these 20 songs come from the one in November 2019.
Like his set has the various times I've seen him, the album leads with "Don't Water My Whiskey Down," a lyrical tale of a parent whose offspring have become old enough to hear honest descriptions about some of the wilder truths of the family history. Americana Highways premiered the studio version. It serves as a nice introduction to Burge's captivating sensibility towards life. My fave has always been "Joseph's Prayer to His Baby Son" about Joseph's relationship with Jesus' mother. It's quite something.
Peter Stampfel – 20th Century  (Feb. 5) 
Stampfel has been preparing for this 100-song collection project throughout his six-decade career. Beginning by uncovering and revamping tunes from the 19th and early 20th centuries, he'd rewrite/revise and decompose them, changing the words and music to fit the times with avant-roots mischief makers the Holy Modal Rounders. This album, audacious in its scope and taking 20 years to complete (including an hiatus when he lost his voice), had the simple premise of recording his favorite song of each year of the 20th century. His co-conspirators in this endeavor were also wide-ranging, from Jonathan Freilich of the New Orleans Klezmer All Stars to Mark Bingham of the Lost Bayou Ramblers. Included with the physical copy is an 80 page booklet on his alternative history of popular music of the century.
The list of songs is too long, and Stampel too idiosyncratic, to go into great detail, but it criss-crosses genres with ease, and highlights include covers of songs by The Kinks, Leonard Cohen, and John Prine. Michael Cerveris (star of the Broadway musical adaptation of The Who's Tommy, two-time Tony winner, and Loose Cattle band member) ably assisted on the last 28 songs. For an in-depth look see Ken Tucker's review, along with song snippets, for NPR's Fresh Air. It may sound like an overly esoteric history lesson, but it's far from that. Once you begin the journey, from 1901's "I Love You Truly" all the way to the 2000 Coldplay hit "Yellow," you'll be glad you hitched the ride.
Pony Bradshaw – Calico Jim  (Jan. 29) 
I'll say this up front, it's been quite a while since I've heard an out-of-the-blue album as captivating as this one. Sounding a bit like Willis Alan Ramsey, Bradshaw evokes the Appalachia region of northern Georgia today just as effectively Ramsey did northeast Texas in 1972. Bradshaw's songs flow into one another like a cinematic collection of short stories, images so rich that you can reach out and taste them. He not only sketches his characters with an astute eye, but he also describes his world with an unflinching clarity.
In "Dope Mountain" he talks about his world of played-out coal mines, kudzu, mountain vines swallowing up forests, ginseng, morels, sumac, hemlocks, and Appalachia's latest (and sometimes deadly) growth industry, the theft of copper wire, before the big reveal: the protagonist, a sixth-generation hillbilly, is just as much a part of those hills as what he describes. It's as though he's invoking Alan Watts' postulation that it's through us that God experiences the world. Bradshaw's world is modern Appalachia, and as he says in that song, "But we ain't no white trash." Bradshaw's talent is unmistakeable, his songs more than memorable.
Rod Abernethy – Normal Isn't Normal Anymore (Feb. 5) 
There's a Buddhist saying that goes, "All roads up the mountain lead to the top." Abernethy's road has, perhaps, been even more winding than that of most of his contemporaries, as he spent much of his career composing for video games, film, and TV, before returning to the acoustic guitar. Similar to Pony Bradshaw, this North Carolinian's talent is crafting stories of what's around him. A perfect example is "My Father Was a Quiet Man," which began as a dream of his father calling him on the telephone, talking for hours, which was unlike him, leading to a cascade of memories revealing the man he was, and who Abernethy has become. 
My fave is the witty, toe-tapping "It's Always Something," in which Abernethy looks at human foibles and explains his own shortcomings with the refrain, "It was something that I did, or didn't do." American Songwriter recently premiered "Another Year." If you're as taken with it as I am, you'll certainly like the album's other 11 tunes. 
Becca Stevens and Elan Mehler – Pallet on Your Floor  (out now) 
Mehler is is a jazz pianist and Stevens a jazzy Americana singer-songwriter whose album Wonderbloom has been nominated for a 2021 Grammy. Together they have recorded a gorgeous collection of standards, plus two songs well-known to roots fans: the title track and Gillian Welch's "Elvis Presley Blues." They slow the songs way down, stretching them out like snow on a midwestern plain. As intimate as they are incandescent, the songs are a soundtrack for the heart of winter if there ever was one.
My highlight is definitely the Welch song, hymn-like in parts, with Mehler's hesitant piano punctuating Stevens' elongated vocal lines that mine the depths of the song's holy rollers, Harlem queens, chorus girls, midnight ramblers, and Elvis himself. You feel as though it's just not Presley's soul at stake, but ours as well. 
Now, the photos.
---