THROUGH THE LENS: Five New Roots Music Releases That'll Warm Up a Frigid February
Posted On February 8, 2022
---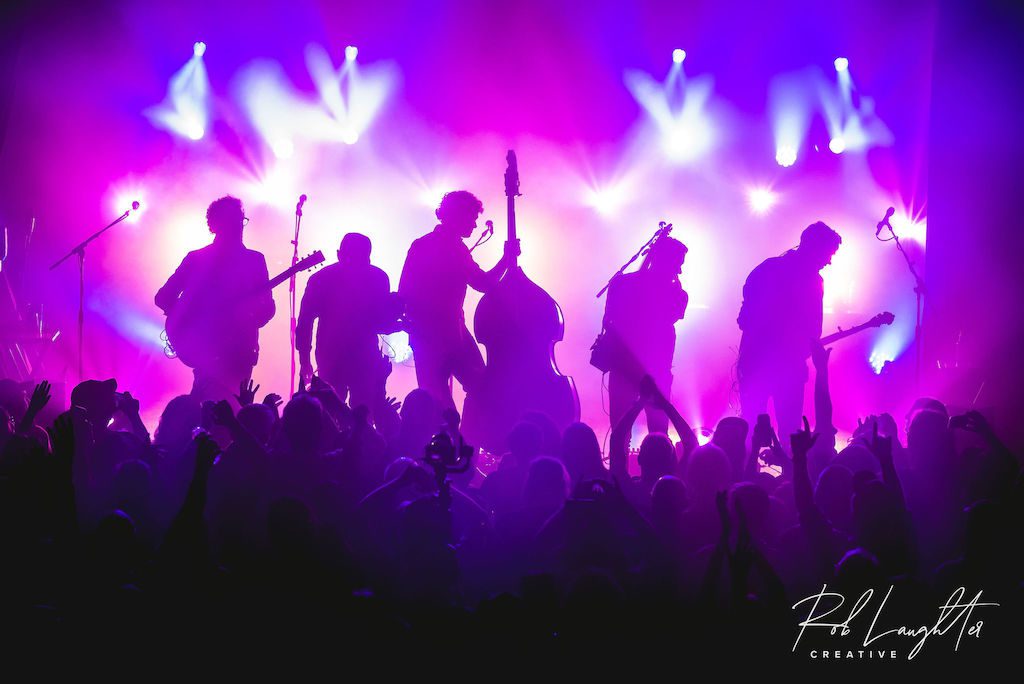 The Infamous Stringdusters - Photo by Rob Laughter
February is usually a chilly month, but this year it has been especially so. From ice storms in Texas to deep snow in New England, most of the country this month has been in an icy deep freeze. But there are plenty of ways to stay warm. One of which is taking in some great new roots music that's coming our way. This week's column previews five of them. 
Kieran Kane & Rayna Gellert – The Flowers That Bloom in Spring (Feb. 11)
Ever since I read about this album at ND's sibling site Folk Alley in December, I could not wait to hear it. As with their previous two releases, Kane and Gellert bring a fervent interior dialogue to traditional music that is just as intriguing as it is captivating. Even though the territory they cover is tangible, the language they use evokes feelings of mystery and magic. Nowhere is that more evident than on "Augustus." Echoing Gretta Conroy's mourning of Michael Furey in James Joyce's story "The Dead," an adult Gellert, with just the plaintive plucking of a banjo, poetically tells of the youthful loss of a beloved friend. 
The theme of love and loss is also evident in "Lonely Are the Brave," about a woman whose best years have passed her by and is hanging onto a troublesome lover who's "hard on everything." Or could it be a wayward child? Kane's love of country music comes through on Hank Locklin's 1960 hit "Please Help Me, I'm Falling." If you didn't love country music before, this cover will swallow you whole. These are just three of the treasures this splendid album has to offer. The other eight tunes are just as alluring. 
The Infamous Stringdusters – Toward the Fray  (Feb. 18)
This IBMA and Grammy award-winning bluegrass group enters Cormac McCarthy territory with their new album: The title track refers to a post-apocalyptic landscape and its video (and the album's cover art) shows a young girl in a gas mask holding a teddy bear in front of a fire-bombed city. The image is stark, with lyrics that present the inevitable: "There is no other way / To love, except to turn / Our timid souls toward the fray." As Dobro player Andy Hall said in a press release announcing the album, "Sometimes the times call for some serious reflection, and these songs really hit home." They hit home for me. In a country where 900,000 pandemic dead are ignored and politicians who call the Jan. 6 insurrection "legitimate political discourse," we are in the fray already.
Sarah Shook & The Disarmers – Nightroamer  (Feb. 18)
Shook and bandmates made their name by infusing even more raw, punk sound into the insurgent country landscape laid out by Jon Langford and his pals. But this album employs a bit more of a pop sensibility and melody in taking a hard, unflinching look at relationships. "Somebody Else" chronicles a dysfunctional, sadomasochist relationship — "You weaken me till I can barely stand / Keep hurting me till I quit hurting myself" — concluding that even if the narrator escapes, the abuser will just find someone new.  Shook drives the stake in even deeper in the pedal steel-driven twanger "No Mistakes," where they own up to their responsibilities for a relationship gone bad. Redemption? Maybe, but it's a tough row to hoe. 
Shovels & Rope – Manticore  (Feb. 18)
With the opening track "Domino," Cary Ann Hearst and Michael Trent come out of the gate kicking, screaming, and hip-hopping with a thumping bass line and fingers snapping. Like Marlon Brando in The Wild One, when he's asked "What're you rebelling against?", he answers, "Whaddya got?" But instead of a motorcycle, Shovels & Rope are referencing the day James Dean died when he wrecked his Ferrari Spyder, and it's used as a metaphor for traversing not physical roads but human relationships. The rest of the album follows though on that theme, a deep drive into uncharted lands. The clarity of their journey is astounding, wreckage and all.
Yonder Mountain String Band – Get Yourself Outside  (Feb. 25)
Perhaps driven by the pandemic that has made us all shut-ins, both physically and emotionally, this album's title is a distinct statement. As bassist Ben Kaufmann said in a press release announcing the album, "We want the listener to get outside of your own head, get outside the box or container that you've created around yourself — look outside and see what else is out there." Highlighted with new band member Nick Piccininni on mandolin, the album delivers on that instruction as it takes us deeper into bluegrass country than ever before. While there are certainly vocals, the album is more of an odyssey of string instruments and sonic textures that will not only delight old fans but also bring in new ones. If you want a good pickin' (and grinnin') album, this one's for you.
Click on any photo below to view the gallery as a full-size slideshow.
---