THROUGH THE LENS: Elizabeth Cook and Other Notable September Roots Music Releases
Posted On September 1, 2020
---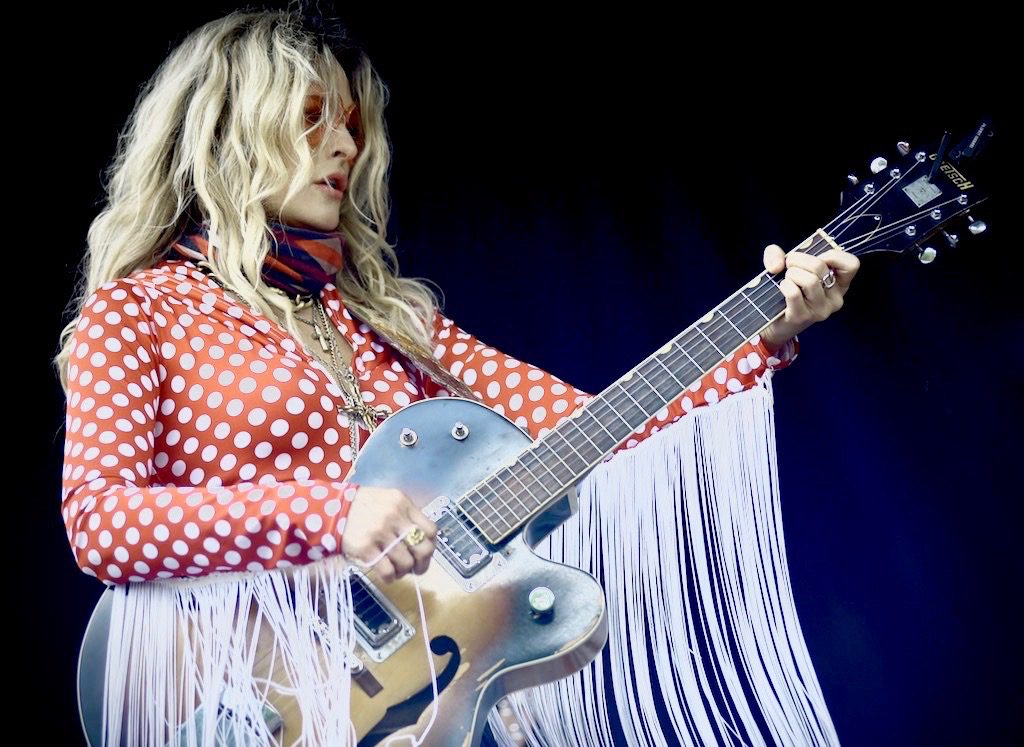 Elizabeth Cook - MerleFest 2019 - Photo by Amos Perrine
Each September I think of these lines from Kurt Weill and Maxwell Anderson's "September Song":
When you meet with a young man early in spring
They court you in song and rhyme
They woo you with words and a clover ring…
But it's a long, long while
From May to December
Will the clovering last
Till you reach September?
These words have taken even a darker metaphorical tone this year, six months into coronavirus, isolation, police and vigilante shootings, and the hijacking of democracy. I continue to believe in the power of roots music, a way to look both inward into ourselves and outward to connect with others. What we are drawn to serves as a mirror of who we are and, perhaps more likely, a journey into who we want to be. The story is never finished, the road does not end, we and everything around us are in the continuing process of becoming.
This week that mirror takes the form of four new releases coming these next couple of weeks. Three are rather intimate affairs, and the other, by Elizabeth Cook, is yet another extraordinary album by a most extraordinary artist who just keeps breaking through boundaries.
Elizabeth Cook – Aftermath  (Sept. 11)
It's been four years since Cook's previous release, the excellent Exodus of Venus, and while I have heard most of these songs live, this album (her seventh) presents them in a more emotional, more intellectual manner that fleshes out their numerous nuances. On first blush it would seem she's left her country roots behind, but I see it more as building on them, using them to create a denser, richer sound, one that seems like a night full of shooting stars. A prime example is "Half Hanged Mary," with throbbing drums and Andrew Leahey's unmistakable cascading guitar riffs.
While every one of Aftermath's 12 songs are stellar, my faves may well be the last two, "Two Chords and a Lie," the album's most "country" song, and "Mary, The Submissing Years." The latter is a talking, story blues, a companion piece to Prine's "Jesus, the Missing Years." At one performance I  heard Cook say that the new songs are about heartbreak, addiction, death, and resurrection, a result of casting off the chains of expectations. In so doing, she's raised her already high bar even higher. One of the year's half dozen best.
Hayes Carll – Alone Together Sessions  (Sept. 4)
Carll has taken this bitter time of the coronavirus and turned it, musically at least, into lemonade.  With assistance from Darrell Scott, and Luke Moeller's violin, Carll took 10 songs from his storied career and recorded stripped-down, acoustic versions at home. Time, distance, and years of performing them has enabled Carll to give them a laid-back, lived-in patina that is obvious from the outset. It's as though you are in Carll's living room, a rare, privileged intimate evening of songs, in part because that's when and where he recorded them.
You know the songs, but there are two real treats here. First, "Drunken Poet's Dream," written and performed with Ray Wylie Hubbard, with some nice banter between the longtime friends at the end. Second, a duet with his wife, Allison Moorer, on the Lefty Frizzell chestnut, "That's the Way Love Goes." Given their respective backstories, it's the most poignant version I have ever heard. You may think you know Carll, but in this collection he also strips away a certain shadowy bravura that sometimes cloaks his performances. In showing a more vulnerable side, his considerable songwriting skills become even more apparent.
Suzanne Vega – An Evening of New York Songs and Stories  (Sept. 11)
Recorded at the Café Carlyle, the epicenter of the cabaret world, Vega demonstrates in a single setting that she is as much a New York songwriter as Lou Reed and Patti Smith. Granted her focus and themes are different, but they are likewise a refection of her personal and musical relationship with the city. That is nowhere more apparent than on "New York Is a Woman," which looks at the city from a first-timer's visit, being both enthralled and startled by seeing all the stereotypical images actually coming to life, embracing it, and falling in love with it.
Vega's first two singles, Reed's "Walk on the Wild Side" and her own "New York Is My Destination," as well as "Ludlow Street," serve as odes to the city, even if the city of those songs no longer exists. This is not a comeback album or some stroll down Nostalgia Lane; rather it's an album full of evocative states of mind that reflect her life in the city. Vega is significantly more than "Luka," and as with the Carll album, this album is an intimate one that you do not want to let slip by.
New Moon Jelly Roll Freedom Rockers – Volume 1  (Sept. 4) 
This "band" originated in 2007, when musician brothers Luther and Cody Dickinson and their father, Jim, sat in a guitar jam with ex-Squirrel Nut Zippers leader Jimbo Mathus, Charlie Musselwhite, and Alvin Youngblood Hart for the recording of a roots music extravaganza. For these past 13 years, the recording's existence was mentioned only obscurely in interviews, referenced by those few witnesses. It was done "old-school" style live off-the-floor over several days; the musicians all sat in one big circle in the studio and played quietly amongst the microphones, taking turns singing out in the room and improvising on the spot. 
There are hot blues and cool blues, but all shades of these blues were created amongst friends, loose, reflecting years on the road, done informally for the sake of the music. The result contains more sustained high points than most "polished" recordings. If you want to feel the downhome blues, this is the record for you. I look forward to Volume 2.
Now the photos.
---