THROUGH THE LENS: Country Thunder Arizona and Australia's Byron Bay Bluesfest
---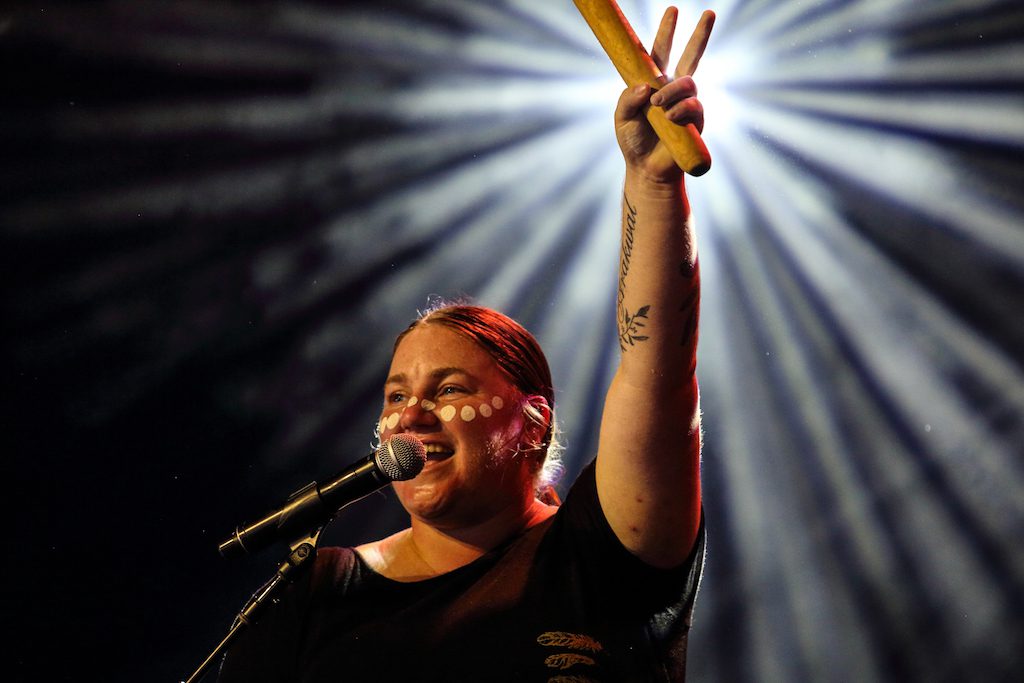 Welcome to Country: A Celebration of the Arakwal people of the Bundjalung Nation - Byron Bay Bluesfest 2022 - Photo by Steve Ford
This week is not only a double festival treat but also a contrast in genres and locales. Country Thunder Arizona is one of seven country music festivals put on by Country Thunder Music Festivals in the United States and Canada. Byron Bay Bluesfest in Australia initially concentrated on blues but now bills itself as "A Celebration of Blues 'N Roots Music & Beyond."
We are fortunate to have had two Through the Lens veterans in place to photograph and report on them: Mary Andrews on the former, and Steve Ford on the latter.
Byron Bay Bluesfest 2022 by Steve Ford
Emotions ran high over the five days of this year's Bluesfest, as the festival made a triumphant return following three postponements. Regularly touted as one of the world's best roots music festivals, Bluesfest seemed COVID-jinxed, with last minute cancellations of the 2020 and 2021 festivals, plus a one-off scheduled for October 2021.
As Hannah Crofts (of All Our Exes Live in Texas) said, "It's weird seeing all of you out there. For the last two years I've just been looking at my housemates."
Many of the big international names (Brandi Carlile, Patti Smith, Dave Matthews, and Bon Iver) announced for the 2020 and 2021 festivals did not make it Down Under this year. However, others stuck like glue, including the legendary George Benson, The War and Treaty, and Christone "Kingfish" Ingram, who just last week won two awards at the Blues Music Awards in Memphis.
The festival coalesced around one of the strongest ever Australia/New Zealand lineups: Crowded House, Paul Kelly, Kasey Chambers, All Our Exes Live in Texas, Midnight Oil, Jimmy Barnes, John Butler, and The Teskey Brothers. Opening night featured the final performance of Cat Empire with its charismatic frontman, Felix Riebl.
The concentration on homegrown artists at this year's fest skewed the lineup away from the blues and roots and toward the mainstream. Many veteran guitar bands appeared: The Church, Hoodoo Gurus, and The Angels. There were are also some highly regarded women performers: Kate Ceberano, Missy Higgins, Kate Miller-Heidke, and young superstar Amy Shark.
To the great credit of the festival director, Peter Noble, Indigenous Australia was often front and center, beginning with the ceremonial Welcome to Country segment that featured song and dance from the traditional custodians of the beautiful Bluesfest location, the Arakwal people of the Bundjalung Nation: "Always respect country. Look after country. Don't harm this country." The variety of artists during this portion was eye-opening, from the moving Spinifex Gum concert (featuring a choir of young Aboriginal women), to rappers Baker Boy and Briggs, veteran Kev Carmody, young songwriter Emily Wurramara, and country singer Troy Cassar-Daley.
From a pure music perspective, the acts that really grabbed me were first-time visitors from the United States: Cory Henry and Christone "Kingfish" Ingram. Henry, Snarky Puppy's former organ and keyboard wiz, was my favorite. His interplay with drummer TaRon Lockett was exhilarating. Ingram lived up to his considerable hype. He's an old soul with a tasteful touch on the guitar that ranges from down-home Delta blues through to smooth ballads. Australian band Fools (an ensemble of Tedeschi-Trucks Band proportions) were a revelation.
Australian legend Paul Kelly purposely chose "Finally Something Good" to open his set. Met with deafening applause as the song ended, Kelly paused to wipe away tears, then added, "I'm a bit emotional." He was speaking for all of us: sickness, fire, floods, and a savage war in a far-off land have taken a toll. A respite was long overdue. Bluesfest provided more than an escape, it was a memorable celebration.
Country Thunder Arizona 2022 by Mary Andrews
Despite the previous Country Thunder Arizona having been held only six months ago (due to the pandemic), the 2022 edition, with some of pop country's biggest names among the headliners, was one of the best attended in its history. Total attendance was 120,000 and, significantly, there were 8,500 campsites on the festival grounds. Here are my highlights.
Nolan Sotillo got the party started on the first day with a mixed set of originals and well-chosen covers. Making her third appearance, Lindsay Ell was a show-stopper, delighting the crowd by tearing it up on nearly every song. Riley Green headlined the first night with songs celebrating small-town, rural America and the American flag.
On Day 2, Jackson Dean's heavily rocked-up set revved up the early afternoon crowd. And Canada's James Barker Band, with four chart-topping singles, demonstrated that whiskey and big trucks are just as popular north of the border as they are in the US.
Just days before her stunning performance at the CMT Music Awards, Gabby Barrett dazzled the audience with a boundless energetic set just before Blake Shelton took the stage. No stranger to the fest (it was his seventh appearance) Shelton noted that we're "in the middle of the desert, literally next to a federal penitentiary, and y'all are out here raising hell like all of this is normal. It's not. This is weird." His wife, Gwen Stefani, joined him for a pair of romantic duets.
Blurring the lines between hip-hop and country, rapper Blanco Brown brought the house down and showed, even to the uninitiated, why his album The Git Up went platinum many times over. Serving as a contrast, Tracy Lawrence's set well represented 1990s country music. Headliner Morgan Wallen's set featured 16 songs from Dangerous: The Double Album with him also playing piano. There was no controversy here.
The final day was headlined by festival fave Florida Georgia Line. Relying on a long list of steady hits they could do no wrong. Earlier, Sawyer Brown, another representative of '90s hit country music, gave an upbeat, forceful set.
Click on any photo below to view the gallery as a full-size slide show.
---