THROUGH THE LENS: Buddy and Julie Miller, Mindi Abair, Emily Duff, and Other Roots Music Releases
---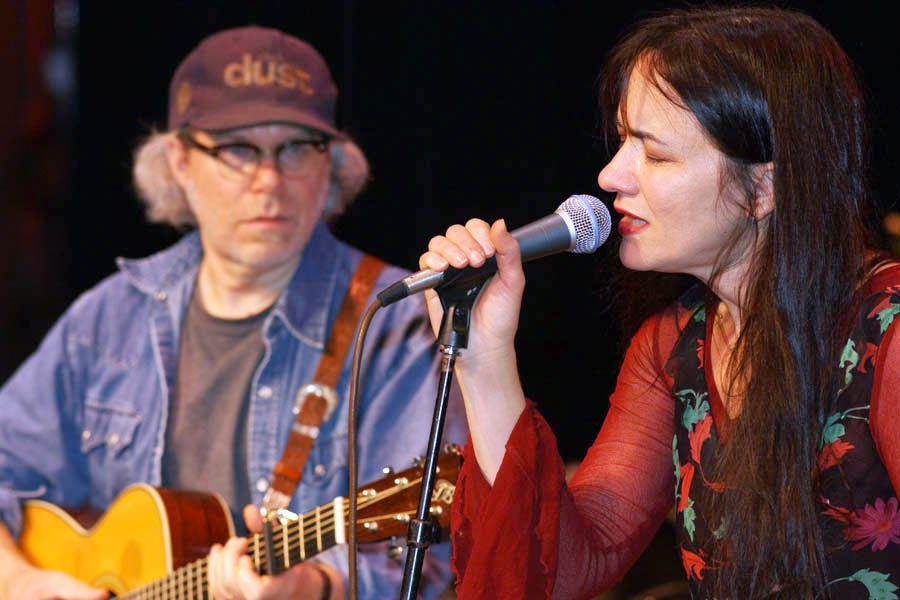 Buddy & Julie Miller - Mountain Stage - Photo by Brian Blauser
One of the reasons I began this musical journey many years ago, many publications ago, is to highlight some music that might otherwise get overlooked, lost in the shuffle. Save for the monster of an album that leads off this column, the others, some released last month and the remainder in the next couple of weeks, might not get their due. While not full reviews, I hope each is given just enough space to warrant you checking them out more thoroughly.
Buddy and Julie Miller – Breakdown on 20th Ave. South  (June 21)
There's a line in my favorite Jesse Winchester song, "Do It," that goes: "If we're treading on thin ice / Then we might as well dance." On this album, Julie Miller (who wrote all the songs) flips that metaphor with what I'll call "spittin' on fire." Not only does Miller use the term "fire" more than a few times, it also seems to be the theme of the record, and its combustion — be it a slow burn or  spontaneous — is a seductive contrast with her sometimes fragile voice. But its a voice that  brings out the full and many flavors of her incessant resolve, singeing even the most guarded of psyches.
Add Buddy's unmistakable backing that adroitly shifts from a throbbing growl one moment to an intimate caress the next, with a harmonizing that has an undercurrent of friction, the result is devastating. No one does it better than the Millers.
The album's centerpiece seems to be "I'm Gonna Make You Love Me:" "Even if you don't want to … for no good reason at all … even when you think you don't." You're drawn in, down, down that deep dark ladder: "I've got special powers coming right out of my eyes." Again, that fire; her desires become your desires. And that's just the tip of this iceberg, an iceberg heading south into the shipping lanes.
At the time of this writing there are still some autographed vinyl packages, including test pressings, available at New West's website. There's also a sold-out album release show at Nashville's City Winery on June 26, a report of which will appear in this column the following Tuesday. Buddy and Julie Miller are the June Spotlight artists here at No Depression, and you can read Henry Carrigan's feature story on them and the new album
here
.
Mindi

Abair

and the Boneshakers – No Good Deed (June 28)

Where have I been all this time? While I was familiar with Vanessa Collier, I had not heard Grammy-nominated blues saxophonist/vocalist 

Abair

until recently. What you notice first is the album cover: an homage to the iconic Springsteen

Born to Run

 cover. Thus, on first blush, 

Abair

 sets a rather high bar. I am pleased to say she and the band more than fulfill that promise.

This album is certainly steeped in tradition, but takes it, tries it on for size, nips and tucks it, and rips it up, turning it into a tight sound that spanks you good, real good. It's been a long time since I've heard a blues album with just enough roll in it to drive me over the edge, that makes me play this record REAL loud.

Mixing originals with some not-so-obvious covers, The Boneshakers deliver an impressive, energetic tapestry that permits

Abair

to weave a seductive sensibility that leaves you wanting more. I like juxtapositions. Here it comes early on with The Young Rascals' "You Better Run" (1964), later made into a hit by Pat

Benatar

, that the band presents as a throbbing rock song played to a stadium full of blues fans. Followed by the original "Sweetest of Lies," Abair slows it down and strings you out, painting a picture of delusion, knowing he's no good, her soul hanging in the balance, hanging on for the sweetest of drugs.

Finally, great music is one thing, but a great record is something else, something that sparkles, existing in a world of its own. It often comes down to the mysterious art of "mastering." The final thing that makes this record so special is that it's mastered by the master himself, Bob Ludwig. For music nerds such as myself, that's all you need to know. It glistens.
Emily Duff – Hallelujah Hello  
Duff proves that lightning can strike twice in the same place. Following what has to be the most underrated album of the past few years, 
Maybe In the Morning
, Duff returns to Muscle Shoals a second time. But this time the lightning is in the form of a gospel album. It actually took me a couple of
listens
to realize that, as she addresses it musically from a variety of directions, from country to smoldering, rocking blues, complete with horns and a B-3.
Thematically, Duff does not always approach it directly, which makes the impact that much more profound when it does hit. For example, in "You Better Believe," you could easily take the lines as a lover's plea to find a better way, especially as the song is delivered in a deep, soulful voicing. And in the track that follows, "Eggs All Day," she likens heaven to a diner where there's hot grits, biscuits, ham, and gravy, and when you're "called home, sweet as honeycomb / fresh coffee and eggs all day." Overlay that with both a pedal steel and
dobro
, and that afterlife darkness doesn't look bad at all.
Taken together, her last two recordings demonstrate that Duff is one of a handful of today's great R&B artists, not just as a vocalist but as a writer and bandleader as well. She's dynamite.
Aldous Harding – Designer
Harding's music, like that of Kate Bush, St. Vincent, and
Adia
 Victoria, defies easy description as well as categorization. On this album she departs from the dark, shape-shifter ways of her previous album,
Party
, and the wide, foreboding vocal swirls that left you miles from anywhere. On this album, with minimal, subdued, yet rhythmic backing, she's more akin to a philosophical poet, as with the Paul
Bowles
-like observation: "Why? / What am I doing in Dubai? / In the prime of my life / Do you love me?"
In the midst of a jump-cutting culture, Harding relishes long takes, and she permits her characters to stretch out, enabling us to hear them. However, what they are saying is a far different matter; it can be a bit oblique at times. But it serves the larger purpose of involving the listener, inviting an exploration of emotional and intellectual terrains. If you need conclusions, you can choose your own.
The album could have been titled "
L'Avventura
," after the
Antonioni
film about a search for a lost lover that itself gets lost, waylaid by characters searching for themselves. What does that final shot on a bench as the two protagonists stare out into the vast sea-
skyscape
mean anyway?
Designer
is that type of album, one that becomes richer upon repeated
listenings
. You may not arrive at any answers, but you'll have a better understanding of the questions.
Willard
Gayheart

& Friends – At Home in the Blue Ridge  

I was first attracted to this album for the sole reason that

Gayheart

is Dori Freeman's grandfather. But what kept me there were his astute observations of what life was like on his farm in Appalachia. I'm just old enough to remember seeing much of what is described on this album, albeit as a youngster. Gayheart, 87, was ably assisted on this, his debut album, by Freeman and her husband, Nick

Falk

. Produced by Teddy Thompson, who talked Freeman into recording her own albums. The album was recorded live in

Gayheart's

frame shop amid his pencil drawings, which also are featured on the cover artwork. It has that homey feel to it.

All but two of the songs are originals, written over the years, and are straightforward

tellings

of

Gayheart's

life not just in the mountains, but during his travels far away. Those travels only served to make his ties to the mountains even stronger, his memories more sacred. The album's unstated thesis is that each of us lives a privileged life, a unique life, of what we see and experience. Whether it be Dorothy Parker trading quips with Robert Benchley at the Algonquin, putting up hay in the hot July sun, or 

Gayheart's

watching "children playing in a nearby creek," they are equals in the human experience. The significance lies in their clear-headed telling.

Gayheart

does that remarkably well.
Barnaby Bright – Barnaby Bright (June 21)
With so many duos in our midst, it can be difficult to stand out from the pack. Nathan and Becky Bliss, like so many troubadours, have spent years on the road, making an outstanding, if a bit neglected by the music press, series of albums. On this album they use their folk-acoustic underpinnings and lace them together with a pop attitude, selective electronics, and a banjo from time to time. These sensibilities come together, with a hip-hop interlude, in the compelling "This Is Life," about the struggles of U.S. service members, both during their tours of duty and dealing with what they've seen after returning home.
The album, however, is not a downer. It's full of contemplative melodies and flights that reminded me at times of Fleetwood Mac, without the strife, especially "Flight or Fight" and "Go." Between these two tracks is my fave, "The Girl Inside My Head," with a Lennon-like melody, perhaps even a Lennon-like demon, looking at the woman who could have been, and the one that is, wrapped in an Appalachian ballad. It's the jewel of a beautiful album.
Rj

Cowdery

– What If This Is All There Is

Cowdery

proves the you do not need to live in a hotbed of musical creativity, or a trendy locale, in order to make outstanding music. On this, her fourth album, she continues to be the consummate "folksinger," without the chains of irony or the desperate pleas of the young thinking they are the first to climb that mountain and see the river below. Instead,

Cowdery

contemplates life in the middle — the middle of the country, nearing the middle of life.

Nowhere is this more apparent than the title track, where she asks what if where she is now, with its losses, triumphs, and the everyday-

ness

, is the best it's ever going to get? Not a Peggy Lee-like sense of futility, but rather an

illusionless

look at the place where we all have found ourselves. The track that follows, "Secrets of My Dreams," continues the story, with ruefulness and a touch of sentimentality. Just like any folksinger worth her salt.
---