THROUGH THE LENS: Brandi Carlile Presides Over Mothership Weekend and Echoes Through the Canyon
---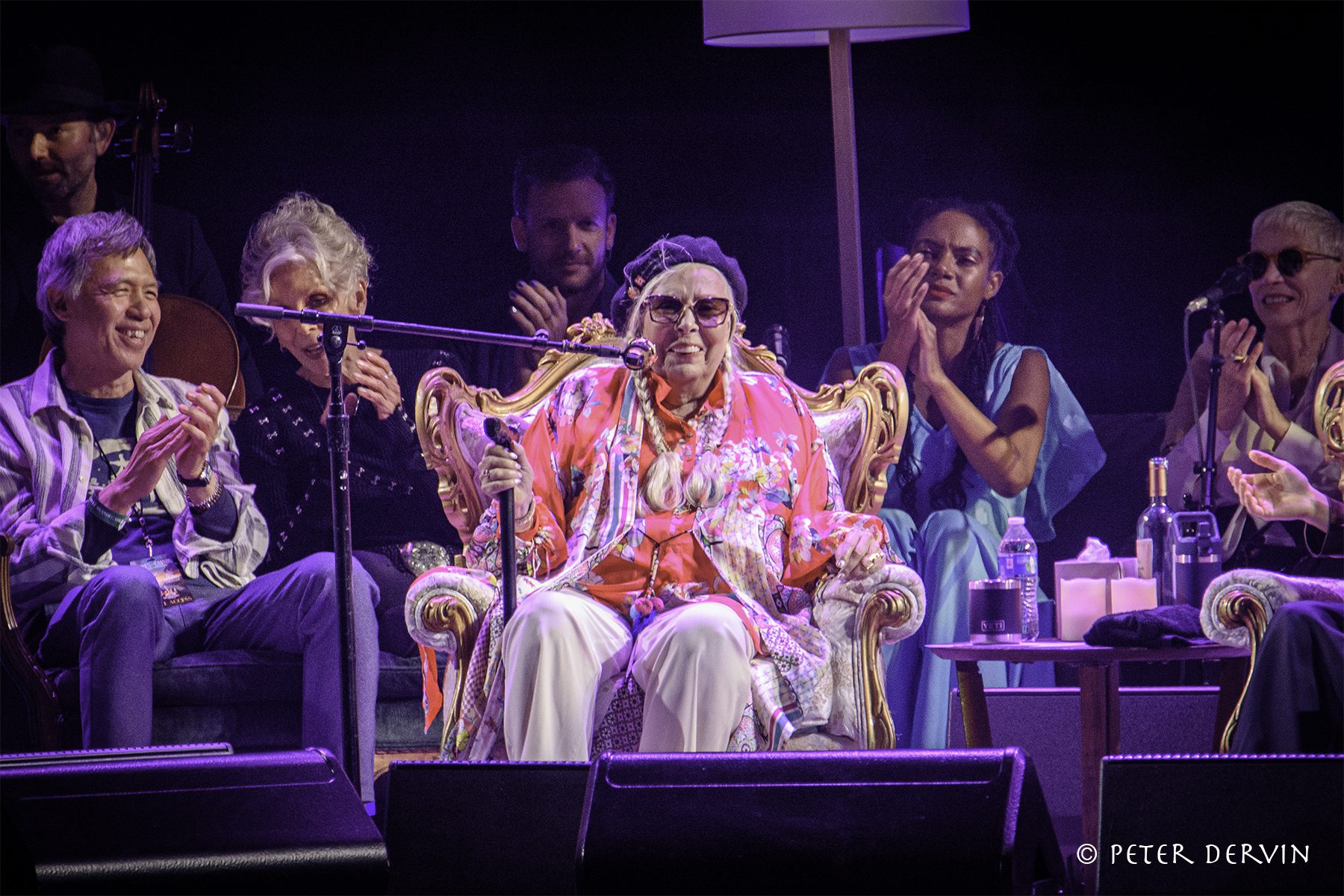 Joni Mitchell - Echoes Through The Canyon 2023 - Photo by Peter Dervin
What can I say about Brandi Carlile that has not already been said so many times over? I will not even try. What I will do is share two recent three-day festivals that she hosted during the past few weeks at opposite ends of the country.  
The first was Brandi Carlile's Mothership Weekend, held May 12-14 in Miramar Beach, Florida, and the second, her Echoes Through the Canyon at The Gorge Amphitheatre that overlooks the Columbia River in Grant County, Washington, June 9-11. While the former would, under normal circumstances, be the highlight here, there is no denying that Joni Mitchell appearing at Echoes Through the Canyon is the one everyone is talking about.
ND regulars Boom Baker covered Mothership and Peter Dervin was at Echoes. Enjoy.
Brandi Carlile's Mothership Weekend by Boom Baker
Held on Mother's Day weekend, Brandi Carlile's Mothership Weekend on Florida's beautiful emerald Gulf Coast was more than a music festival, it was a epic celebration of mothers of all kinds: mother figures, motherhood, and mothering — with an emphasis on diversity and inclusion.
Carlile was ever-present all three nights with announcements, introductions, and memorable duets that included The Bee Gees' "Islands in the Stream" as she leaned shoulder to shoulder with Nathaniel Rateliff; "Turpentine" with Katie Pruitt; "Highwomen" with Mavis Staples; Tracy Chapman's "The Promise" with her wife, Catherine Shepherd; and, on Mother's Day, "The Mother" with her daughter, Evangeline.
Other highlights from the festival weekend: seeing how Pruitt has blossomed as a singer-songwriter; Emmylou Harris joining Carlile for a cover of Patty Griffin's "Mary," which pulled on my heartstrings; and Harris and The Red Dirt Boys delivering a lovely a cappella "Bright Morning Stars." At 83, Staples still has a powerful voice, on full display when she, Carlile, and Hozier sang "The Weight." And Fancy Hagood's duet of "9 to 5" with Carlile was marvelous. The addition of SistaStrings (Monique & Chauntee Ross), Kyleen King, and Josh Neumann added another dimension to Carlile's band.
Carlile delivered on every aspect of Mothership; the music transported us and we left feeling triumphantly inspired.
Echoes Through the Canyon by Peter Dervin
Carlile is no stranger to the Gorge; inspired by Sarah McLachlan's Lilith Fair in the late 1990s she's been going there since her teens. The most recent visit, however, was stunning beyond belief. Last October, when she announced her Echoes Through the Canyon weekend would feature Joni Mitchell, the ticket frenzy was unprecedented. A third night, featuring The Highwomen and Tanya Tucker, also quickly sold out. It had all the earmarks of the event of the year, and by my reckoning it delivered on all accounts. 
While the opening night featured sets by Allison Russell and Marcus Mumford, this being Carlile's birthday weekend, the night belonged to her. With Phil and Tim Hanseroth in support, she kicked off the evening with an acoustic "Stay Gentle/Over the Rainbow" before plugging in with her full band to rock the night away. 
Throughout the evening, she shared stories of her early beginnings and influences. In addition to her own songs, Carlile surprised everyone with covers by U2, Paul McCartney, Queen, and Joni Mitchell, to everyone's delight. Several guests — Lucius, Brandy Clark, Sarah McLachlan, Russell, and Annie Lennox — joined her onstage throughout her set. 
Carlile and the Hanseroths opened the second night as a trio with an acoustic set that featured early songs and covers, and then were joined by Carlile's wife, Catherine Shepherd, for several songs. But it served as a preamble to Joni Mitchell, who took the stage for the first time for a scheduled event in over 20 years. This was not by accident. After coaxing Mitchell to perform at Newport Folk Festival last year, Carlile was invited to join Mitchell at her home in what came to be known as "Joni Jams." This would be the catalyst for the evening's performance before a sold-out audience of 27,000. 
The special guests included Celisse, Wendy and Lisa (from Prince's Revolution), Lucius, Russell, Lennox, McLachlan, Mumford, and trumpeter Mark Isham. Some of my favorite songs performed by Mitchell were "Amelia" and "Summertime" (from the opera Porgy & Bess). Another highlight was Celisse's soulful and bluesy interpretation of "Help Me." Lennox's take on "Ladies of the Canyon" had everyone on their feet with a resounding ovation. It was truly an amazing evening that went for over three hours celebrating everything Joni.
A bit of a different crowd was on hand for the third evening, though if anyone thought it would be anticlimactic, think again — Tanya Tucker and The Highwomen continued the musical high we all were on during the previous two days. Tucker hit the stage with her daughter Presley and the band and proceeded to get everyone on their feet to her brand of country rock and roll. As usual Tucker picked out some fans in front to share, and pass around, some of her private label tequila. Carlile, who helped produce Tucker's last two albums, was on hand for a couple songs as well.
Closing the weekend's shows were The Highwomen, a supergroup with Carlile, Maren Morris, Amanda Shires, and Natalie Hemby. Individually, each has their own career and touring schedule, so it is an extra-special event whenever they can get together. Often they are joined by a guest, adding an extra dimension to the mix. This time it was Brittney Spencer, and later Tanya Tucker joined in with "Delta Dawn."
Click on any photo below to view the gallery as a full-size slide show. 
---