Through the Lens' Artist of the Year: John Prine
Posted On January 1, 2019
---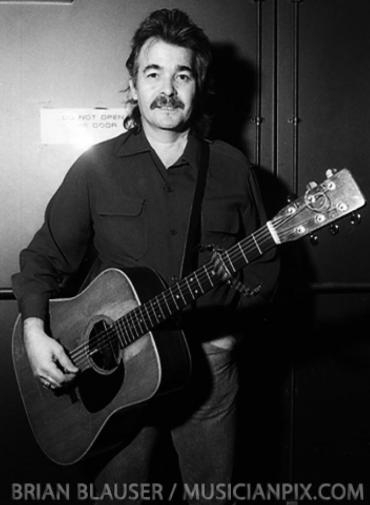 "Bewildered, bewildered, you have no complaint. You are what you are, and you ain't what you ain't." — John Prine
1971
In the fall of 1971, just as the Central Park leaves were turning, I was sitting in the A&R offices of Atlantic Records when one of the guys turned around, pulled an LP from a box on the floor, and said something like, "Here's something we've got coming out in a couple of months. You might like it. We think he's the next Dylan."
The album's cover showed a young cherub-like man sitting on a bale of hay, staring straight into the camera. He later said that as he'd never seen hay before he felt a bit awkward. Growing up on a farm, I knew hay only too well, and the summers that went along with it. I had heard the name John Prine from Steve Goodman, who called him the singing mailman from Chicago.
Working my way through college, I had spent the previous summer as a letter carrier myself. I was intrigued, but having hay and the post office in common seemed a bit funny. That album was, of course, Prine's self-titled debut. Liking it became an understatement.
1972-1980
Prine released six more albums during that decade for two major labels. While Common Sense charted at 66, the others languished in the bottom fourth of the top 200. Despite being on the road all the time and having critically acclaimed albums under his belt, Prine was a challenge for the majors — they couldn't figure him out. And as Prine seemed weary of the game, he did what few others had done: formed his own label. To some it might have seemed as if Prine was saying, "If I'm going to sink, it's going to be on my terms." More likely, it was that he knew his music, and his fans, best.
Act Two
Despite winning a Grammy for 1991's The Missing Years, none of his first six albums for Oh Boy charted. Nonetheless, The Missing Years marked a turning point, and thus was the beginning of Prine's second act. In the next six years he won five Association for Independent Music awards, and his albums began charting again.
Another significant moment came in 1999, when he stepped outside his songwriting and did an album of country covers, a series of duets with female artists. It charted and was a huge critical success. When In Spite of Ourselves was released, I heard an interview with NPR in which Prine said he was amazed that nearly everyone he asked to record with him did. I remember thinking, who in the world would decline such an offer? They must be kicking themselves.
Act Three
After a bout with cancer, the first decade of the 21st century found Prine winning another Grammy, two awards by the newly-minted Americana Music Association, a lifetime achievement award, and his first Artist of Year, and in 2003 he was inducted into the Nashville Songwriters Hall of Fame.
I think, in significant part, it's been AmericanaFest that has given rise to Prine's third act, one of reverence and recognition. Yes, a lot of us already knew John Prine, and kept following him when it seemed his day in the sun was dimming. But a lot of folks did not. Prine's winning the coveted Artist of the Year award these past two years in a row were not patronizing acts; they were acknowledgments of his relentless talent and his selfless willingness to nurture the talent of younger artists. If you've noticed, when the younger folks come on stage with him, Prine does not take a break; he listens and watches intently, as if with critical eyes and ears.
Besides the 2018 Artist of the Year award, this past year saw Prine tour extensively, slay the Cayamo cruise — as well as receiving a tribute by other artists on that cruise — and play a standing-room-only show at AmericanaFest, where he and his co-writers performed Tree of Forgiveness in its entirety. That album was his highest charted album at #5 on the Billboard Top 200, and #1 on its Americana/Folk chart. It has also been named album of the year by most Americana polls, including ND's own Readers Poll.
Not all the accolades been recent ones from Americana/roots circles. For instance, in a 2008 interview Pink Floyd's Roger Waters was asked about the then-current state of rock music and what he listened to. Waters replied, "They just didn't move me in the way, say, John Prine does. His is just extraordinarily eloquent music — and he lives on that plane with Neil [Young] and [John] Lennon."
Now, nearly 50 years after his debut, it is clear to all that Prine did not become the next Dylan, the next myth, or the next big thing. He became someone more substantial — he was always John Prine.
Now, here are some photos of Prine taken during the past ten years or so, many with guest artists.
---