THROUGH THE LENS: A Year of Changes and Comebacks at Mountain Stage
Posted On January 4, 2022
---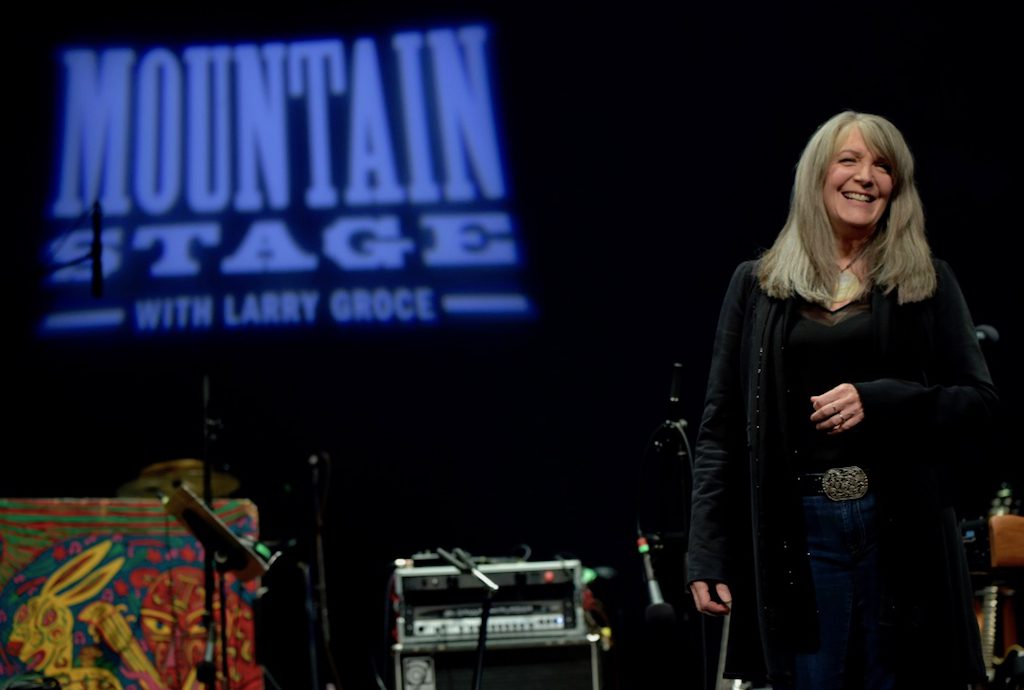 Kathy Mattea - Mountain Stage 2021 - Photo by Amos Perrine
While radio and live performance show Mountain Stage has gone through quite a few changes over the years, 2021 brought substantial ones.  
After 38 years and more than 900 episodes, co-founder and host Larry Groce handed over full-time hosting duties to West Virginia native Kathy Mattea, winner of Grammy, CMA, and ACM awards, in September. However, Groce is not going away as he remains the show's artistic director and fill-in host. Always active outside the show, Groce, along with Ken Burns and others, in 2021 launched the Honor Your Hometown video series that encourages Americans to celebrate their hometowns and reflect on their shared experiences  and common values.
COVID-19 significantly affected the show. As Executive Producer Adam Harris told me, "We managed to navigate our first-ever host transition during our first-ever global pandemic, so even our best-laid plans found all new curves and unexpected forks in the road. … Our 38th season was filled with more uncertainty, reduced capacities, and more mandates and protocols than we ever thought would need to be implemented in order to tape a radio program. Our team has adapted exceptionally well considering that we have a very regimented process, and we had to make changes to some of our most deeply ingrained habits."
Some of those changes included staff being vaccinated, and masked when acting in a supporting role. The audience was also impacted as the wearing of masks was encouraged. While many people elsewhere pay lip service to that request, not so at Mountain Stage. In attending this year's shows I never saw anyone unmasked and never heard any complaints. That's what folks do when they're part of the Mountain Stage family.
Significant Losses
Unfortunately the year's changes also included some great losses. The show's chief engineer, Francis Fisher, passed away at the age of 79. Fisher was there at the beginning (with Groce and Andy Ridenour), and listeners on nearly 300 NPR stations heard the results of his stellar work. Patrick Stephens, who first began in 2008 as an intern, took over Fisher's responsibilities after his death, and the transition was seamless.
Kenneth "Woogie" Jarrell also passed away. He first began working with the show as a representative of the stagehand's union, then became instrumental in the orderly functioning of the show, doing whatever was necessary on any given Sunday.
While he wasn't formally associated with the show, the passing of artist Charly Jupiter Hamilton should be noted as well. Everyone knew him, and audience members cannot help but see his work: He made the panels that are the show's unique drum-kit baffle/shield.  The panels also serve as a visual metaphor for the show's independent nature.
The Shows
After 14 months without a live audience, Mountain Stage's first show back was a careful one, held outdoors last April at Marshall University's football stadium in nearby Huntington. On what turned out to be a rather chilly spring evening, headliners Shamekia Copeland and St. Paul and the Broken Bones warmed things up considerably.
Two months later, the first indoor show was held, the highlight being Amythyst Kiah's first appearance on Mountain Stage. Other notable first-timers to the show in 2021 included No Depression columnist Rachel Baiman, Nobody's Girl, Sunny War, Chris Pierce, The Accidentals, Sam Weber, Yasmin Williams, Cedric Burnside, and Kate Vargas.
In addition to new artists, the show also featured quite a few well-known roots musicians: Colin Hay, Rodney Crowell, Ani DiFranco, Hayes Carll, Todd Snider, Kathleen Edwards, Tommy Emmanuel, The SteelDrivers, Corey Harris, and The North Mississippi Allstars.
Memorable Moments
In August there was a West Virginia-themed show, of sorts. It featured two natives, John R. Miller and Mary Hott, and an out-of-state legend, Steve Earle. Hott and Earle performed songs from their respective albums concerning coal mining in the state.
Frank Vignola and Tommy Emmanuel's duo guitar set was to die for. Concentrating on jazz, their interplay at an October show was as spectacular as it was serendipitous. Emmanuel, who was booked separately on the show, filled in for Vignola's normal partner, who could not make it. Emmanuel also played with the bluegrass duo Rob Ickes and Trey Hensley.
Two weeks later saw another first when the show traveled to the Kennedy Center in Washington, D.C. That show featured, among others, Asleep at the Wheel, who were celebrating their 50th year, and the only member of Our Native Daughters who had not yet appeared on the show, Leyla McCalla.
November brought us a fabulous blues show, featuring North Mississippi Allstars, Cedric Burnside, Corey Harris, and Eric McFadden, who accompanied Kate Vargas. It was the type of show where everybody sat in with everyone else, resulting in a rotating series of musical chairs. The show's finale was the best of the year, with all the guitarists trying to outdo each other on Fred McDowell's "You Gotta Move."
The most emotional moment of the year was Mattea's performance of Nanci Griffith's "Love at the Five & Dime" during an August show. Griffith, once a frequent Mountain Stage guest, had passed away the week before, and the song was Mattea's breakthrough single in 1986. There were quite a few teary eyes in the house.
The Future
With lessons learned during 2021, and nine shows already announced for the new year, 2022 looks quite bright for Mountain State. As Harris told me, "Mountain Stage continues to grow and reach audiences in new parts of the country, which is great news for our state and for the many people who work to make it happen each week. As we approach more milestones like our 40th anniversary and our 1,000th episode, I'm optimistic that there will be an even greater thirst for the broad array of music that we present each week."
Now, a gallery of photos of just some of the 64 guests who appeared on Mountain Stage during 2021. Many thanks to Christopher Morris for his photos of the Past Mountain Stage Jam taken after the show at a nearby club, The Empty Glass. Click on any photo below to view the gallery as a full-size slideshow.
---