The Warped 45s co-founder Dave McEathron starts anew with Abandoned Companions
Posted On January 18, 2019
---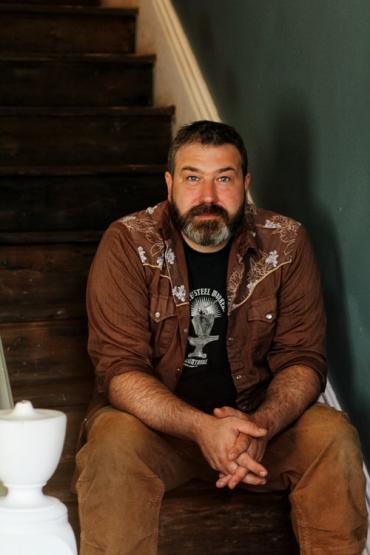 Toronto-based multi-instrumentalist Dave McEathron has marked his return to the music scene with the release of a brilliant solo album entitled Abandoned Companions and a rougher edged EP The Abandoned Companions Companion Piece. We here at No Depression are proud to share a new performance video for one of the standout tracks, "Hell To The Heavens," produced by Southern Souls.
Together, the two collections are an intimately crafted work of art, right down to the packaging. Dave focused on creating a beautiful, tangible item that fans would want to keep for years to come. Utilizing his crafting skills, Dave has made every album cover with high-quality pieces of leather and has hand stamped each one with the album's logo. The package also contains a complete song book filled with lyrics and chords.
"I'm in a really good place and am so proud of this project," he says. "It took a lot of hard work to get here and I'm confident that this is my best writing. The album incorporates everything I've overcome and learned throughout the years. It's honest. It's me."
Dave worked alongside producer Brian Pickett (The Strumbellas) to create Abandoned Companions and The Abandoned Companions Companion Piece. The richly layered collection of folk-rock songs showcases raw intertwined stories of relationships, and the blue collar philosophy Dave has always lived by. The album also includes "Luck," a song which was co-written with award-winning Canadian artist David Francey.
Dave's acclaimed lyrical skills shine through on each tune, just as they did on his past work with underappreciated Canadian roots rockers The Warped 45s. The songs are concise, and although stand steadily on their own, they are an overall powerful reflection of the recent ups-and-downs in Dave's life. Find out more at davemceathron.com.
---