THE READING ROOM: 'Which Side Are You On' Book Explores American History through Protest Songs
Posted On February 14, 2019
---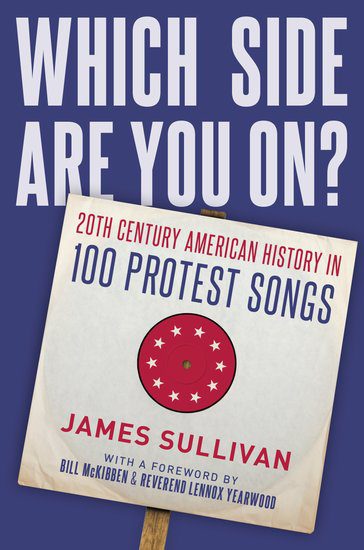 This week in Montreal, Folk Alliance International marks its 30th year of celebrating, preserving, and expanding the horizons of folk music. The conference and the music showcases reveal the bracing diversity of folk music today, and the lobbies of the host hotel are filled with music all day and all night: you might hear a Cajun fiddler reeling around an accordion in one corner of the lobby, a harpist stroking strings and coaxing music in another corner, or a couple of guitarists circling chords around banjo rolls in another. Some of those songs are ancient ballads, some are love songs, some are gospel tunes, some are bluegrass standards, and some are protest songs.
Not all folk music is protest music, of course, but during the great folk revival in the 1960s in America, protest songs often rang louder than any others in those days and nights down in Washington Square Park in New York City, where Artie and Happy Traum, Joan Baez, Dylan, Pete Seeger, The Weavers, The Journeymen, and so many others confronted what they believed were corrupt and misguided political and social policies and practices. A persistent question that has arisen in the last few years is where are all the protest songs today? After all, so the question goes, we may not be fighting an immoral war in an unfamiliar country that galvanizes us, but our current presidential administration marginalizes women, people of color, the poor, the disabled, the immigrant, and abuses the environment, creating social and political divisions that allow individuals and social systems to treat others as less than human. Where are all the protest songs, indeed? Who's singing this generation's version of The Youngbloods' "Get Together," or CSNY's "Ohio," or Dylan's "A Hard Rain's Gonna Fall," or Joni Mitchell's "Big Yellow Taxi," or Woody Guthrie's "This Land Is Your Land"?
Of course, protest songs aren't confined to folk music alone. "We Shall Overcome," "A Change is Gonna Come," "Mercy Mercy Me (The Ecology)," and "Signs" are only four examples of protest songs that traverse gospel and rhythm and blues and rock. In his instructive and thoughtful Which Side Are You On?: 20th Century American History in 100 Protest Songs (Oxford), James Sullivan reads the social progress of America through a selection of songs that protest social conditions, environmental devastation, and political corruption in America. He writes: "The songs covered in this book — one hundred of them that span a century of petition in the name of social progress — are more eloquent than speech. They were written and performed by artists both popular and unpopular, famous and unknown, commercially successful and unrecorded. Published in a time of notable unrest, just like many others in our collective history, Which Side Are You On? will tell the story of modern American democracy, and the music that had the audacity to speak up and take a side." He points out that the book is a "selective survey" and that he could have included hundreds of other songs.
Sullivan devotes chapters to nonviolence, the labor movement, civil rights, the rights of women, the environment, freedom of speech, gay pride, immigration and the "other," and "no nukes." Each chapter offers very brief overviews of the history and significance of approximately ten songs that comment on the social issue of the chapter. Of course, any book with this title can't leave out Florence Reece's 1932 "Which Side Are You On?," the song that galvanized coal miners striking for equal pay in Harlan County, Kentucky. When company men came looking for Reece's husband, Sam — who was not at home at the time — they looted her house. She was so furious that she "tore a calendar off the wall and wrote the song, calling out J.H. Blair, the sheriff the mining company had hired, by name in the song's lyrics: 'You go to Harlan County / There is no neutral there / You'll either be a union man or a thug for J.H. Blair.'"
In his chapter on "the rights of women," Sullivan moves nimbly over songs such as Aretha Franklin's hit "Respect," Kitty Wells' "It Wasn't God Who Made Honky-Tonk Angels," and Loretta Lynn's "The Pill," among others. He opens his chapter by exploring a song by a young singer named Lesley Gore, who stunned the 1964 T.A.M.I. Show with her performance of "You Don't Own Me," a strident declaration of women's freedom on a show that included Chuck Berry and Marvin Gaye. Sullivan describes the moment she launches into the song: "Then she removed the microphone from its stand and strode to the lip of the stage, where the central camera captured her close-up in a gauzy filter. To an ominous, minor-key arrangement in ¾ time, Gore began to sing: 'You don't own me / I'm not just one of your many toys.' When the song abruptly shifted to exultant major key — 'don't tell me what to do / don't tell me what to say' — she lifted her gaze to the ceiling and permitted herself a satisfied smile."
Which Side Are You On? often feels rushed and sometimes superficial as it glances quickly at the ten songs in each chapter to cover as much territory as possible. Even so, Sullivan provides a useful survey of songs that offers a partial answer to the question: Where have all the protest songs gone?
---