THE READING ROOM: The 2019 Roots Music Books (So Far) that Should Be on Your Reading List
---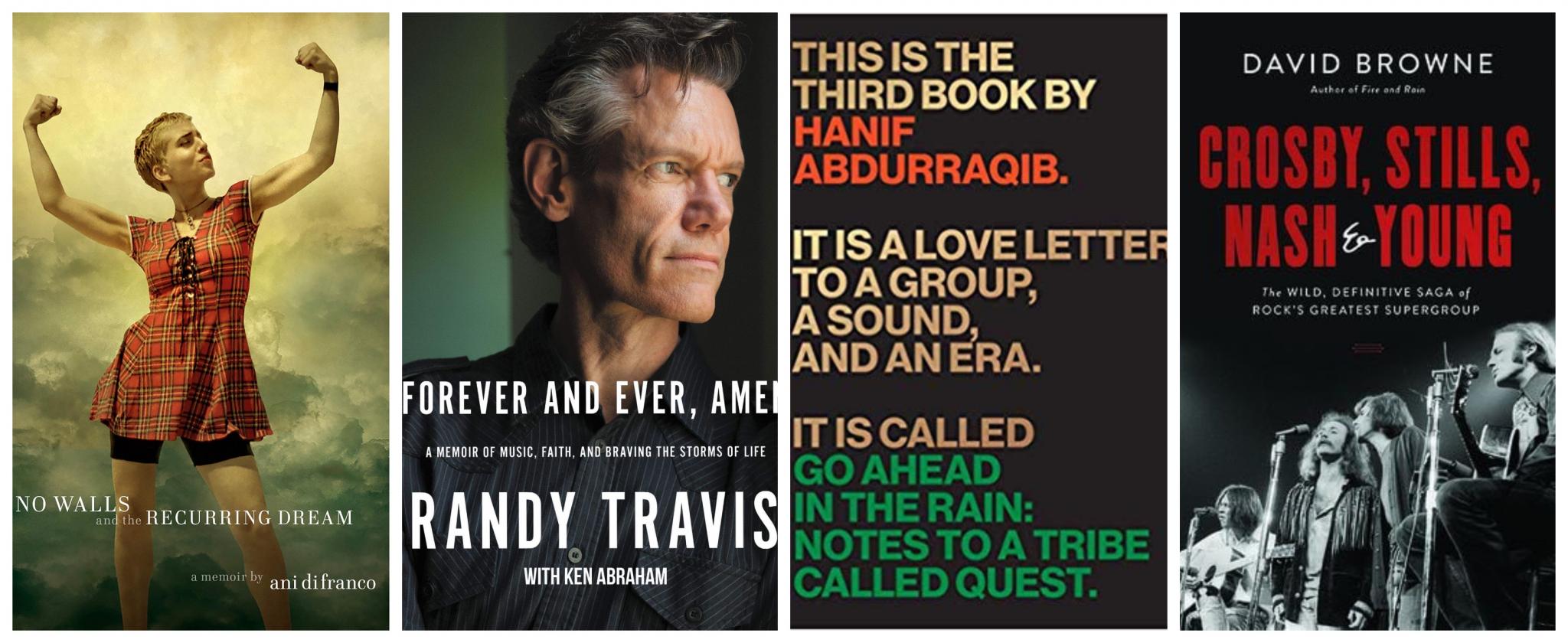 While there have been many great albums released so far this year, there haven't been so many great music books published so far this year. That's not too surprising, since publishers usually save their big books for the fall, and that's the case in 2019 as well. There are plenty of big biographies (Janis Joplin, Elton John) and autobiographies (Liz Phair, Debbie Harry, Patti Smith) coming in September and October, so readers will be very busy in those months.
It's nice to take a moment, though, to reflect on important books from the first part of this year. Although the list is short, each of these books offers insights into its subject, and readers will want to look into these books — or to revisit them — before the onslaught of fall books. The list is not arranged in any particular order, since this is not a "best-of" list.
Ani DiFranco, No Walls and the Recurring Dream: A Memoir (Viking): This is the best memoir of the year so far, simply because DiFranco focuses more on music and less on sex, drugs, and rock and roll. The memoir reveals the ways that music brought DiFranco "deeper and deeper into the world." DiFranco's honesty and her fearlessness in sharing the depths of the forces that have shaped her music and her artistic identity separate her book from the run-of-the-mill memoirs flooding the market today.
David Browne, Crosby, Stills, Nash & Young: The Wild, Definitive Saga of Rock's Greatest Supergroup (Da Capo): Drawing deeply on archival material and on new interviews with band members, their colleagues, and friends, Browne tells a fascinating tale of artists searching for the lost chord, trying to find the right combination of voices and instruments, and developing briefly into a group whose most memorable songs — "Almost Cut My Hair," "Ohio," Woodstock," "Teach Your Children" — became anthems for a generation dreaming of changing the world for the better with peace and love.
Peter Doggett, CSNY: Crosby, Stills, Nash and Young (Atria): While Browne's book follows the fortunes and misfortunes of the careers of Crosby, Stills, Nash, and Young, from their halcyon days as a "supergroup" to the present, Doggett focuses on the formative years of CSNY, from their formation in 1969 to their dissolution in 1974.
Hanif Abdurraqib, Go Ahead in the Rain: Notes to a Tribe Called Quest (Texas): Abdurraqib cunningly and lovingly weaves memoir and eloquently told music history into a compelling and absorbing tribute to the transformative power of music and to the genius of four individuals — Q-Tip, Phife Dawg, Ali Shaheed Muhammad, and Jarobi White — who moved hip-hop in new directions and illustrated that the sounds of hip-hop need not be confined solely to sampling and rapping.
Robert Christgau, Book Reports: A Music Critic on His First Love, Which Was Reading (Duke): In this generous collection of book reviews and literary essays, legendary Village Voice rock critic Robert Christgau showcases the passion that made him a critic — his love for the written word. Many selections address music, from blackface minstrelsy to punk and hip-hop, artists from Lead Belly to Patti Smith, and fellow critics including Ellen Willis, Lester Bangs, Nelson George, and Jessica Hopper.
C.M. Kushins, Nothing's Bad Luck: The Lives of Warren Zevon (Da Capo): With refreshing candor, journalist and musician Kushins traces the ups and downs of Zevon's incendiary life and music career in intimate, minute detail. Drawing deeply on interviews with Zevon's family, including his ex-wife Crystal Zevon; Waddy Wachtel; and journalist Carl Hiassen, among others, Kushins provides a year-by-year chronicle of Zevon's struggles to stay sober, write songs, and sell albums.
Randy Travis, Forever and Ever, Amen: A Memoir of Music, Faith, and Braving the Storms of Life (Nelson): With a twinkle in his eye and a laugh in his voice, Travis accompanies us through the stormy nights and the brilliantly sunny days of his career. Refreshingly honest, Forever and Ever, Amen offers an intimate glimpse of Travis' struggles and successes. His fans will, of course, love the details he shares in his book, but even those only modestly acquainted with Travis' music will discover moments of insight about the music business and might even be inspired to listen to some of his music.
John Corbett, Pick Up the Pieces: Excursions in Seventies Music (Chicago):  Musician, DJ, and music writer John Corbett takes a long look at the music of the '70s in his peripatetic and illuminating reflections. Part memoir, part music criticism, and part music history, Pick Up the Pieces takes us on a journey through each year of the decade as Corbett reflects on where he was, who he was with, and what he was doing when certain albums and songs arrived on the scene, and why the music affected him. He ranges widely over all kinds of music, including the Kinks' "Lola," Joni Mitchell's Blue, Yes' Close to the Edge, Al Green's Call Me, Van McCoy's "The Hustle," Patti Smith's Horses, Richard Hell and the Voivoids' Blank Generation, and Sugarhill Gang's "Rapper's Delight."
John Doe and Tom DeSavia, More Fun in the New World: The Unmaking and Legacy of L.A. Punk (Da Capo): Picking up where Under the Big Black Sun left off, More Fun in the New World explores the years 1982 to 1987, covering the dizzying pinnacle of L.A.'s punk rock movement as its stars took to the national — and often international — stage. Detailing the eventual splintering of punk into various subgenres, the second volume of John Doe and Tom DeSavia's West Coast punk history portrays the rich cultural diversity of the movement and its characters, the legacy of the scene, and how it affected other art forms and ultimately influenced mainstream pop culture. The book also pays tribute to many of the fallen soldiers of punk rock, the pioneers who left the world much too early but whose influence hasn't faded.
Vivien Goldman, Revenge of the She-Punks: A Feminist Music History from Poly Styrene to Pussy Riot (Texas): As an industry insider and pioneering post-punk musician, Goldman's perspective on music journalism is unusually well-rounded. In Revenge of the She-Punks, she probes four themes — identity, money, love, and protest — to explore what makes punk such a liberating art form for women. With her visceral style, Goldman blends interviews, history, and her personal experience as one of Britain's first female music writers in a book that reads like a vivid documentary of a genre defined by dismantling boundaries.
Muneer Nasser, Upright Bass: The Musical Life and Legacy of Jamil Nasser: A Jazz Memoir (Vertical Visions Press): Muneer Nasser, bassist Jamil Nasser's son, spent almost seven years interviewing his father and many of his fellow musicians and friends, weaving these conversations together with reviews and other archival material into a spry memoir that narrates the development of his father's musical career. Jamil Nasser describes his relationships with many jazz greats, including pianist Oscar Dennard; trumpeter Idrees Sulieman, who introduced Nasser to Islam; and Charles Mingus, among many others. An outspoken advocate of music education and the preservation of jazz, Jamil Nasser helped form the Jazz Foundation of America to provide medical, legal, and financial assistance to jazz musicians. Muneer Nasser's rhythmic prose swings joyfully through the life and times of one of jazz's greatest and most innovative bassists.
James Sullivan, Which Side Are You On?: 20th Century American History in 100 Protest Songs (Oxford): In this instructive and thoughtful book, James Sullivan reads the social progress of America through a selection of songs that protest social conditions, environmental devastation, and political corruption in America.
---