THE READING ROOM: New Music Books to Cozy Up With
Posted On November 14, 2019
---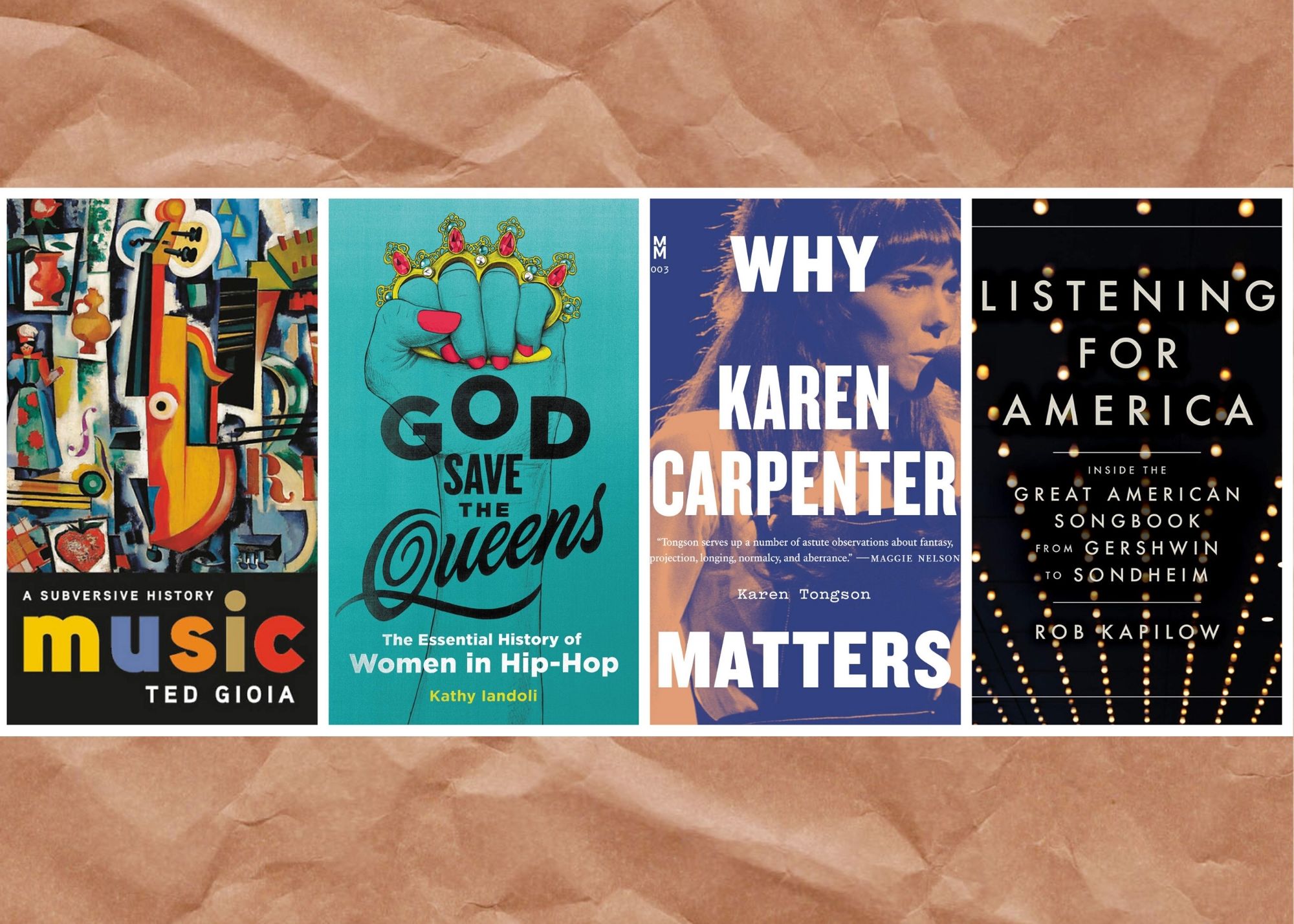 The first measureable snow fell yesterday in the Chicago area, and today the temperatures are hovering around 15 degrees, though the sun is shining, giving the illusion of warmth. As winter sets in, I start to reflect on the past year. Next month, I'll do my usual year-end list. For now, though, I wanted to mention a number of books that have come across my desk in the past few months. I still hope to review some of these, but I at least wanted to provide some brief reviews of them so you can head out to your local bookstore or library to pick up a few of these and while away these long winter nights.
Kathy Iandoli, God Save the Queens: The Essential History of Women in Hip-Hop (Dey Street Books): Drawing on interviews with Nicki Minaj, Lil' Kim, Remy Ma, Rapsody, and many others, acclaimed music writer Iandoli provides the first extensive history of women in hip-hop. She draws vivid portraits of these women making their way successfully in a world that too often shunted them to the margins. This is essential reading.
Karen Tongson, Why Karen Carpenter Matters (Texas): Part of the Music Matters series, edited by Evelyn McDonnell, Tongson's book is part memoir and part music criticism and history. Tongson weaves Carpenter's own — sometimes reluctant — rise to stardom with her own journey from the Philippines to Southern California, probing Carpenter's enduring legacy in the Philippines and in the US, while offering a brilliant reflection on the meaning of The Carpenters' music for her and other people of color, LGBT+ communities, and others outside the mainstream culture.
Fred Goodman, Why Lhasa de Sela Matters (Texas): Part of the same series as Tongson's book, Goodman's provides a biography of the great Mexican singer who died from breast cancer in 2010 at the young age of 37, just after recording her final album. Filmmaker John Sayles has said of Lhasa de Sela that she "lived her songs onstage; the emotion and the incredible ability to exist fully in the moment were always there." Goodman's book captures the beauty of de Sela's life and music in his insightful biography.
Steve Cushing, Blues Before Sunrise: Interviews from the Chicago Scene (Illinois): Cushing has been the host of the radio show from which this book takes its title. In this entertaining and informative collection of interviews, he showcases many facets of the Chicago blues scene. Included are interviews with Memphis Minnie, the Gay Sisters, Marl Young, Scotty Piper, Blind John Davis, Roosevelt Sykes, Clarence Small, and Pastor Donald Gay.
David Whiteis, Blues Legacy: Tradition and Innovation (Illinois): In brief profiles of Chicago blues musicians, Whiteis (Chicago Blues) traces the evolution of the blues in the Windy City. He examines the ways that artists including James Cotton, Eddy Clearwater, Buddy Guy, Mary Lane, Shemekia Copeland, Melody Angel, and Toronzo Cannon, among others, provide a lineage of the family of Chicago blues. He associates many early blues artists with the tradition of Chicago blues and illustrates the ways that younger musicians honor and innovate within that tradition.
Randee St. Nicholas, My Name is Prince: 25 Inspired Years — 1991-2016 (Amistad): Nicholas chronicles the life and intimate moments of one of rock's most enigmatic artists with this collection of stunning, lavish photographs. When St. Nicholas and Prince collaborated on their 2008 book, 21 Nights, they discussed putting together a retrospective of photographs spanning their 20-plus years of working together. St. Nicholas' riveting retrospective offers a photographic tour de force that illustrates Prince's passion for life.
Aaron Cohen, Move on Up: Chicago Soul Music and Black Cultural Power (Chicago): If you buy only one book on soul music this year, this should be the one. Cohen, whose little 33 1/3 book on Aretha Franklin's Amazing Grace is the definitive book on Franklin's album and the film, provides a social history of soul music in Chicago from the 1960s to the 1980s. Drawing on over one hundred interviews with Chicago's soul musicians, Cohen explores the ways that soul was more than just music; it was a marker of black empowerment, inspiring change and hope in communities in the city. Cohen's passion for this music imbues this history with a lively spirit; it's another must-read.
Rob Kapilow, Listening for America: Inside the Great American Songbook (Liveright): Composer and music journalist Kapilow traces the history of 20th-century American music by focusing on the development of 16 songs — from George Gershwin's "I Got Rhythm" to Leonard Bernstein's "Tonight" — to illustrate the ways that songs both reflect their cultural moments and are shaped by those moments.
Ted Gioia, Music: A Subversive History (Basic): Music critic Gioia takes a look at the underside of music history, teasing out the episodes of sex, violence, and rebellion out of which music developed. His history ranges from a look at Beethoven's outsider status, due to his gloomy music, to the murder ballads of the 20th century to the rise of rock and roll and hip-hop.
---