THE READING ROOM: New Levon Helm Book Delves into The Band and Beyond
---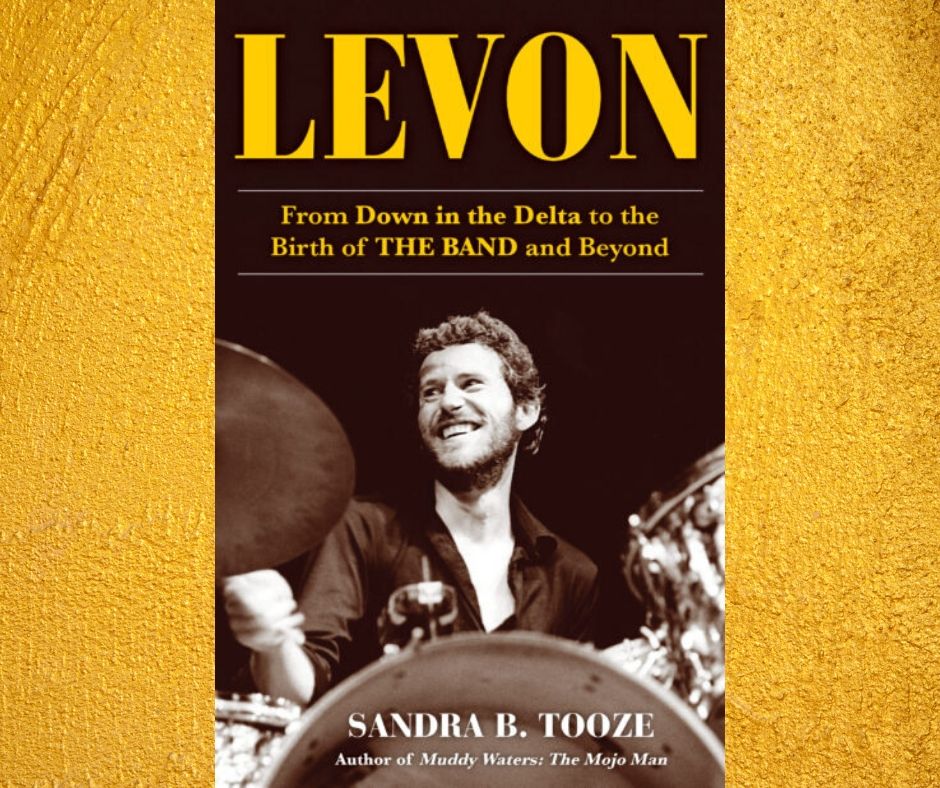 Levon Helm would have turned 80 this week. It's been just over eight years since his unmistakable voice fell silent and his steady, propulsive drumming rolled over yonder. Spending the day listening to his music — whether from his years with The Hawks or The Band or from his albums Electric Dirt or Dirt Farmer or Levon Helm & the RCO All-Stars — is of course the best way to celebrate his life and his enduring contributions to American musical culture. As Vince Gill once said, "I think he possesses maybe the greatest voice in American music. The music he made with The Band is arguably the best music America ever put out."
Another way to celebrate Helm's birthday is to pick up Levon: From Down in the Delta to the Birth of THE BAND and Beyond (Diversion Books; out June 2), the affectionate new biography by Sandra Tooze (Muddy Waters: The Mojo Man).
One of the best features of Tooze's biography might be the cover itself. For one, the subtitle telegraphs the topics she covers, so we know we're in for a look at Helm's life far beyond the musical highs and lows of The Band. After all, Helm did a lot of living after the unceremonious end of that group, memorialized in a glossy, stylistic way in The Last Waltz, the film of the Band's last concert on Thanksgiving Day in 1976. For another, the photo on the cover: that big smile on Helm's face captures even better than words his love of life, his love for his friends, and his enduring passion for music. The photo shows us a man who's having fun, and there's that little gleam in his eyes that winks at his bandmates in his mischievous way. Inside the book, Tooze successfully captures Helm's spirit, his relentless creativity, and his enduring love of playing and singing music.
Helm's story is already familiar, of course, and his autobiography, This Wheel's on Fire: Levon Helm and the Story of The Band (1993), covers very well his early years through the contentious years with The Band. Drawing on interviews with Helm's daughter, Amy Helm, close friends, and his music director, Larry Campbell, among many others, Tooze traces Helm's life from his Arkansas childhood, where he grew up listening to soul, country, blues, and gospel on the radio. Helm knew his mission in life by the time he was 6 years old, when he saw Bill Monroe and His Bluegrass Boys perform. "That night changed my life, and I had no doubt what I wanted to do from then on," Helm says. Music became his mission. By the time he was 15, he was playing drums in The Hawks; guitarist Robbie Robertson, bassist Rick Danko, and pianist Richard Manuel joined the band, and in 1964 the four musicians left to form their own group. The rest, of course, is history: The Band's backing Dylan on his 1965 tour, recording their first album with the spirit of camaraderie they found in that big pink house in Woodstock, New York (though it was actually recorded in New York City and Los Angeles), producing some now-iconic songs, and breaking up and pursuing their own careers.
The messiness of The Band's final years, and the contentious relationship between Helm and Robertson, is well documented. When Robertson announced the end of touring, he said, "We all feel pretty good about our decision to stop touring." Helm famously responded to Robertson: "I'm not in it for my health. I'm a musician, and I wanna live the way I do. … It's a crying shame to take this band from productivity to retirement because you're superstitious, or for the sake of a final payday." Helm later went on to say: "I wanted to keep what we already had — a good rock 'n' roll band. … I still dreamed of recording a record that would almost equal the greatness I had worshipped all my lifetime. I wanted to try and satisfy that musical hunger that haunts you when you love it so much."
Helm "wasted little time opening the new chapter of his life following the acrimony of The Last Waltz," Tooze's book says, finding musicians who'd chase those songs and who'd keep making music with him. Helm put together a stunning array of musical talent: Booker T. Jones, Steve Cropper, Donald "Duck" Dunn, Dr. John, Fred Carter Jr., and Paul Butterfield, plus Lou Marini, Alan Rubin, and Howard Johnson on horns. His new band, The RCO All-Stars, released their debut in 1977.
The richest sections of the book focus on the years between Helm's first diagnosis with throat cancer in 1997, his recovery, and the Midnight Rambles at his barn in Woodstock. Larry Campbell, Helm's musical director from 2004 to 2012, and Helm's dear friend, says, "At a Ramble, you're not going to hear a blues concert, or a country concert or a rock show — you're going to hear all those things and nothing will seem out of place." Campbell's wife, Teresa Williams, also describes the atmosphere of the Rambles: "I always say it was like the revivals I grew up in as far as the vibe. … The windows were thrown open, the doors were thrown open. … The place would be packed to the gills. Outside, there were a lot of people roaming around, and the music [was] just full on with only the best spirit about it, not about the industry, not about career. It was just music for the sake of music. … Not a lot of egos flying around." For Helm, these Rambles recalled the medicine shows of his childhood in Arkansas, and he loved them because they brought so many of his friends together to play music: "That's the most peaceful time in my day, when I'm playing. There's nothing to worry about, I don't owe anybody anything, just play the songs and try to make them good. … After the show's over the other things can come back. …It's actually more fun [than playing in Madison Square Garden]. It sounds better, and it's a lot easier, and when the show's over, I just walk next door and take my boots off."
Levon: From Down in the Delta to the Birth of THE BAND and Beyond gives us a chance to revisit Helm's music and to recall his deep contributions to roots music. Most of all, it captures Helm's personality. In his own words to other drummers, he counsels: "Most importantly, have fun. Laugh a lot and learn to play other instruments. … Rhythmically I just find my little contribution …"
---