THE READING ROOM: New Janis Joplin Biography Brings the Focus Back to the Music
Posted On October 17, 2019
---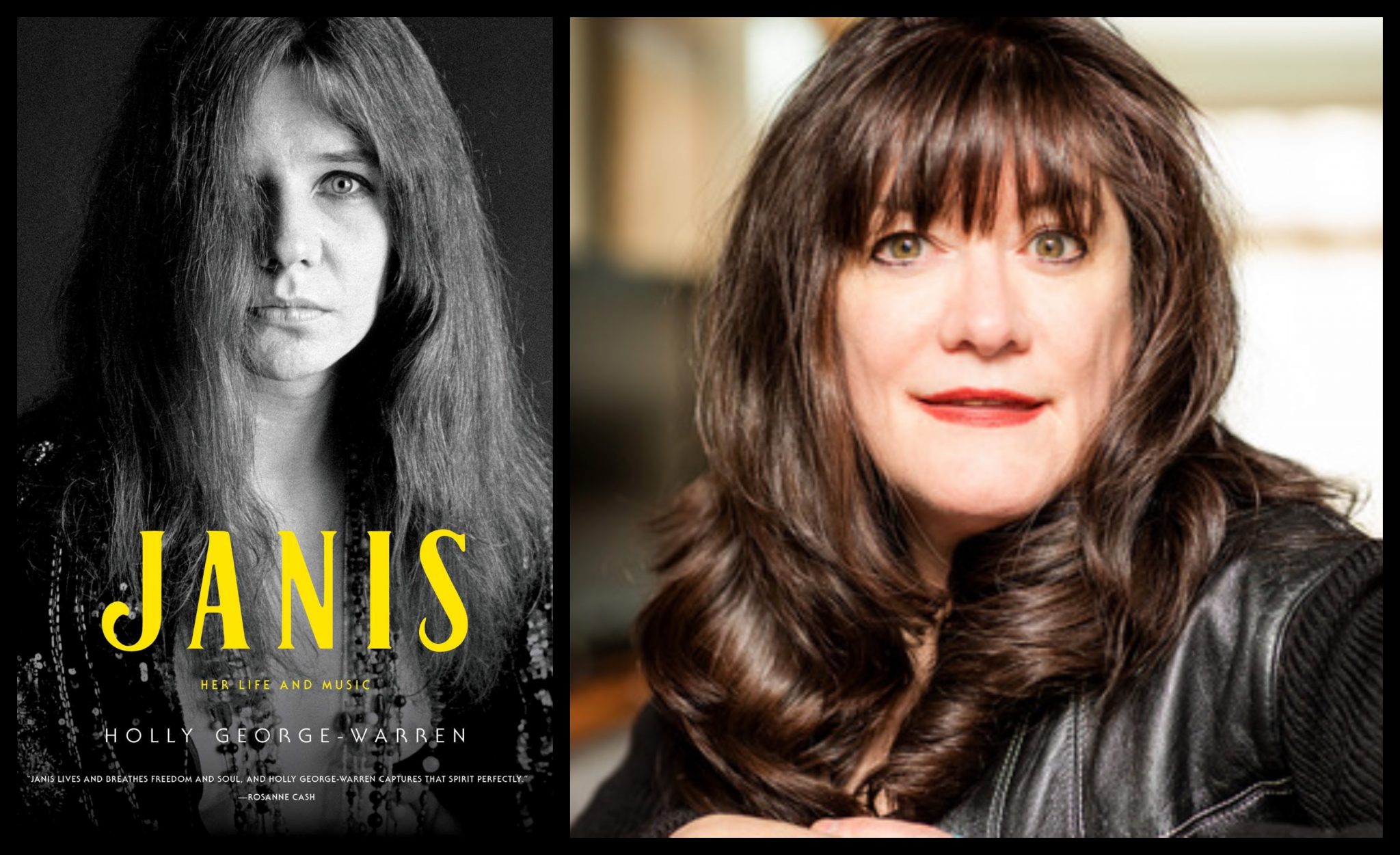 Holly George-Warren photo (right) by Franco Vogt
In June 1967, a young singer and her band took the stage at the Monterey Pop Festival. It was Janis Joplin and Big Brother and the Holding Company's first large-scale public performance, but her performances riveted the crowd and introduced to the world a blues singer who pulled every emotion out of a song, who got inside a song and turned it inside out, making it her own with her phrasing and command of the song's notes. Joplin was an electrifying singer, and her ascent to the pinnacle of rock and roll came very quickly. She was moving ever higher up that mountain when she died on Oct. 4, 1970. Joplin's death from a heroin overdose has caused biographers to look at her as a victim or to focus on her drug use to the neglect of the music itself and Joplin's artistic brilliance.
Holly George-Warren's exceptional new biography, Janis: Her Life and Music (Simon & Schuster), reveals the path Joplin took from her days growing up singing in her parents' church to her show-stopping performance at Monterey to her solo career.
"I wanted the focus to be on her music," George-Warren says in a recent conversation. "I focus on her artistic path and what took her on this journey. A lot of other books focused on her drug use or presented her story as a sad one, but none of them focused on her music or her songwriting, and that's what I do in mine."
Drawing on archival materials as well as on interviews with Joplin's friends, family, and bandmates, George-Warren traces Joplin's life from her childhood in Port Arthur, Texas, where she would "publicly flaunt her individuality," through her high school days to her time in Austin, singing black music in a segregated folk bar. George-Warren tracks Joplin through her early days with Big Brother and the Holding Company to the making of Pearl, which was released after Joplin's death. Janis contains rich detail and provides a glimpse at Janis Lynn Joplin becoming Janis Joplin.
One facet of Joplin's personality that emerges from George-Warren's book is her buoyance and exuberance. Joplin remained close to her parents, and she wrote letters home to them describing her excitement over aspects of the recording industry. In what George-Warren describes as a buoyant note to her parents, Joplin writes: "Too much, eh? So now we're in the process of taking the East Coast by storm. Also, as of yesterday afternoon we're with Columbia, official. Signed the contract on the 26th floor of the CBS building, met the president, had a press party, & got drunk. … From all indications, I'm going to become rich & famous. Incredible! … Wow, I'm so lucky — I just fumbled around being a mixed-up kid (& young adult) & then I fell into this. And finally, it looks like something is going to work for me."
George-Warren also points to another aspect of Joplin's life and music that other biographies fail to notice. "She was good at creating a persona," says George-Warren. By 1968, she points out in the book, "Janis's self-mythologizing — emphasizing her troubled youth and downplaying her ambition and years of work to become a great singer — had begun. She quickly perfected the art of the interview, giving journalists outré quotes and feeding them exaggerated stories of tortured adolescence and accidental success. She learned quickly that she could wow them in print just as she did onstage. No woman had ever performed like her — or talked like her to the press."
Joplin emerges from George-Warren's biography as an artist whose immersion in music expressed her joys and her fears, as well as her fearlessness: "Janis never compromised her vision. She wasn't afraid to cross boundaries — musical, cultural, sexual … Janis Joplin never settled. … She embraced life with a joyous ferocity, though she could never escape a fundamental darkness created by loneliness and a bleak fatalism bequeathed by her father."
In the end, Joplin "described music as the one aspect of her life that never let her down. She also expressed the belief that her singing was the true expression of her self. … In a conversation … with singer Bonnie Bramlett, in 1970, Janis acknowledged, with a new, deeper degree of self-realization, the choice she had made to become who she was, as well as the limits imposed by that choice: 'You give up every constant in the world except music,' she explained. 'That's the only thing in the world you got.'"
George-Warren, who's written about Alex Chilton (A Man Called Destruction) and Gene Autry (Public Cowboy #1) says she decided to write a biography of Joplin both to put the focus on her music and because she's long been a fan: "I've been a fan going back to my pre-teen years, of course. I had read other bios of Janis, and most of them failed to capture the complexity of Janis Joplin. I didn't realize what a hard-working musician she was, how hard she worked at being a musician. She had created this persona as a blues mama, but I was fascinated that she was such a complicated person. Who was the real Janis Joplin? I also had the chance to talk to her brother and sister — Laura and Michael — as well as her bandmates such as Peter Albin and David Getz from Big Brother and the Holding Company."
Joplin's complexity is at the heart of George-Warren's book, as well as in our recent conversation about it: "She was a real bookworm, for example," George-Warren says. "She was a family person, and she shared her excitement about things with her mother. She wasn't jaded. She got excited and exuberant at each career milestone. Luckily, there were people who recorded her excitement and exuberance on film. She tried to make her performance look unrehearsed and spontaneous. She was technically proficient. She studied perfection as a musician. In 1966, she could double track her vocals, and record them word for word. She was aware of her weaknesses and she wanted to work on them. She was such a studio rat. For the first time, I got to hear outtakes from Pearl, all the back talk between Janis and Paul Rothschild, and all the various takes on the songs. Janis was calling the shots in the studio. I mean, here's Janis coming up with all these ideas for guitar parts or keys. She wrote letters to her parents describing the work she was doing in the studio, and the technical process, and what is was like. Paul Rothchild, the iron-fisted producer of The Doors, was blown away by her acumen. I feel certain that she would have been a producer, (but) back then those roles just weren't available to women."
George-Warren hopes readers will take from the book a deeper understanding of Joplin. "She was a strong woman. She had this joyfulness and fearlessness. She went out to grab experience in a joyful way. She took a lot of chances personally and musically. It was difficult for her to leave Big Brother, but she had to move on because they weren't moving the same musical direction as she wanted to move. She wanted to include horns and piano. She was fearless on stage. Janis was tapping into this depth of feeling and putting it out there for people to experience. Her dogged determination: She had an iron will to make it as a musician. She started out to be an artist. When she discovered her voice, she pursued her singing relentlessly. She was incredibly open-minded when it came to pursuing her real self — she was very open about her bisexuality — even though it was outside of the norms of society at the time. When she discovered her talent, she refused to give up. She always blazed her own trail."
Janis: Her Life and Music emerges as the definitive biography of Joplin because of its depth, its breadth, and its candor and brilliant insights into the woman and her music.
Holly George-Warren's top five songs by Janis Joplin, along with her commentary:
"Kozmic Blues": She wrote that one for her debut solo album, which came out 50 years ago this month.
"Piece of My Heart"
"Turtle Blues": She wrote it in 1965; recorded it on Cheap Thrills.
"Me and Bobby McGee": It points in the direction she was moving and how interested she was in that cosmic country music. She performed "Sunday Morning Coming Down" at the birthday party for Kenneth Threadgill in Austin in 1970.
"Ball and Chain": I love the live version at Monterey. She's at the point of breaking through. She wanted to give it her all. They didn't want the first set filmed, but she knew how important it was to be on that film, so they filmed the second set. People who were there said the first set was even better than the one captured on film.
---